University Gallery features work by Steven Justice
Grand technicolor installation runs from June 5-July 29, with public reception on June 10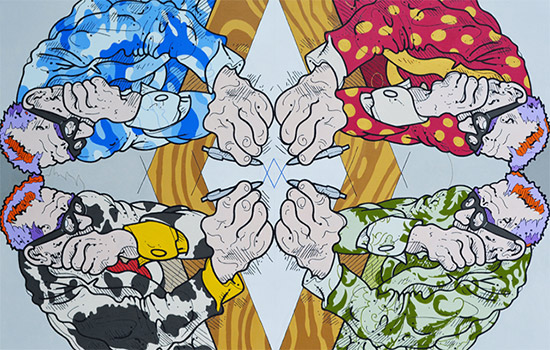 Described as a "mind-blowing technicolor installation of satirical portrait paintings that depict scientists, musicians, poets, saints and sinners," Steven W. Justice's exhibits exult and examine a plethora of personalities and introduce unlikely partnerships on multi-hued and patterned canvases.
His grand exhibition of work, titled "As Above, So Below," will take command of the 20 vertical feet of exhibition space inside Rochester Institute of Technology's University Gallery from June 5 to July 29. A reception with Justice is scheduled for 4 to 6:30 p.m. on Saturday, June 10, inside the gallery, 166 Lomb Memorial Drive, James E. Booth Hall, Room 2765. The reception is free and open to the public.
"I constantly feed my own 'art machine' at the front end with all sorts of art, music, literature, experience and things spiritual and always consciously have multiple paintings in various stages of completion in progress at the back end," Justice describes his sprawling exhibit. "That's when a painting is more likely to take over and begin painting itself."
"My paintings are multi-layered and there is a lot to consider, but if you wish to read destruction into my work, go back to square one," according to his artist statement. "As every other Hollywood movie tells us, with power comes responsibility, so let's be mindful of our legacies. I like to find that sweet spot between fact and fiction, between stasis and motion, and between line and color. What I want to do is entertain, enlighten and educate, in any order, and this is how the magic happens. Yes, I said magic. Being an artist, I don't have to explain my science."
Justice was born 1956 in Homestead, Pa., near Pittsburgh. After showing an early aptitude for art in his formative years, he studied at the Carnegie Institute under Joseph C. Fitzpatrick, who also taught pop artist Andy Warhol. He later studied industrial design at the University of Cincinnati. After finishing a multi-year design career for consumer and commercial clients, including FTD, Coke and Goodyear, Justice delved into a full-time pursuit of large-scale satirical oil portraits. During a six-year hiatus in Hong Kong with his wife, Lorraine Justice—former dean of RIT's College of Imaging Arts and Sciences—he focused on drawing and printmaking.
Currently residing in Rochester, he remains committed to entertaining, enlightening and educating his exhibit's attendees through his unique art. Justice has garnered a number of national awards and honors and exhibited widely over the past 30 years, including at the Columbus Cultural Arts Center in Columbus, Ohio; the Three Rivers Arts Festival in Pittsburgh Pa.; and the Cincinnati Art Club.
About University Gallery
RIT's University Gallery features exhibitions comprised of works that inspire creativity and spark the imagination. Exhibitions showcase work from RIT's extensive archives, the work of professional alumni and traveling exhibitions. Go to https://www.rit.edu/fa/gallery/ or contact Wendy Marks, director, at 585-475-3469 or Wendy.Marks@rit.edu for information.