We've got the next big idea
Growing resources help students turn their concepts into companies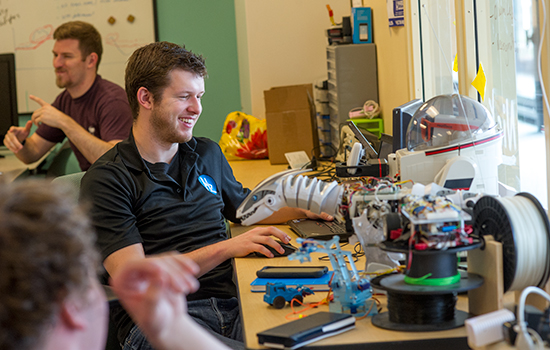 A. Sue Weisler
Greyson Watkins had big plans for a subscription-based family game night business. He hoped the idea would take off and he could accomplish what many entrepreneurs dream about—calling the shots and becoming a self-made millionaire. But not long after devising his business concept, an experience that he'll never forget forced him to start from scratch—and business became personal.
Watkins, who is deaf and is a fifth-year computer security major originally from Durham, N.C., was at home with his young daughter when she tumbled down a flight of stairs.
"Imagine how I felt after realizing that she was crying out for help and I couldn't hear her," Watkins said. "I realized that I needed to be part of something bigger, something more meaningful—and possibly life saving—for deaf and hard-of-hearing people."
In a matter of months, Watkins and his team of fellow students formed Hz Innovations and created Wavio, a programmable and fully customizable tool that alerts deaf and hard-of-hearing people to sounds in their homes. This summer, the team will complete production of its first 1,000-unit order by Peter Parts Electronics Inc., owned by RIT alumnus Peter Parts '98 (EMBA).
Hz Innovations is just one of the student-driven ventures thriving in RIT's uniquely designed, multidisciplinary innovation ecosystem—a system that has mushroomed over the past five years, with business competitions, events, programs and full-time experiences available to launch student ideas into the stratosphere.
Resources such as mentors and coaches, innovation and entrepreneurship classes and the creation of The Construct, a dedicated makerspace on campus where students can create products and solutions, have all played key roles in the growth of RIT's entrepreneurial spirit. Student participation in entrepreneurship activities has doubled—and in some cases, tripled—creating a robust pipeline of ideas.
"We have a very advanced experiential, multidisciplinary environment that helps our students learn by doing, by being mentored, and by leveraging our ability to not only think about business concepts, but make business concepts," said Richard DeMartino, professor and director of RIT's Albert J. Simone Center for Student Innovation and Entrepreneurship. "What we do, combined with how we continue to find new opportunities with industry partners, has made us a leader in our field."
Connecting the dots
Watkins and teammate Chrystal Schlenker, a fourth-year interpreting and business student in the School of Individualized Study, were convinced that Wavio was a good idea, but they also realized that they lacked the technological know-how to bring it to life.
They enlisted the help of their applied entrepreneurship course coach Dana Wolcott, who connected them with Zach Baltzer, a fourth-year microelectronic engineering student from Hilton, N.Y., and Nicholas Lamb, a fifth-year electrical engineering student from Waterloo, N.Y., who had already built a robot that could detect and chase sound.
"Nick and I were just looking for a cool project to work on," said Baltzer. "No one could have possibly guessed that one year later we would be co-founders of a company."
Wavio contains sound-capturing units that are connected to a home Wi-Fi system. When a doorbell rings, smoke alarm chimes, water faucet drips or dog barks, for example, the unit notifies the homeowner via smartphone, smart watch, tablet or laptop, and identifies the sound. According to the developers, virtually any sound deemed important to the homeowner can be recorded and "memorized" by the system during installation.
"I missed the sounds of my friends knocking on my front door; my washer and dryer are in the basement and I wouldn't be able to hear the buzzing; my food would burn because I would leave the oven on," added Watkins. "There are a lot of people out there, including senior citizens, who have similar issues. Wavio is a bona fide solution."
Mining great ideas
Mentors and coaches are one reason for the growing success of RIT's student entrepreneurship ecosystem—and Wolcott, lead innovation coach for the Simone Center and an adjunct faculty member in Saunders College of Business, is no stranger to recognizing a great idea when he hears one.
Prior to RIT, Wolcott worked in advance development for Eastman Kodak Co. and was charged with finding new ideas for the company, addressing customer needs and creating new products. He brings nearly 30 years of expertise in idea generation to campus and has witnessed an explosion in student entrepreneurship over the past few years.
"When I started at RIT five years ago, we had 12 student projects in our applied entrepreneurship class and three or four coaches," he said. "But every single program has grown since then. Last fall, we had 30 student projects and eight coaches. The number of applications for our entrepreneurship contests like Tiger Tank, the RIT Business Model Competition and IdeaLab@RIT, to name a few, have all at least doubled."
Wolcott also said that added support from the National Science Foundation's I-Corps grant program has provided significant assistance to RIT's experiential entrepreneurship efforts.
"Our students are learning to work in multidisciplinary teams and solving real-world problems," he added. "Our team of coaches and mentors works with hundreds of students each year—many of whom enter multiple competitions because they find that it's such an enriching experience. And we're always amazed by the projects that are developed."
Mariana Pinheiro, an industrial design graduate student from Brazil, has participated in several student-focused entrepreneurship activities. Her ideas have been presented at Idea Lab, Tiger Tank, the Effective Access Technology Conference Product Competition, and this summer she and her design team joined Studio 930, a design consultancy at RIT, as well as the Saunders Summer Start-up Program, an intensive incubation program where students earn a stipend to advance their business ideas.
"I love the idea of bringing my projects to life," said Pinheiro. "And the entrepreneurship programs offered at RIT all help with generating prototypes and components, giving us access to mentors who give us valuable feedback, and just bringing general awareness to the projects."
Pinheiro's most recent undertaking, The Band Toy, is a series of interactive instruments designed to stimulate the senses of children with poor motor coordination skills through the use of textures, sounds, vibrations and light patterns. She hopes that youngsters with developmental and physical disabilities at Rochester's Al Sigl Center and Mary Cariola Children's Center will soon benefit from using the educational toy she helped design.
"In the IdeaLab@RIT, I got to hear problems that real organizations or real people are struggling with, and I worked with students from business and engineering to brainstorm real solutions. We started from the ground up," she explained. "The Tiger Tank competition is unique in the fact that our products are a little more developed and we can really focus on how they fit into the marketplace."
Co-Up connections
As idea generation continues to work its way into the RIT culture, it's clear that students studying in a variety of disciplines are being bitten by the entrepreneurship bug.
Wesley Rockholz and Nick Rabb run their game design and development company similar to how they've mastered their improvisational comedy routines—using the classic "Yes, and" technique. That's 'yes' to whatever comes their way, 'and' they build upon it to make it even better.
Rockholz '15 (game design and development) and Rabb, a fifth-year computer science student, launched their company, Yes and Games, in 2014. Not only have they managed to raise money for their mobile game, Adventure Guild, through a successful Kickstarter campaign, they took advantage of the university's Co-Up summer program.
RIT's Center for Media, Arts, Games, Interaction and Creativity (MAGIC), in partnership with the Simone Center, developed Co-Up, a 10-week program in which students get paid to develop ideas for digital media and earn co-op experience. The program is made possible through financial support from members of the RIT Board of Trustees.
"We participated in the Co-Up program the first year it was offered," said Rabb, from Fairport, N.Y. "We made a lot of connections through the program and learned how to manage other relevant things like finances and budgets. The money that was provided as a stipend also gave us the opportunity to devote our time completely to the project. That was invaluable in order to get our game into the hands of the users."
Adventure Guild is a social, mobile role-playing game that allows players to play together, but on their own time. Up to four players can battle goblins and other enemies as their own personalized warriors, rouges, mages or clerics.
The game has launched on the Apple and Google app stores and the partners have built a strong community and social media following. They will soon embark on a new project where they plan to contract with a video game publisher to develop another mobile game.
"I've always been interested in owning a game design and development company, but I suppose every game design student says that," said Rockholz, from Brookfield, Conn. "It's unbelievably stressful, but I wouldn't have pursued this if it wasn't plausible. It's exciting to develop your own projects and do your own thing."
DeMartino estimates that there are about 100 student projects underway this year, up from 40 a few years ago. The Simone Center interacts with roughly 1,500 students a year through projects, contests and conferences. More than 45 students are earning credit for their projects through RIT's co-op program.
"Our primary goal is education as it relates to innovation and entrepreneurship," DeMartino said. "Our secondary goal is business creation. And for us to further improve those metrics, it's important that we increase the number of specialized entrepreneurship classes that we offer—in a variety of disciplines, not just through Saunders College of Business. It's my hope that there will be a flowering of pipeline classes that focus on software, sustainability, social ventures, imaging sciences, micro-e, design, new media."
Looking ahead
Alec Satterly's company, Cenify, gets counted in that secondary goal.
In 2014, Cenify took first place in NTID's Next Big Idea competition with its vibrating alarm clock that could be programmed from a smartphone.
But Satterly '16 (management information systems) realized the market for such a product was small. So he put together a new team, which included Greg Sapienza, an information technology major from Brooklyn, N.Y. Sapienza had success in business competitions with his own company, Skyvo, which made applications for iPads for educational use, before it disbanded.
Cenify got rid of the clock and during last summer's Co-Up program focused on helping other companies make their products—such as door locks, lights and even clothes—smart.
In January, the company's 12 employees moved into RIT's business incubator Venture Creations. Satterly said if all goes well with contracts in the works, they could have 30 employees by the end of the summer.
"We all had job offers from other companies," Satterly said. "We all declined them. This is what we want to do."
Hz Innovations is also in this for the long term. Since Wavio won the top prize in NTID's Next Big Idea competition in 2015, the product has been featured in the Saunders Summer Start-up Program, Effective Access Technology Conference Product Competition and the RIT Business Plan Competition.
The team is also branching out beyond RIT by showing off Wavio to judges at the Digital Rochester GREAT Awards, the 43North startup competition in Buffalo, TAMID Tank in New York City and the New York State Regional Business Plan Competition in Albany.
Now the founders are working on expanding their pool of investors and securing additional orders.
"Once the opportunity to develop Wavio became apparent, we had to make the decision to give 100 percent and go all in," said Schlenker. "We believe in Wavio and what it can do for our community."
Competitions and resources
RIT hosts competitions and commercial activities that integrate academic initiatives with applied business creation and commercialization experience. Here are some of them:
Tiger Tank—students pitch business ideas and compete for cash prizes.
NTID's Next Big Idea—students compete for cash prizes with ideas and products that benefit deaf and hard-of-hearing communities. The competition is sponsored by video relay company ZVRS.
RIT Business Model Competition—business model writing competition where students compete for cash prizes.
Effective Access Technology Product Competition—contest designed to promote early-stage effective access ideas where teams win cash prizes.
Saunders Summer Start-up Program—intensive summer incubation program where students earn a stipend to advance their business ideas.
Co-Up—designed to help fund student co-ops over the summer in multidisciplinary teams that lead to start-up products and commercial activities.
IdeaLab@RIT—weekend-long event where student teams brainstorm solutions for real-world challenges.
NSF-I-Corps—curriculum and grant funding to teams advancing a commercialization project.
Studio 930—consultancy team of top industrial design students working on student-led entrepreneurship projects.
Experts headed to Rochester
More than 350 entrepreneurship experts from the United States and abroad will arrive in Rochester this fall as the city showcases entrepreneurial expertise and endeavors as well as dynamic growth, excellence in programming and the impact on the local community and beyond.
The 2016 Global Consortium of Entrepreneurship Centers, or GCEC—co-hosted by University of Rochester and RIT—will be held Sept. 29 through Oct. 1. The conference, themed "Turning Over a New Leaf," features a variety of plenary sessions, workshops, breakout discussions and keynote speeches from national and international entrepreneurship experts as well as UR and RIT faculty and staff.
For more information about the conference at UR/RIT and to watch a video, go to www.GCEC2016.com.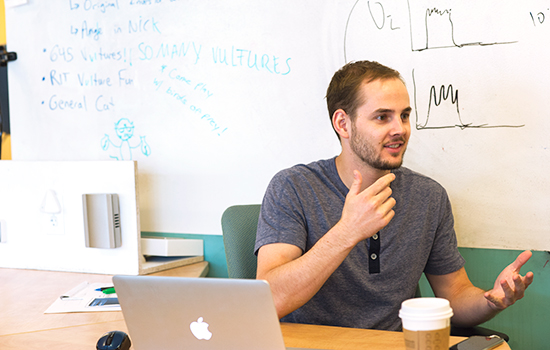 A. Sue Weisler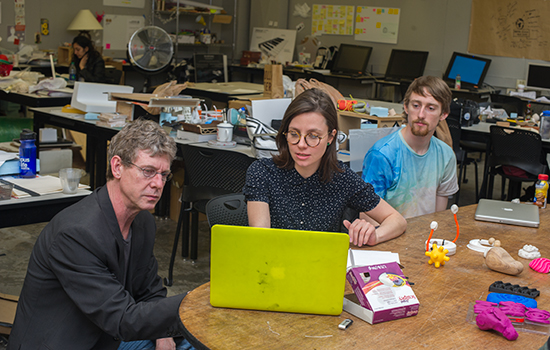 A. Sue Weisler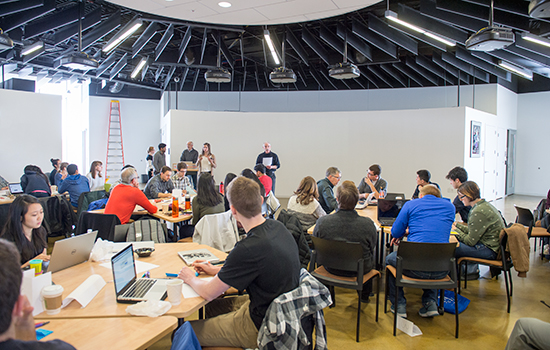 Michael Owens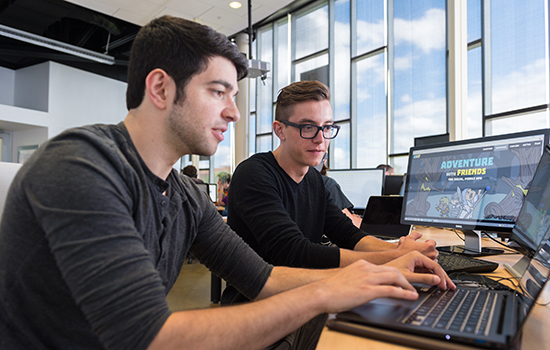 Austin DePalma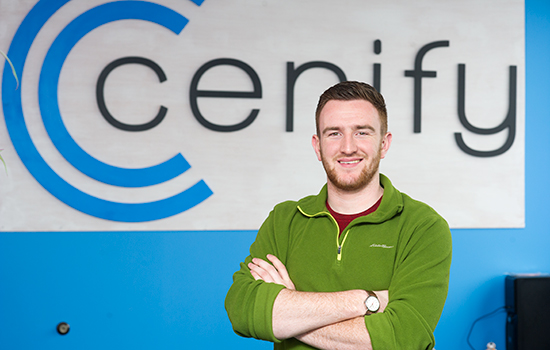 A. Sue Weisler
Topics