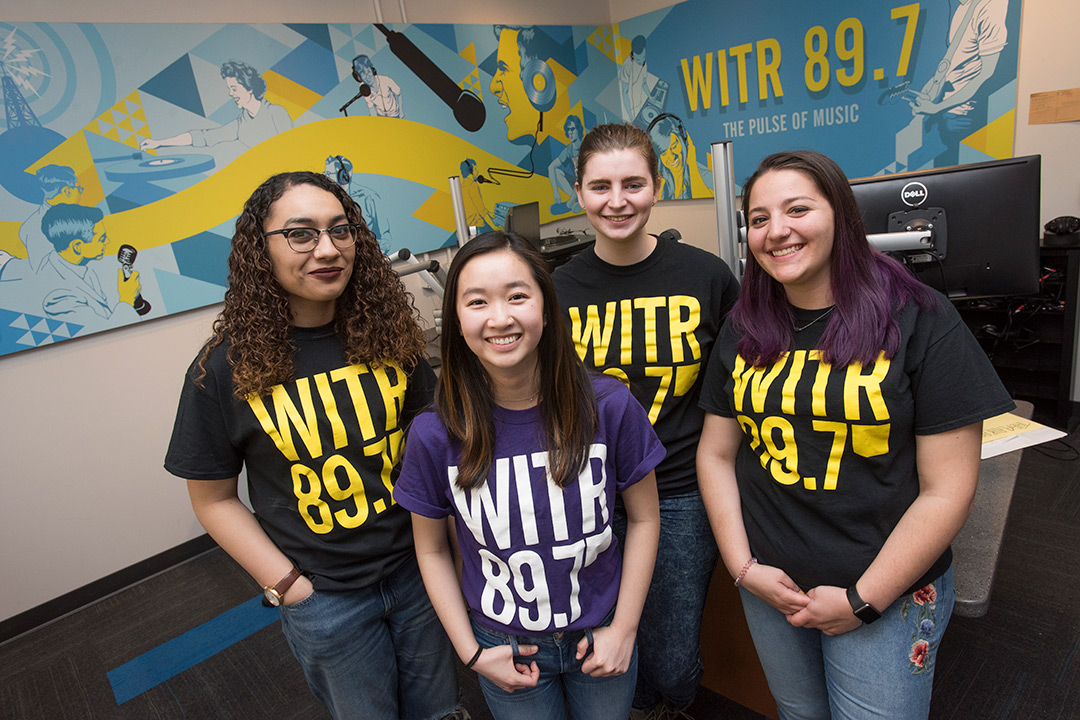 A. Sue Weisler
Members of WITR noticed something was missing last school year among its participants—women.
"As a radio station, we have a voice. It's important that our voice is representative of everyone at the university," said Cole Johnson, a fourth-year human-centered computing major and previous member-at-large for the WITR Executive Board.
Johnson led an effort to step up recruitment efforts to make sure everyone was given an opportunity to be part of the more than 40-year-old college radio station. Although there have been female members in the past, the ratio of men to women has always been skewed.
Four of the six executive board positions for WITR elected last spring are held by women. Overall female membership has increased by 40 percent since 2017.
"If you look at the previous board, it was all male, and in years before it was mostly men who held these positions," said Nasha Torres, a third-year new media design major and the member-at-large for WITR. "I think this can show other clubs on campus that more women can and should get involved in these positions."
Alessandra Santarosa, a third-year political science major and the general manager for WITR, explained that they weren't recruiting women to simply meet a diversity quota.
"We aren't looking for anyone specific to join our station; anyone can join," said Santarosa. "There is a place for everyone at WITR."
All four new board members said it's important for women to hold positions of power and emphasized how representation can help offset stereotypes.
"There's a stigma and negative stereotypes about women in leadership positions," said Claire Koval, a second-year new media interactive development major and the program director for WITR. "I think it's really important to break that stereotype and show that positions of power aren't just for one gender."
In addition to creating a more diverse image of WITR on campus, these four new officers have goals of continuing to increase the quality of the WITR community. They want the station to seem more approachable for people of all backgrounds and music tastes so other students are more inclined to take the first step and see what WITR has to offer them.
"The reason I stick around is because of the community," said Liz Kuhlman, a second-year computer engineering major and the WITR event coordinator. "Joining WITR was one of the best decisions I made in college."