Women's Council of RIT awards scholarships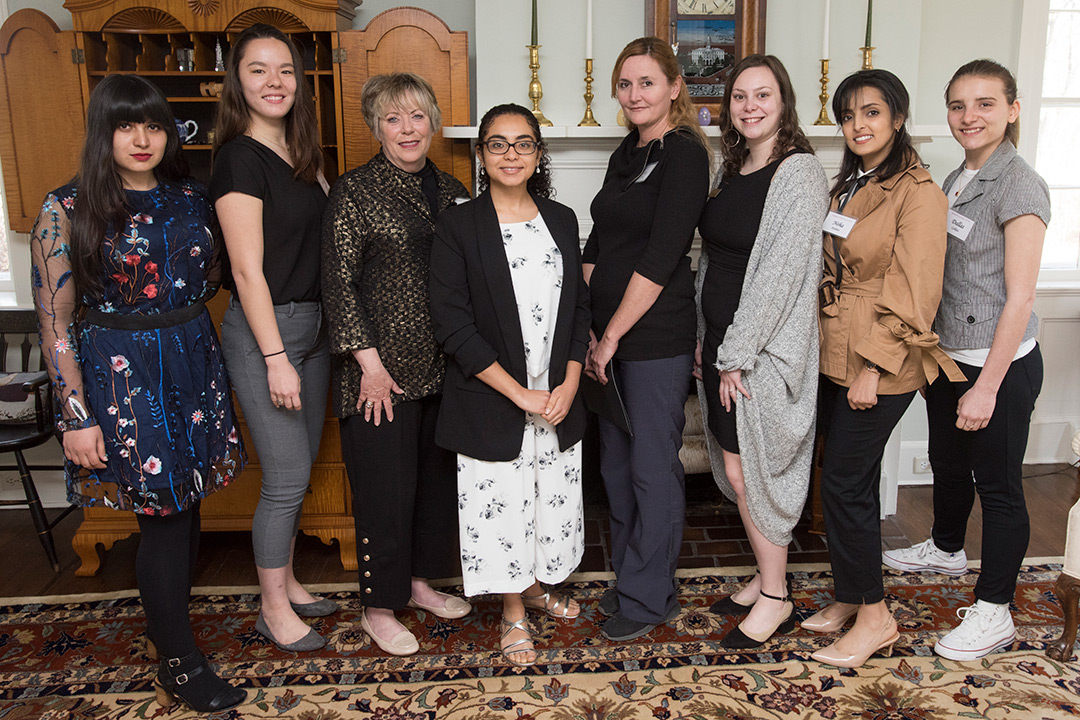 A. Sue Weisler
The Women's Council of RIT awarded 13 students with scholarships at the Women's Council Scholarship Award Luncheon at Liberty Hill on April 17.
Every year, the Women's Council of RIT provides academic scholarships to students who "earn high academic achievement as well as community and RIT involvement in light of extenuating circumstances."
"I consider it an honor to be chairing the Scholarship Committee for the Women's Council of RIT. It is a wonderful experience for me to recognize these outstanding, inventive, creative and innovative students. It is clear that these young women will indeed change the world," said Cindy Cooper, president of the Women's Council of RIT. "I think I speak for the entire Women's Council when I wish these individuals future success in all of their endeavors. I can't wait to see what they do next."
The Women's Council/Glass Program Collaborative Scholarship was awarded to Madeline Rile Smith, an MFA candidate from Philadelphia. Smith is a valued member of the RIT glass community due to her leadership, reliability, warmth and generous spirit. The Women's Council sees Smith as "a shining example for the College of Art and Design" and believes she "demonstrates a work ethic that stands out from the rest of her community and a creative appetite that enables her to pursue work that is as engaging as it is ambitious."
The Margaret's House Scholarship was awarded to Noha Alshihri, who will be graduating with a master's degree in chemistry in May. Alshihri believes the many challenges she has faced in life provided her with an experience that has "improved her personality" by helping her be more patient. After she graduates, Alshihri plans to work as a professional lab scientist with Saudi Aramco Co., the largest oil and petrochemical company in the world.
The winners of the Outstanding Woman Senior Award are:
Ashley Kosak is graduating this May from the mechanical engineering program. Kosak routinely volunteers to help the college, her department and the many organizations she is part of, making her one of the most visible students in the Kate Gleason College of Engineering. Matthew Marshall, professor and associate dean for undergraduate programs in the College of Engineering, said, "Ashley is the kind of student for whom all of RIT will soon be proud to call one of our alumni. I am already proud of Ashley for all that she has done and look forward to all that she is going to accomplish."
Elizabeth Grese from Rock Hill, N.Y., graduates this May from the international hospitality and service innovation program. Grese seeks every opportunity to participate in leadership roles and is involved in multiple clubs and campus activities. Carol Whitlock, professor for the hospitality and tourism department, said "she is a remarkable and hardworking young woman for whom I have the utmost respect. Elizabeth works hard, performs well in her classes and has been recognized as someone who is a rising star in the hospitality field."
Women's Council of RIT Endowed Scholarship recipients are:
Komal Ashfaq is a first-year film and animation graduate student from Pakistan. She discovered her love for film and the power of its influence while educating underprivileged children in Pakistan. Ashfaq helped turn the Pakistani national curriculum into animated and live-action videos to help improve education for these underprivileged children. She is also passionate about battling for equal rights for women, both in her country and beyond. When asked about her commitment to this cause, Ashfaq said "because of the sheer scale of female suffering, I feel a commitment to women's futures is simply my civic duty."
Dallas Calkins, from Rochester, N.Y., is a first-year film and animation student. Calkins says she "strives every day to help my family, to do right by the children I work with and to do right by my goals and aspirations." Her biggest strength is her motivation to move forward despite obstacles that may stand in her way, and she does her best to use her harsh life experiences to give "insight and heart" to everything she does.
Jade Myers, from Canandaigua, N.Y., is a first-year doctoral student in the Golisano College of Computing and Information Sciences. With a focus on human-computer interaction, Myers is using 3D-technology to create, develop and test upper and lower-limb prosthetics devices as part of her research. She is passionate about this research and hopes to make a positive difference and improve the quality of life for people who live with amputations.
Maria Morcos is a second-year physician's assistant student from Egypt. Morcos is heavily involved with RIT's Division of Diversity and Inclusion and is active in four different programs within the division. She is also the student advocate representing the College of Health Sciences and Technology and is starting her own club dedicated to mental health advocacy. One of her goals is to bring more awareness of the help available for women students and students who are financially challenged.
Other scholarships handed out at the award luncheon, but not chosen by the Women's Council, are the Laura Bradfield Russell Memorial Scholarship, which was endowed by the council in 1977, and the Endowed Scholarship for NTID Students, which was endowed by the council in 1991. These award recipients are determined by the Office of Financial Aid and, for the latter, the current Dean of NTID.
The scholarship recipients for these awards are:
Denise Alves, a second-year chemistry student from Elizabeth, N.J.; Virginia Aswad, a second-year biomedical sciences student from Cooperstown, N.Y.; Asma Sheikh, a fourth-year biomedical sciences student from Cambridge, Mass.; Robert Moakley, a fourth-year environmental science student from East Falmouth, Mass.; Almedin Cajlak, a fourth-year accounting student from Lebanon, Ind.; and Lani Tran, a fourth-year biomedical sciences student from San Jose, Calif.