October 14, 2022
by Susan Murad
RIT/NTID to host 2022 Deaf Play Creators Festival Oct. 14 and 21
Festival celebrates performances of Deaf playwrights' films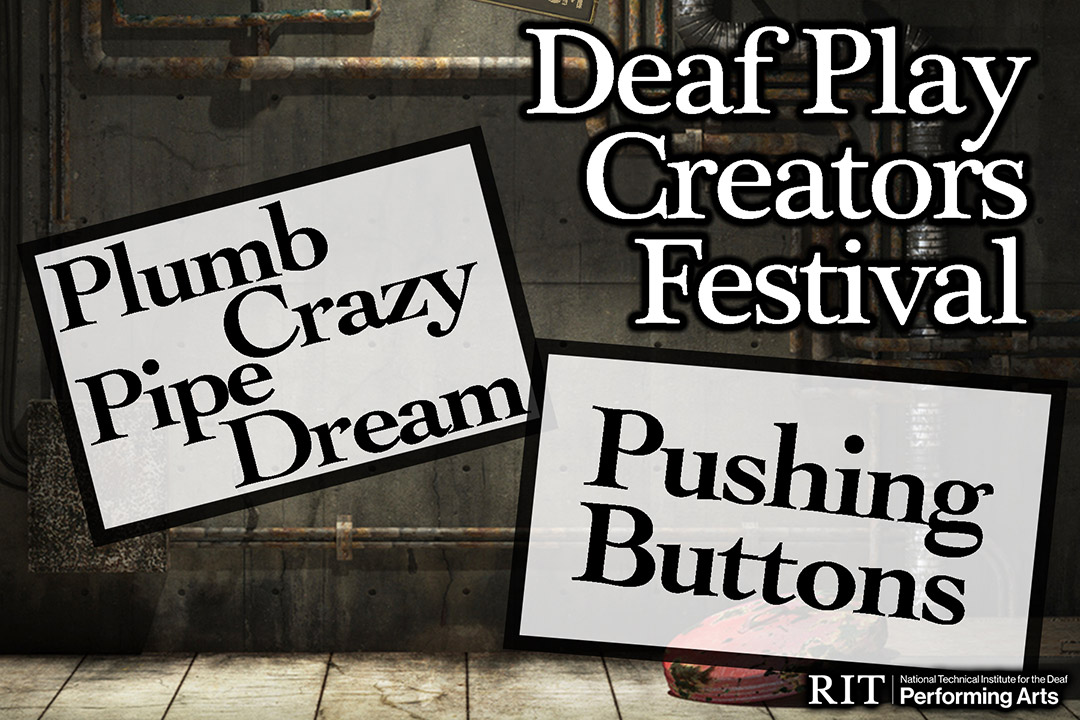 The 2022 Deaf Play Creators Festival, which celebrates the performances of Deaf playwrights' films, will be held Friday, Oct. 14, and Friday, Oct. 21, in the Wegmans Theater at RIT MAGIC Spell Studios on the campus of Rochester Institute of Technology. Doors open at 7:30 p.m., and the films will run from 8 to 10 p.m. both nights. A panel discussion with directors and playwrights is set for Oct. 14.
Tickets for in-person viewings are available on the University Arenas website or by calling 585-475-4121. Live-streams will be offered from 8 to 10 p.m., Oct. 14-23, and advance-sale tickets can be purchased.
The festival features filmed performances of two plays, Plumb Crazy Pipe Dream by Aimee Chou and Pushing Buttons by Robert Roth. Chou and Roth were selected to expand their scripts for the festival during the 2021 MAP-Deaf Theatre 10-Minute Play Festival.
In Plumb Crazy Pipe Dream, a married couple struggles to maintain their relationship as the water crisis in Flint, Michigan, effects their daily lives and has tragic consequences for both. Can they find a way to move past the tragedy and renew their hope for a future together? This production will be directed by Fred M. Beam, director of RIT/NTID's traveling theater troupe Sunshine 2.0, and features a cast of Deaf and voice actors.
Chou is a Deaf performer, playwright, and producer, and has worked on a variety of productions throughout the country. Chou has said that theater is an integral part of her journey as a Deaf person who grew up without an opportunity to meet other Deaf people, use sign language, or have access to entertainment. She studies journalism at the University of Washington.
"This production is inspired by real life in more ways than one," Chou said. "In late 2021, I started expanding Plumb Crazy Pipe Dream from a 10-minute script into a short one-act. During that time, my house's water main sprang an enormous leak. Snowstorms and bureaucratic delays followed. We ended up not having running water for several weeks. Living off water jugs, bottles, throwing snow in our bathtub, and taking gym showers, I learned firsthand the impact water insecurity has on mental health, and that was just for three weeks, nothing comparable to the long-term systemic crisis that places like Flint, Michigan, have endured. Plumb Crazy Pipe Dream shows water's binaries: it can sustain life, or cause death. It can cleanse, or make a mess. Violent floods one-minute, soothing trickles in the next. It can be a gas, a solid, or liquid."
In Pushing Buttons, Danny has grown up trying to meet his mother's expectations. As he discovers more about his Deaf experience and his personal identity, the relationship between mother and son becomes increasingly difficult, especially as Danny discovers a love interest that doesn't meet his mother's expectations.
Roth has a long history in Deaf theater, beginning in 1971 with the Chicago Theatre of the Deaf. He has produced several plays in ASL in Los Angeles and Seattle.
"As they grow up, children interact with their parents," said Roth. "At first, their world view is centered upon themselves and their parents. As they grow, there is a growing tension as the child asserts their independence versus the parent's instinct to maintain control. This dynamic changes when a Deaf child is within a hearing household: they are increasingly aware that they alone cannot hear in that home, and that they are outsiders within their own family. As they mature, they come to realize that their differences are not limited to being Deaf. As they absorb this knowledge, they embark on a journey to find their true selves."
Pushing Buttons is directed by Joshua Castille and features a cast of RIT/NTID alumni, faculty, staff, and students.
The festival is hosted by the RIT/NTID Department of Performing Arts.
Topics