Changing the way the world senses with light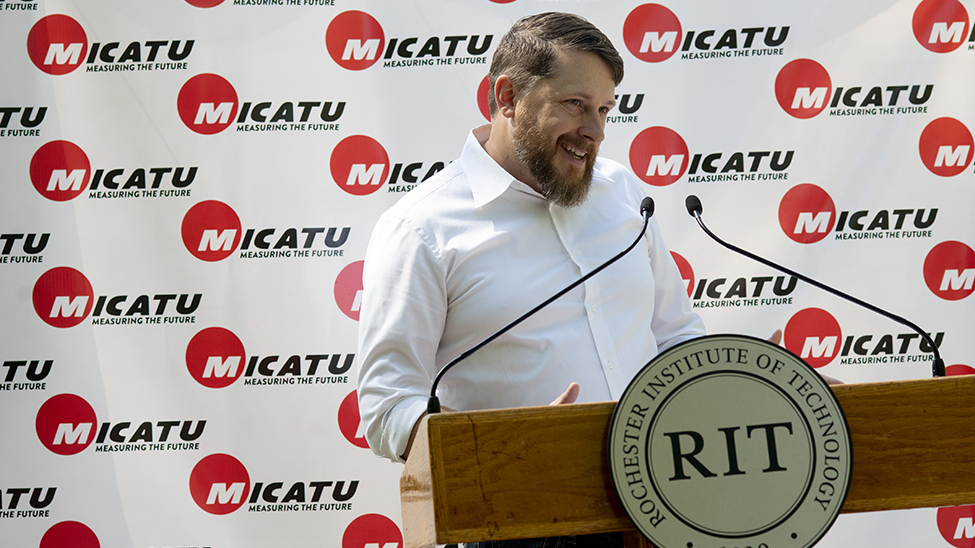 Michael Oshetski '03 (electrical engineering) was watching the sun rise from an airport in Hong Kong when he turned to his good friend and coworker, Atul Pradhan, and asked if he wanted to start a company.
"We are both tired and he's like, 'Sure, yeah, whatever.' I'm like, 'No really, do you want to start a company.'"
Twelve years later the company—named Micatu after the first three letters of each partner's first name— is a multimillion dollar business changing the way the world senses with light.
Oshetski started working as an electrical engineer right after graduation and worked his way up at various telecom companies. He landed a position as program manager, overseeing engineering and manufacturing teams and managing tens of millions in annual sales.
"It was fun, it was exciting," he said. "But I always had this nagging thing in the back of my head. What would happen if I tried my own thing?"
He thought Pradhan, who has a Ph.D. in physics from MIT and was a co-designer of Google's Streetview lens, would be the perfect partner.
Like many start-ups, Micatu began in a garage with three people.
The cofounders knew they wanted to go into optical sensing because they could see the opportunities in that area, everything from electric cars to utilities to industrial sensing.
"The market was really searching for solutions," Oshetski said. "The timing was just perfect."
Their optic sensors monitor vibration, acceleration, vector and displacement. Sensors that use optics are more precise than electronic sensors.
In 2021, Micatu Inc. donated its groundbreaking Gridview optical sensors to RIT for a new campus learning lab. The equipment allows faculty and students to monitor renewable integration and manage the addition of distributed energy resources onto the campus microgrid.
The donation of the equipment for an outdoor learning laboratory by Micatu also includes $150,000 in funding for research projects related to assessing power quality, big data analytics, and infrastructure.
Oshetski is proud he has been able to bring high-tech jobs to his hometown. He is thankful for his RIT degree, which gave him a strong technical background, as well as his father, who passed along a business sense.
He is just getting started. Oshetski said he wants to continue to grow his company as well as pursue side projects, such as speaking and coaching students.
His advice: "Entrepreneurship is a journey. It's not a destination. Only do it for the right reasons. Do it because you are passionate about it and you want to fundamentally help people. If you focus on that, you'll be fine."
---