Dual Degree at RIT: Accelerating a Career in Veterinary Medicine
November 4, 2022
Kelsey Lawton '21 (biology BS / environmental science MS)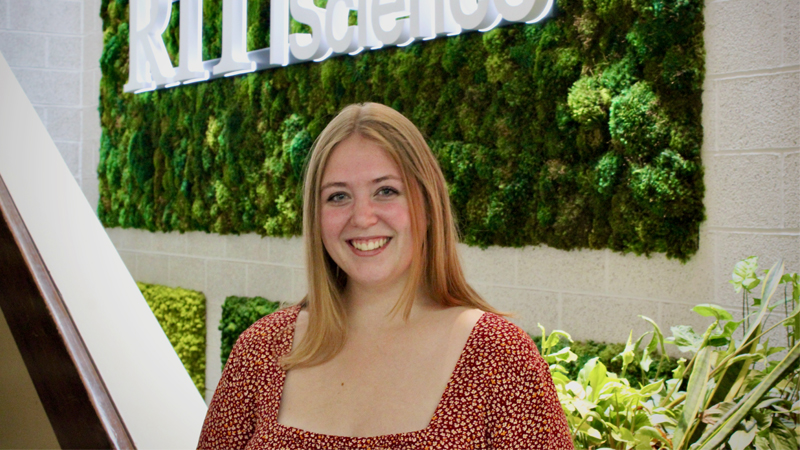 When Kelsey Lawton '21 arrived at RIT, she was a biochemistry major excited to dive into science. She became intrigued by animal science and conducting research which ultimately sparked her interest in a veterinary science career. Kelsey worked with her advisors to customize her degree, and she became the first RIT student to graduate with a biology BS and environmental science MS dual degree. Now Kelsey experiences firsthand the advances in medicine and technology as an in vivo toxicology technician at iuvo Bioscience, a pharmaceutical and medical device industry research organization.
Kelsey discovered her passion for animal science and research after meeting with Senior Associate Dean Dr. Larry Buckley, and other RIT professors. She decided to switch her major from biochemistry to biology, with a minor in chemistry. Kelsey wanted to be sure that whatever job she took after graduation would help her achieve her goal of a career in veterinary medicine.
"As a pre-vet student, I wanted to ensure that my first job after college set me on the path of strengthening both my veterinary school application and skills needed to propel my career in veterinary medicine. I often sought advice from the RIT pre-vet advisor, Dr. Larry Buckley, when I began my search for my current job."
During her academic career at RIT, Kelsey found the faculty and staff to be sincere and available. She said her professors pushed their students to ask questions and learn from their mistakes. Incorporating real-world lab skills was one of the things Kelsey said helped lead her to where she is today. "During my five years at RIT, I was encouraged to learn how to use new equipment, perform protocols, and practice data recording, which helped prepare me for my job here at iuvo."
Kelsey said there is something for everyone at RIT. "I rediscovered my passion for exotic species (via Dr. Buckley) because there were others with the same passion, and that really makes RIT unique." She also liked how most of her classes were small, allowing for conversation and discussion among students and faculty. "I ultimately decided on RIT College of Science because I saw the opportunity to learn about animal science across many species."
Today, Kelsey is an in vivo toxicology technician at iuvo Bioscience. Her team performs in vivo studies for medical, pharmaceutical, and ophthalmological industries at all stages of production and release. Kelsey notes, "It's truly awe-inspiring to see firsthand the advances in medicine and technology and see them used later in real-world applications."
"We are a facility that performs both Good Manufacturing Practices (GMP) and Good Laboratory Practices (GLP). One of the critical skills for this type of work is attention to detail. The team must pay close attention to dosing, timing, data recording, etc., as one deviation could result in a faulty test. Patience during rigorous training is an essential skill at iuvo."
For high school students interested in pursuing this field, Kelsey recommended they get as much hands-on experience in a lab as possible. "Learning and practicing protocols in environments like RIT allows students to make mistakes, learn from them, and become proficient and confident scientists in the future."
---