Grad Student Presents Thesis on Digital Painters Establishing Brand Equity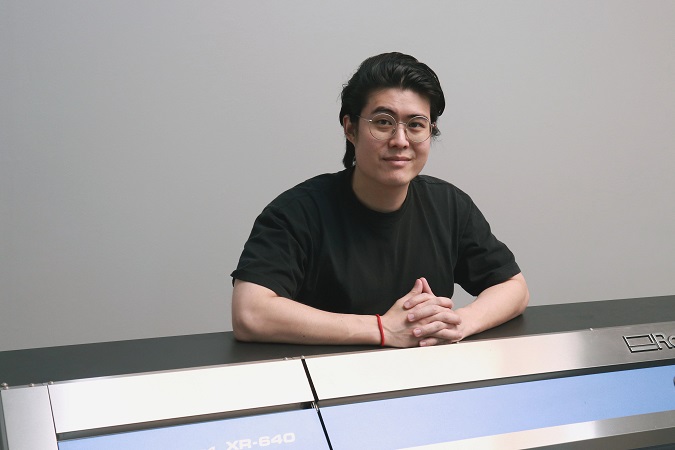 The COVID-19 pandemic has not stopped students in the department of graphic media science and technology from completing their thesis work and presenting their results using online colloquia. In a recent event, master's candidate Andrew Lim presented his research to an online audience, including his advisors, department faculty, students, and the community-at-large.
His thesis research, titled "Exploration of the Process of Building Brand Equity as a Digital Painter," advanced a theoretical framework describing how digital painters can develop their brand. Relying on the grounded theory approach as described by H. Russell Bernard, Lim interviewed several successful digital artists and identified key constructs and themes that were consistent across many of the research subjects.
Lim's research is especially timely and relevant given the rapid emergence of digital painting as a medium, and the plethora of marketing tools that are now available through channels like social media. These digital tools have revolutionized the ways in which artists can build their personal brands. In particular, according to Lim's research, today's artists do not need to be as reliant on galleries and agents as they historically have been.
Significant amounts of foundational work needed to be completed by Lim before data collection and analysis. For example, he had to ensure that his work was well-grounded in the academic literature to support the definitions of what it means to be a successful artist before he could employ purposive sampling techniques to identify subjects suitable for inclusion in the study. Lim also needed to structure the interviews of the research subjects systematically: in this case, he relied on the coding paradigm as espoused by Corbin and Strauss. Once his interview schedule was conducted and pilot-tested, and the research subjects identified, Lim conducted extensive interviews with each participant. At this point, however, his work was just beginning.
To address his research questions, Lim needed to analyze and code the voluminous amounts of data obtained from his semi-structured interviews. Intending to increase the internal validity of the analysis, Lim employed the use of individual coders who, after appropriate training, worked independently in combing through the responses. Once he compiled the individual results, the coders were called into a meeting to discuss any discrepancies in their analyses and to come to consensus decisions about how the text is best coded.
The results of the study identified repeated themes germane to the research context as categorized by the condition, context, strategies, action, and results. These categories, as defined by the theoretical framework utilized, structure multiple themes that are manifest as best practices for emerging digital artists to establish their brand.
"We are especially proud of Andy's thesis," notes Greg D'Amico, the Gravure Endowed Professor in the department of graphic media science and technology and Lim's primary advisor. "His research demonstrated his ability to apply scientific methods relevant to his area of personal interest especially well, resulting in work that not only can be foundational for future inquiry in this domain but also provides practical implications for artists wishing to establish their brand."
Today, Lim works in an entrepreneurial venture. He owns and operates Brightlance Studio, his own giclée printing business. He envisions in the future his use of his thesis work as foundation to grow his business and create educational resources for digital painters on how to build and grow their brand. In the long term, he has his sights on teaching at the university level.
---