Love Biology? Hate Formaldehyde? Try Bioinformatics.
March 17, 2022
Jeselle Clark '19 (bioinformatics)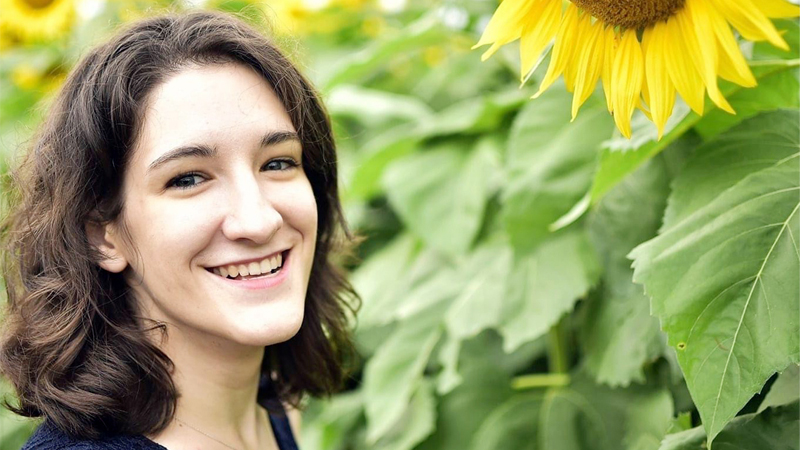 Jeselle Clark was in her AP biology class at Mira Costa High School in California when she first heard about bioinformatics. Bioinformatics combines biology and computer science and can be used to analyze big data collected by the health industry to discover, diagnose, and treat a wide range of medical conditions. A guest speaker talked about the Human Genome Project and, even though her textbook had just one paragraph on bioinformatics, Jeselle looked it up online and found RIT's program. Four months later, she received her early decision acceptance letter. Today she works to automate clinical trials for the National Cancer Institute.
As a bioinformatics software engineer, Jeselle develops and defines requirements for large-scale precision medicine oncology clinical trials. Precision medicine oncology selects chemotherapy agents based on the genetics of the patient's cancer rather than matching a drug to a general cancer type. Jeselle is part of a team of 10 bioinformaticians that help validate genetic variants and trial participant clinical data. They work together to guide the Agile Software Development of thousands of participants across half a dozen clinical trials.
Jeselle and her team can contribute a rich skillset by understanding both genetics and software development. The team develops tools for high throughput variant evaluations and effectively communicates the clinical trial requirements to the API engineering teams. Bioinformaticians are important because they can communicate molecular characterizations of patient data to programmers who don't have biology training.
Jeselle started working in research early on in her career at RIT. Research experience built up her programming skills and confidence. After her third year, she applied for and received a competitive internship at the National Institute for Allergy and Infectious Diseases. While there, she realized that she enjoyed industry research and working within a team of bioinformaticians.
During her MS program in bioinformatics at RIT, Jeselle took several special interest classes that prepared her for clinical variation work. She also worked under Dr. Gordon Broderick and Dr. Matt Morris in the Center for Clinical Systems Biology at Rochester General Hospital as a part of her thesis work.
"I always felt like RIT, the College of Science, and the School of Life Sciences, specifically, cared about my path through the bioinformatics program and was always willing to work with me to tailor my learning to my interests."
Jeselle advises high school students who like life sciences to research what career paths are available. She always loved biology class but became violently ill during dissection labs. She did not think of biology careers outside of medicine or ecology. Fortunately, she found bioinformatics and the BS/MS program at RIT. The additional training in the BS/MS program gave her a competitive edge when applying for jobs and opened the door for early management roles. Just a few years out of school, she was offered a management position to help organize bioinformatics work for her team. Jeselle's bioinformatics work was relatively unaffected by the pandemic, as well. She transitioned to work-from-home in March 2020, and her bioinformatics team tripled in size during the first year of the pandemic.
---