Making AI less artificial and more intelligent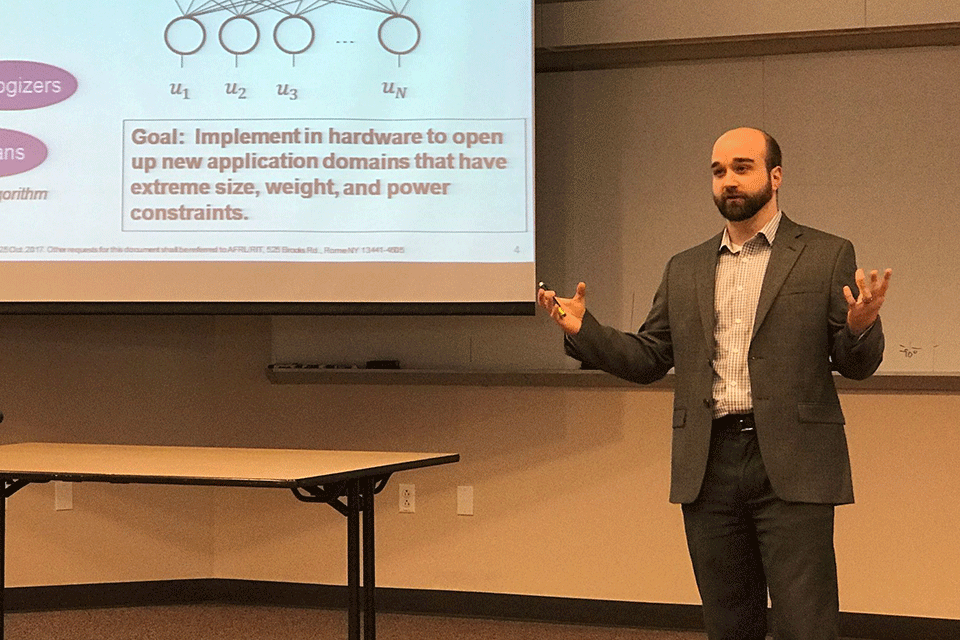 Dr. Cory Merkel's lab—Brain Lab—is exploring cross-disciplinary solutions to improve the agility, energy efficiency, and trustworthiness of AI systems. The key approach in these solutions is to observe principles underlying biological intelligence and then emulate them in hardware and software. "Doing this requires a huge breadth of knowledge in domains spanning devices physics, computer architecture, neuroscience, machine learning, and many others," said Merkel. Brain Lab collaborates with experts in these areas from both inside and outside of RIT. Currently, the lab is composed of around 15 graduate students representing multiple disciplines such as computer engineering, computer science, and math modeling.
Hagar Hendy, a Brain Lab member entering her second year in the Electrical and Computer Engineering Ph.D. program, is particularly excited by the multidisciplinary nature of the research. Her work is focused on designing neuromorphic (brain-inspired) hardware to improve the energy efficiency of AI algorithms, which involves elements of mixed signal circuits, computer architecture, and machine learning. 
Examples of other project areas include:
improving automatic speech recognition for individuals with atypical speech
emulating the roles of non-neuronal brain cells (e.g. astrocytes) to improve the functionality of AI systems
designing novel neuromorphic hardware systems based on emerging memory technologies
improving the generalization capability and trustworthiness of deep learning algorithms, which is currently funded by the Air Force Research Lab
For more information, please visit www.rit.edu/brainlab.
---