Med School Prep: Skills and Experiences to Outshine Your Peers
April 26, 2021
Arooj Iqbal '11 (biochemistry)
Faculty: Lea Michel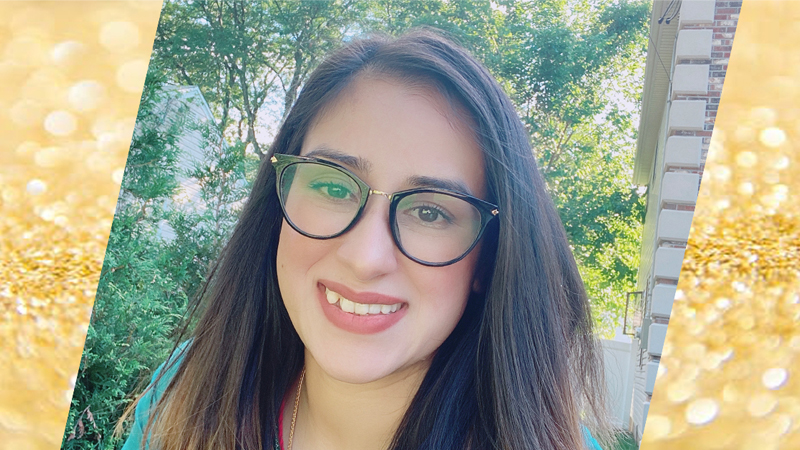 "The most important thing that I learned at RIT was time management and being able to manage multiple courses along with research at the same time."
Arooj Iqbal '11 graduated with a degree in biochemistry from RIT, is now a fourth-year medical student at Lake Erie College of Osteopathic Medicine, and soon will be moving to her residency program at SUNY Downstate in Brooklyn, NY. The life of a medical student requires constant juggling of priorities and excellent time management - skills that Arooj developed early on in her college career.

As an undergraduate student, Arooj knew she wanted to pursue medical school. As a biochemistry major, she was able to better understand the chemical makeup of the human body. She also took the anatomy courses at RIT, giving her a greater understanding of the physiology and structure of the human body. Arooj was also married and started her family while attending RIT. She was able to take the maximum number of courses most semesters, giving her the time off when her daughter was born. She still graduated on time, with extra credits, and found time to conduct research with Dr. Lea Michel. This research would become key to her path to medical school.
"RIT does an excellent job of exposing its students to research in various fields of science. This allows students to outshine peers in the medical field."
After graduating from RIT, Arooj pursued a master's in biomedical sciences from Rutgers Graduate School of Biomedical Sciences. She then added to her resume by working in an In-Vitro Fertilization laboratory as a senior scientist. The extra hands-on experience in the laboratory allowed her to stand out as a non-traditional candidate for medical school.
Now, as a mom of three young children and as a medical student, Arooj continues to juggle multiple priorities. She is on an Emergency Medicine clerkship at St. John's Riverside Hospital in Yonkers, NY, where her daily responsibilities include seeing patients, taking their history, and performing a physical exam so that she can report back to her attending. She needs to apply the knowledge she gained in school - academically and clinically - to correctly diagnose and treat a patient. Students must work fourteen 9-12 hour shifts that can be morning, afternoon, evening, or night shifts. Although the attending will ultimately decide the treatment plan, it won't be long before students like Arooj are expected to put in the orders for patients.
Arooj recommends that people interested in pursuing medical school find an opportunity to volunteer in a doctor's office or hospital during undergraduate studies. Volunteering shows your dedication and knowledge of what is required to be a doctor even before getting to medical school. She also recommends that people learn time management early on, and participate in research work; medical school interviewers were very interested in the research that Arooj conducted while at RIT.
"I would advise them to choose an undergraduate school that provides them with opportunities for research and hands-on experience in the field of medicine such as RIT."
Although her path to medical school was non-traditional in many ways, Arooj never lost sight of the light at the end of the tunnel. Her resilience, determination, and a bit of time management helped her achieve her dreams.
---