Mihir Choudari Presents Thesis Work
April 29, 2019
Mihir Choudari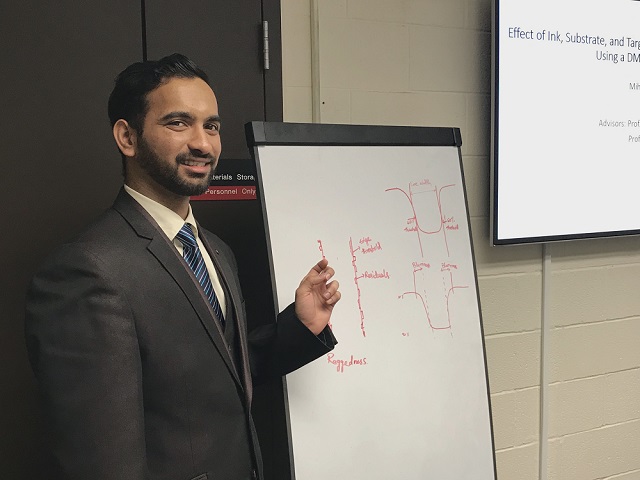 Mihir Choudhari recently presented his thesis work to students, faculty, and staff in a colloquia hosted by the department of graphic media science and technology. His thesis, titled "Effects of Ink, Substrate, and Target Line Width on the Quality of Lines Printed Using a DMP 3000 Inkjet Printer," examined aspects of line quality reproduction with different specialty inks and a variety of substrates.
Choudhari developed an ISO compliant test target, and output samples on a FUJIFILM Dimatix 3000 inkjet printer. This printer was used to output the samples as it is designed with sophisticated controls specifically for research purposes, and features the ability to jet a wide range of inks while carefully controlling other variables. Prints were evaluated with the CCD-based PIAS-II (Personal Image Analysis System) instrument and software manufactured by Quality Engineering Associates.
Data were analyzed using a two-factor factorial design of experiments, with a goal of assessing the effect of inks, substrates, and line width on quality attributes width conformance, raggedness, and blurriness.
Among the conclusions of the empirical analysis is that textured surfaced substrates can be especially challenging for inkjet printing regarding image quality attributes, and that the type of ink used can have an impact on print quality, especially in regard to width conformance.
This thesis work is especially relevant and timely due to the increasing popularity of inkjet printing. Choudhari cited research by Smithers Pira that projects the value of worldwide inkjet print sales are expected to exceed $91 billion by 2025, a marked increase from $57 billion in 2015. As the inkjet market expands, it continues to diversify, according to Choudhari. This means that the effect of different types of inks and varied substrates needs to be better understood. This was the primary motivation for this thesis work.
To complete the thesis, multi-disciplinary cooperation was required. Choudhari worked with RIT's AMPrint Center; Bruce Kahn, chief scientist and director of business development for AMPrint; and with Chaitanya Mahajan and Manoj Meda, two doctoral candidates. In addition, for the image analysis Choudhari worked closely with RIT's Printing Applications Laboratory. He also cited the support of the RIT Print and Postal HUB as influential to the completion of the thesis.
In addition, the framework utilized for this study provides a structure for a plethora of future research opportunities across a wide range of subjects germane to the department of graphic science and technology. Choudhari's methodology and DOE analysis with other variables should provide a virtual roadmap for future thesis students in this domain.
While finishing his thesis, Choudhari worked at KCI, An Acelity Company in San Antonio, Texas. Here he worked as an engineering intern responsible for asset management, artwork management, and improving the workflow of the labeling team. His responsibilities include working in digital asset management, specifically with Kallik AMS 180, a software for managing artwork. His course work, particularly in regard to color management and printing technologies, prepared him for the important labeling tasks in the world of medical devices. Given his educational foundation, he was able to learn new skills particular to the medical device industry, such as FDA regulations.
Choudhari plans on returning to KCI after graduation. Instilled with an entrepreneurial spirit, he would like to start his own venture in his home country of India after gaining more industrial experience in the U.S.
---