Navigating Research Policy with Senior Research Officers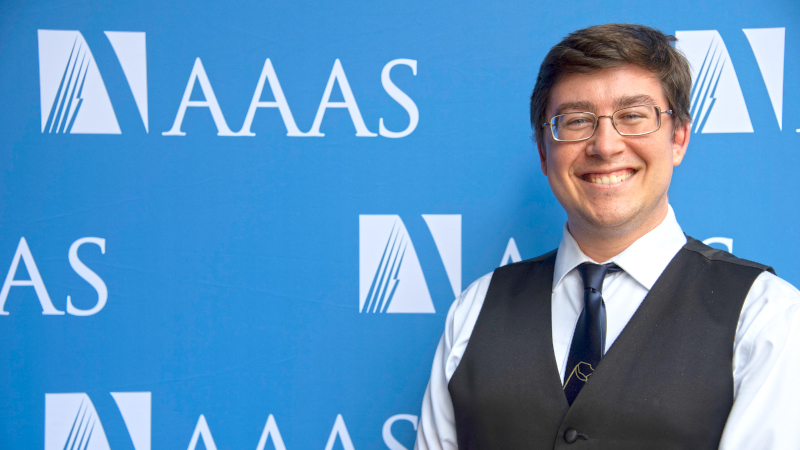 While pursuing his doctorate, Kevin Cooke attended a workshop that motivated him to learn more about scientific research policy and how research is handled on a large scale. In a field that covers science, politics, communication, and advocacy, science policy analysts act as the liaison between researchers, the public, and policymakers. Their work includes science regulations, which are essential for global health, international regulations, and the continued financing of research for universities around the world.
After encouragement from his mentor, Kevin attended a workshop hosted by the American Association for the Advancement of Science (AAAS) where he became interested in learning about science research policy. Today, he engages with senior research officers at universities across the country where he plans strategies in response to federal government policies and regulations that shape scientific research programs.
In the beginning, Kevin pursued a graduate program dedicated to missions in astrophysics where he could focus on the study of astronomy, star formation, and other specialized topics related to astrophysics not covered in general physics programs. "My decision to apply to the Astrophysical Sciences and Technology (AST) Ph.D. program was based on RIT's history of applied learning combined with the focused nature of the program itself. It opened up opportunities for me to interact with not only observational astronomers like me but engineering-minded students at the Center for Detectors and gravitational wave specialists at the Center for Computational Relativity and Gravitation."
Kevin credits his mentor, Dr. Jeyhan Kartaltepe, as a tremendous resource and influence on him to shift into the research policy field. "I wanted to learn how scientific research is coordinated on a large scale during my AST doctoral program. Dr. Kartaltepe suggested I attend a workshop hosted by AAAS, which was a beginner's education in federal appropriations. I left with a desire to learn more which ultimately led me down the path of research policy. I'm fortunate to have worked with RIT faculty in the AST program," Kevin said. "Dr. Kartaltepe was a supportive leader of our research group and encouraged students to explore their interests. She did whatever she could to help set us up for the next stage of our career."
Today, Kevin is the Director of Research Policy at the Association of Public and Land-grant Universities (APLU). "As a convening and advocacy organization, we bring together leaders from member institutions to work on higher education topics. I serve the Council on Research, which convenes the senior research officers of public research universities. I work with the Chair to prepare the agenda and content of the monthly meetings. As I spend more time in my position, I look forward to working on building research capacity at institutions with fewer resources."
"The two most important skills in my position are communication and adaptability. Every institution is unique, so we can't use a one-size-fits-all approach to bolster research capacity and administration. While they may share specific challenges, each institution addresses them differently. When I provide information to support these institutions, I need to be on the lookout for a wide array of funding options and opportunities."
Working with senior research officers at universities is Kevin's favorite part of his job. "I've learned so much about the unique nature of each university and the multiple levels of research they contain. I feel confident I will have a powerful impact in supporting research missions across different environments."
Kevin confessed he's still a bit taken aback that landed in the science policy field, but he finds his work fulfilling and enjoys his new profession. He advises students to consider that while you may fall in love with a field of work, there are several sub-specialties to think about. "Students should try to see the connections between the field they join and their partner fields. There are places in between where you can find great fulfillment. I'm very thankful for the unique experiences I've had and would be happy to answer any questions from graduate students who are interested in science and research policy."
---