From RIT to Communicating with Satellites as a Spacecraft Operator
A first-generation college student, Mike Ortiz chose RIT for its research options and campus location. He liked that there were a wide range of astrophysics research topics to choose from and the changing seasons in New York appealed to him. "Fall in Rochester is one of the best I've ever seen." Today, Mike works as a spacecraft operator communicating with satellites at Terran Orbital, a global leader in small satellites.
Mike describes his first month at RIT as a wonderful learning experience. Not wasting any time, he became involved in research right away. Mike began by spending a semester working on studies of Active Galactic Nuclei (AGN), which are galaxies with very bright centers due to material infalling onto their central supermassive black hole. He worked with Dr. Andrew Robinson, director of the astrophysical sciences and technology Ph.D. program, and Dr. Michael Richmond, a professor in the School of Physics and Astronomy.
Mike then switched to a research group led by Dr. Michael Zemcov, where he became involved in CIBER-2 (the Cosmic Infrared Background ExpeRiment-2). His role in the project was to improve CIBER-2's optical focusing and go out into the field to prepare the CIBER-2 for flight. During this time, Mike was deployed to the White Sands Missile Range.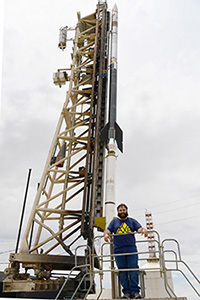 "Being deployed to White Sands was a privilege and a dream come true to work with people from NASA and other organizations." You can read more about Mike's role at White Sands in the RIT news article, RIT astrophysics graduate students conduct experiment at White Sands Missile Range.
"One thing I love about RIT research opportunities was the degree of freedom I had to change and learn about anything of interest to me. The professors are accommodating in letting you choose, and they help steer you in the right direction."
Mike learned about the complexity of launching a sounding rocket in his research and all the work and details that go into every mission for utilizing sounding rockets for science. "Faculty have contributed a lot to my research experience by answering questions based on their expertise or topics they are passionate about."
Outside of his studies, Mike agrees there are plenty of activities for students to get involved in at RIT, and he would have liked to join more. But his deployment to the White Sands Missile Range in New Mexico kept him busy. Also, during the height of the pandemic, some activities weren't available.
When asked what advice Mike would give first-year students, he suggests that students step out of their comfort zone with what they already know. "It may be hard and confusing at times, but remember all the other hard and confusing things in your life you have done and take it day by day." He also suggested that an important skill to bring to college is knowing where to find information. "It could be from a faculty member, fellow student, or even an online science journal."
Mike appreciated the help Dr. Zemcov and other faculty provided him in preparing his CV and finding a job. They showed him where and how to look for jobs through their shared experience. Mike is now a spacecraft operator at Terran Orbital, where he communicates with satellites, reads their telemetry for anomalies, and makes sure the spacecraft is healthy. Skills related to this position include engineering, coding, problem-solving, and astronomical instrumentation experience.
What does Mike love about his job? "I love that it's a little bit of everything rolled up. One day I can be doing my routine weekly duties, and by the end of the day, I'm doing something new or learning something new from another group working on something completely different."
---