Will Wine Taste Different If You Drink It Outside?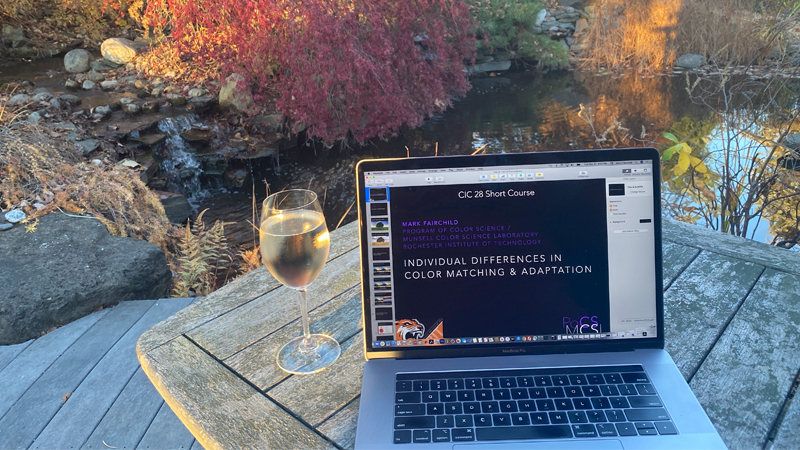 Does wine taste different if you drink it inside vs. outside? The short answer is yes, but with all things science, it's never that simple. Mark Fairchild, director of the RIT Color Science/Munsell Color Science Laboratory, examined some color variables and explored their potential impact on wine sensory evaluation (tasting) in his publication, The Colors of Wine. It's more complex than you think. Color is important but rarely treated analytically. The traditional techniques of wine tasting include five steps.
SEE: The evaluation of color, clarity, viscosity, and other visual properties.
SWIRL: As an assist to visual evaluation and to release aromatic compounds.
SNIFF: To evaluate the aromas present including faults and their relative strengths.
SIP: Adding taste texture and tactile senses to the aromas.
SAVOR: To make overall assessments of the combined sensory experience.
It's well known that color affects aroma. The aroma in turn largely defines taste. Taste is a key part of the overall flavor, thus color influences sniff, sip, and swirl.
"Color can have a huge impact on flavor, but it is a matter of degree. If the wine was bright green instead of red or yellow, it would likely have a big impact on flavor," said Fairchild. "If it is seen as just a purplish-red instead of an orangish-red, then the impact will be more subtle."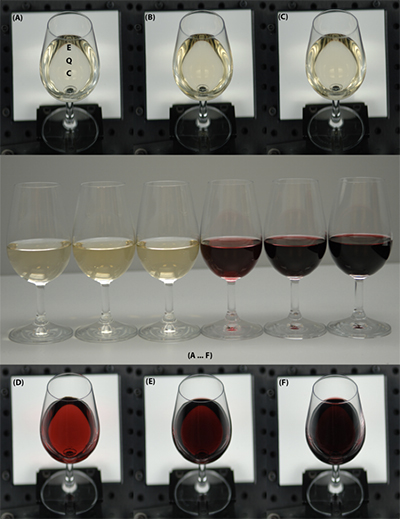 In his work, six wines (three white, three red) were evaluated. They were measured spectrophotometrically, three in glass geometries and four cuvette geometries. Color metric and color appearance analyses were completed and focused on the importance of illumination.
The measurements of spectral transmittance indicate the amount of light of different wavelengths (colors) that pass through the wine. Since wine is largely transparent, it is the light that passes through that gives it most of the perceived color.
Someone who is very interested in wine will see those small color differences as significant (e.g. a purplish-red wine is generally younger/fresher and an orangish-red wine is either aged or oxidized and those differences might influence some people). Those smaller differences are what tend to happen with changes in lighting.
Measurements were used to simulate what we see in a glass of wine, along with some measurements in the glasses themselves. But since there is less control of those measurements, they were just used for comparison to decide which instrumental measurements were most useful.
"Part of the analysis in the paper was figuring out which types of measurements made the most sense," said Fairchild. "We also needed those spectral (wavelength by wavelength) measurements to be able to mathematically simulate the effects of different lighting and calculate the appearance (lightness, saturation, and hue) of the wine."
The main conclusion in this work was to quantify and point out the importance of lighting in the sensory evaluation (tasting) of the wine. A lot of effort and expense goes into wine tasting and teaching people how to taste, but often the lighting is not at all controlled (or worse it is different for the instructor and the students) and that makes it very difficult for people to understand what they are seeing and make sound judgments about the wine. It leads to a lot of confusion.
"So, if you don't like the wine you're drinking, you might want to consider a change in lighting," said Fairchild.
---