Hello everyone! My name is Morgan Lopez, and I am a second-year student here at RIT. If you know me, you know I absolutely have a sweet tooth. And if you didn't know that, now you do! After being a student at RIT for almost two years, I've had time to go around to every food spot on campus and try a variety of foods. And me being me… I also tried many of the desserts and sweets around campus. In this blog, I share my favorite desserts as well as several others I've tried and enjoyed. Desserts range from Artesano Bakery & Cafe, Cafe & Market at Crossroads, Beanz, and Ben & Jerry's.
1. Strawberry White Chocolate Mousse Tart from Artesano Bakery & Cafe
First up is one of my absolute favorites! It is a White Chocolate Mousse Tart from Artesano Bakery & Cafe. Artesano is known for its made-from-scratch treats and sweets, including gluten-free and vegan goodies. The mousse is very creamy, the fruit at the bottom makes it an overall fresh dessert, and it's not super sweet. I could have this every day, and I may have done that a few times here and there…
2. Lemon Blueberry Meringue Tart from Artesano Bakery & Cafe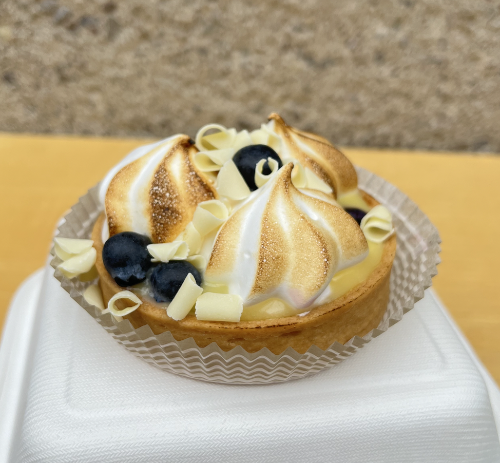 If you couldn't tell by now, I have a thing for tarts! This tart has a very zingy flavor from the lemon and has a less thick texture. The white toasted swirls on top are really soft similar to marshmallows but are lightly sweet. Overall this dessert is a bit sweet, but the tartness goes well with it. Disclaimer: it is runny after the first bite, so I'd recommend a spoon and keeping it over the box. Nonetheless, delicious! From Artesano's are also goodies like blueberry muffins, french toast bagels, and quiches; many are vegan-friendly or gluten-free. Very convenient for on-the-go breakfast.
3. Sugar Cookies from Beanz and Cafe & Market at Crossroads
During my first year, I would always be on the lookout for these sugar cookies. I know they are different from the previous desserts, but they are also yummy. The cookie itself is relatively soft, and the frosting is crunchy (which I love), making for the perfect combo! I find these cookies in both Cafe & Market at Crossroads and Beanz as grab-and-go options, though they are more common at Beanz, especially around the holidays. The cookies are actually sourced from GG Bakes Inc here in Rochester.
4. Ice Cream in a Cone from Ben & Jerry's
Next up is a classic ice cream dessert. The ice cream on the left is the Jimmy Fallon The Tonight Dough ice cream in a regular waffle cone. This was a new flavor to me, and I was gladly surprised. This ice cream flavor has chocolate and caramel ice cream with chocolate chip cookie dough, peanut butter cookie dough, and a crunchy chocolate cookie swirl. Ben and Jerry's is a great spot for delicious ice cream. Next, the ice cream on the right is strawberry in a chocolate-dipped and chocolate-sprinkled cone. The best part is that Ben and Jerry's is in the Student Alumni Union, so every time you walk in, you get the waft of a waffle cone being made! Even better, throughout the winter, as temperatures drop, their discounts rise!
5. Orange Cupcake from Artesano Bakery & Cafe
This dessert is an orange citrus cupcake from Artesano Bakery & Cafe. Overall the cupcake was very sweet. The orange filling in the center tastes good and is refreshing, the pearls add a nice texture, and the cake also had a good flavor. Because the cupcake was in a cooler along with the other desserts, it changed the texture of the cake. If I left it out at ambient temperature for a little bit, I'm sure it would've been much better. Otherwise, this was a pretty tasty cupcake!
6. Cookie Cookie Cup from Ben & Jerry's
This next dessert consists of a cookie on the bottom, your choice of ice cream (I chose chocolate chip cookie dough), with or without chocolate fudge, and your choice of toppings (I picked whipped cream and rainbow sprinkles). What I like about this one is that it is very customizable, and it's in a cup. You'll be surprised to hear that it was too much even for me! Otherwise, it was pretty delicious, but it is a big serving.
There you have it! These are some of the desserts I've tried around campus and have enjoyed, and I hope you get to try these too! There are many other great places to check out, like Gracie's and its sundae bar, Beanz for its fruit smoothies, or Midnight Oil for its fluffy croissants! If you're a sweet tooth like me, you can check out dining at RIT at rit.edu/dining or follow them on Facebook or Instagram @ritdining.
Don't forget to check out the other blog pages on TigerTalk and our videos on the RIT Undergraduate Admissions YouTube channel.