Applying for Aid | First-Years

First-Year Students
Applying for Aid
Applying for financial aid is an important step in making an innovative, creative education possible.
How to Apply for Financial Aid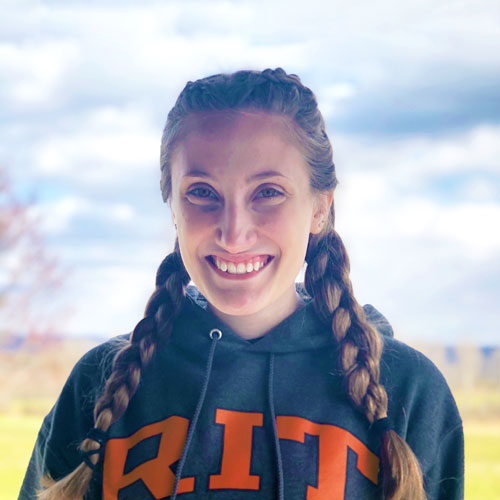 I appreciate the RIT Financial Aid Office because of the consistency in service they provide. As a high school student before I committed to RIT, I received help from Judy Dumitru. Now, I still work with her on my plans to stay at RIT for my Master's degree. Having this consistent contact removed the intimidation of reaching out if I ever have a question.
- Hannah H.
Criminal Justice Major
RIT Application and FAFSA Preferred Filing Dates
---
Early Decision I
November 1
Financial aid offer notification begins mid-December
---
Early Decision II
January 1
Financial aid offer notification begins mid-January
---
Regular Decision
January 15 [Fall]
November 1 [Spring]
Fall financial aid offer notification begins mid-March. Spring notification is rolling.
RIT Aid
Money offered to you by the university. May come in the form of RIT Scholarships, RIT Grants, and/or RIT Student Employment.
Offer based on your academic and/or extracurricular merit. You are automatically considered for most RIT Scholarships just by applying for admission to RIT.
Scholarships that require additional applications are the RIT Performing Arts Scholarship and the RIT/FIRST Scholarship.
Offer based on your financial need. This is determined by your FAFSA results. This is one reason we recommend all students apply for Federal Aid. RIT does not use the CSS Profile for U.S. citizens and eligible non-citizens, but it is accepted for international students applying for aid.
All RIT students are eligible to work as student employees. RIT Employment offers indicate the total amount of money you may earn per semester. Students can use the RIT Job Search to find on-campus jobs and apply.
Federal Aid
Money offered to you by the Federal government. May include Federal Grants, Federal Loans, and/or Federal Work Study.
You must complete the Free Application for Federal Student Aid (FAFSA) in order to receive Federal Aid. RIT's FAFSA school code is 002806.
We recommend all students file the FAFSA, regardless of family income or estimated family contribution.
Offered to you based on your financial need. You will not have to pay this money back.
Loans allow you and/or your parents to postpone paying a portion of your educational costs until after you graduate (or drop below half-time enrollment).
You can choose which loans to accept, and you are not required to take out all of the loans offered.
Work Study is a form of Student Employment. Work Study is offered based on your financial need, as determined by the FAFSA. Work Study offers indicate the total amount of money you may earn for personal expenses each semester. Students can use the RIT Job Search to find on-campus jobs and apply.
State Aid
State Aid opportunities, their application processes, and deadlines will vary from state-to-state. There may be Scholarships and/or Grants available from the state you reside in.
New York State Residents
Visit the NYS Higher Education Services Corporation website. There are a variety of aid opportunities available for New York state residents, including the Express Tuition Assistance Program (TAP).
Out-of-State Residents
Contact the state education department where you reside for information about eligibility.
Outside Aid Sources
Depending on your financial need, you may want to explore Outside Aid Sources. You may be eligible for additional scholarships or loans from outside institutions and banks to assist you in affording your education.
 We always recommend filing the FAFSA first. Federal loans typically have lower interest rates than outside sources.
Combined Accelerated Bachelor's/Master's Degrees
Forms and Resources
We've collected the forms you may need to submit when applying for financial aid. All forms require at least one signature. Digital and electronic signatures are not acceptable.
To view forms, we recommend you have the latest version of Adobe Acrobat Reader (you can download it for free).
The best way to submit forms is through our secure file upload, which protects your privacy and confidential information. We do not accept any forms or documentation via email.
Forms may also be mailed to our office. Find our address in the Contact section.
Additional resources are available if you need help determining your financial need, understanding financial aid terms, and more.
If you have questions at any point in the process, we're here to help.
---
Email
For general questions about your specific situation, we recommend that you email ritaid@rit.edu.
Contacting our office by phone or email allows us to answer specific questions related to a student as long as we are able to affirm the student and the individual requesting information to protect privacy and confidentiality. Live chat is reserved only for general non-student specific information.
Office of Financial Aid and Scholarships
Bausch and Lomb Center
56 Lomb Memorial Drive
Rochester Institute of Technology
Rochester, NY 14623-5604
Directions to Admissions and Aid