2007: President Destler's inauguration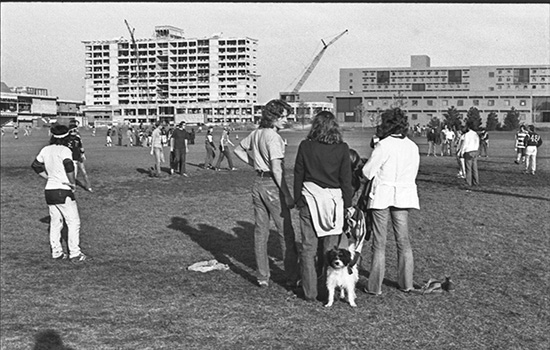 A. Sue Weisler
William Destler was installed as RIT's ninth president on Nov. 9, 2007, at a ceremony in the Gordon Field House and Activities Center.
More than 4,000 spectators, including more than 40 college and university leaders from throughout the nation, attended the event.
Cornell University President David J. Skorton served as the keynote speaker at the inauguration and praised Destler's vision for RIT's future.
"Bill Destler is a superb choice for the presidency of Rochester Institute of Technology," Skorton said. "He is a 'Category of One' president equal to the task of making RIT the 'Category of One' university it is poised to be. He brings to this new role extensive experience in higher education, profound commitment to the future of this institution, and a cluster of ideas for RIT's future that are sound, far-sighted and indeed essential."
Destler was officially installed as president by Michael Morley '69 (business administration), chairman of the RIT Board of Trustees; Christine Whitman, vice chair; and Donald Boyce '67 (business administration), chair of the presidential search committee.
Skorton described Destler, who earned a Ph.D. from Cornell in the field of applied physics, as a "distinguished researcher, educational innovator, seasoned and effective administrator, and generous adviser." His speech touched on Destler's commitment to innovation, diversity, a greater cooperation with industry on research and development, and greater interdisciplinary cooperation within the university to solve complex global problems.
In his inaugural address, Destler encouraged the RIT community to take the university to the next level by capitalizing on its unusual strengths, including the "creative juices" of the student body.
"How do we encourage the development of their minds, their hearts, and their souls in such a way that we ensure that the next generation of humans can grow and flourish on this planet? As we work to make RIT a real 'innovation university,' we will have to come up with good answers," Destler said.