2019 Distinguished Alumni Awards: Ali Shahidi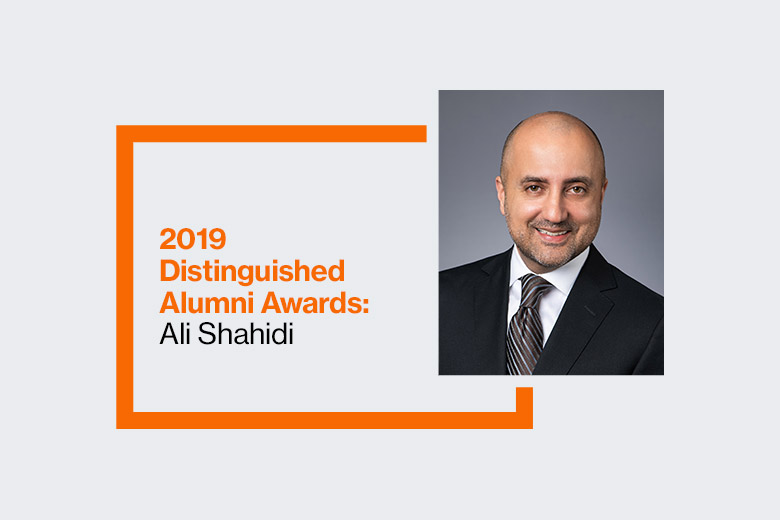 The Distinguished Alumni Awards are presented annually by each of RIT's nine colleges and the School of Individualized Study to an alumnus/a who has performed at the highest levels of his or her profession or who has contributed to the advancement and leadership of civic, philanthropic or service organizations. It is the highest award an RIT college can bestow upon its alumni. The 2019 recipients will be honored on Oct. 18.
School of Individualized Study 2019 Distinguished Alumnus
Ali Shahidi '13 (applied arts and sciences)
Chief innovation and client solutions officer, Sheppard, Mullin, Richter & Hampton LLP
What is your career highlight?
"My career highlight has been the path and the journey, and how each professional and personal experience has prepared me for the next. As a migrant from Iran, I took a personal risk by coming to the United States in my teens, and I continue to take on new risks, although more practical ones. In my current role as the head of innovation in a professional services organization, I facilitate experimentation and advocate taking risks by developing new client solutions and trying out new service delivery methods, failing at times, but learning, growing and moving on. The constant pursuit of improvement is very rewarding." 
What does being an RIT alumnus mean to you?
"From time to time, I had to work late in the lab finishing up projects, which meant that I would miss the last bus to the off-campus housing. The late-night, three-mile walk in a Rochester blizzard is the perfect time to think of innovative problem solving. Being an RIT alumnus is about taking risks, promoting creativity, being practical and having perseverance."