2019 Distinguished Alumni Awards: Alice Jo Maisel Lichtman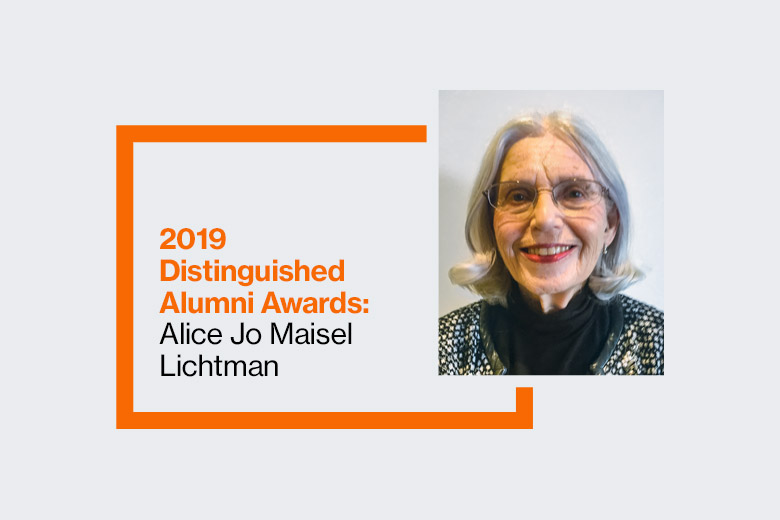 The Distinguished Alumni Awards are presented annually by each of RIT's nine colleges and the School of Individualized Study to an alumnus/a who has performed at the highest levels of his or her profession or who has contributed to the advancement and leadership of civic, philanthropic or service organizations. It is the highest award an RIT college can bestow upon its alumni. The 2019 recipients will be honored on Oct. 18.
Golisano College of Computing and Information Sciences 2019 Distinguished Alumna
Alice Jo Maisel Lichtman '79 MS (computer science)
Retired principal systems consultant, LPA Software
What is your favorite RIT memory?
"I remember the excellent classes and instructors. It was long before the days of personal computers and we would sit shoulder-to-shoulder in the computer lab working at the terminals there. One didn't dare get up for any reason, and I mean any reason, or you lost your seat. One might sit there for hours at a time. But there was also camaraderie among us. I also remember that as one of the only women in the master's program, I detected no discrimination from the instructors. It was very refreshing and removed irrelevant distractions from the learning experience."
How did RIT help prepare you for success?
"My principal interest was in developing computer applications for businesses. My RIT education provided not just a theoretical basis, but practical skills and approaches. I was able to step into a position immediately after graduation and make a contribution, validating the outstanding preparation I received at RIT."