2019 Distinguished Alumni Awards: Susan Gordona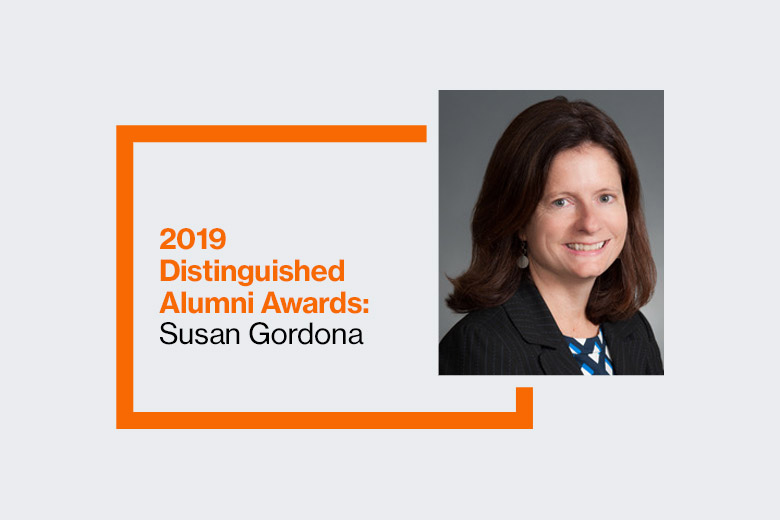 The Distinguished Alumni Awards are presented annually by each of RIT's nine colleges and the School of Individualized Study to an alumnus/a who has performed at the highest levels of his or her profession or who has contributed to the advancement and leadership of civic, philanthropic or service organizations. It is the highest award an RIT college can bestow upon its alumni. The 2019 recipients will be honored on Oct. 18.
College of Science 2019 Distinguished Alumna
Susan Gordona '94 (applied mathematics)
Senior vice president of marketplace strategy, Fidelity Investments
What is your favorite RIT memory?
"I'll never forget my first co-op at Mobil Oil HQ in Fairfax, Va. After growing up in a small town outside of Syracuse, N.Y., moving to a new state and walking into that huge corporate empire was an exhilarating experience, and one that helped me realize I was not only on the right track with my studies and my career aspirations, but also gave me confidence that I could do well in the business world. Also, one of my first soccer games at RIT—we were far from the best team in the league, but we had a great group of ladies. We played Ithaca College, a national champion team that just happened to have my twin sister on the roster. We traveled down to Ithaca and tied them on their home turf…what a coup that was!  I'm still close with some of the ladies from that team and will never forget the RIT pride from that day and the subsequent seasons together—playing a sport at a tough school like RIT isn't easy, but is such an integral part of my memories."