2023-24 Alumni News and Recognitions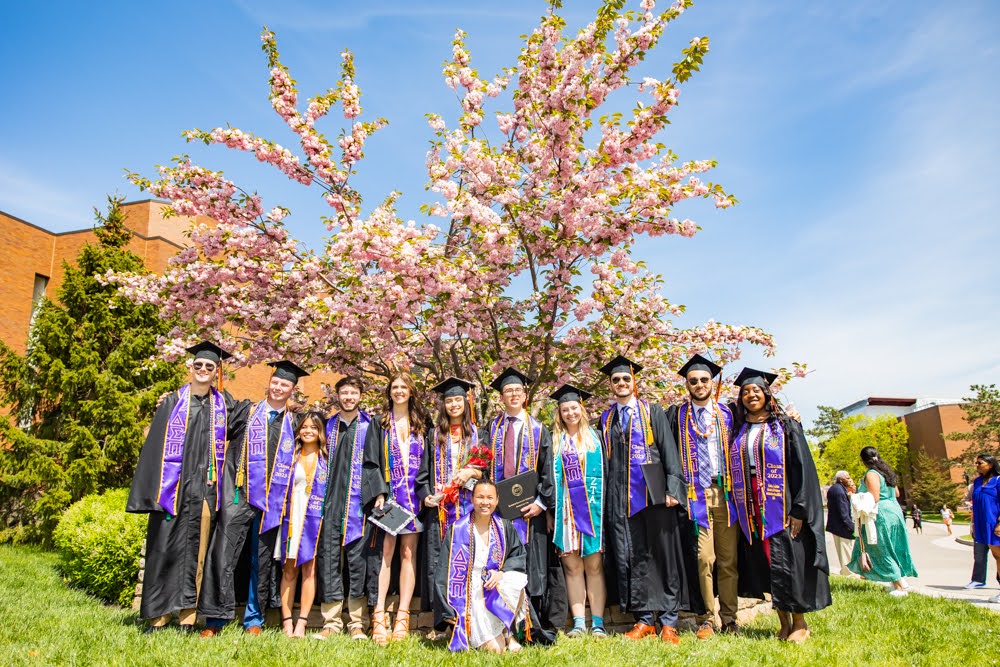 Check out some of the great things our Saunders alumni are doing around the globe. Submit your latest career move or latest achievement to communications@saunders.rit.edu.
September 2023
Nikolas Kelly '20 (supply chain management), co-founder and chief product officer of Sign-Speak, and Nicholas Wilkins '19 (computational mathematics), '19 MS (computer science) were featured in The Rochester Beacon in an article, "Sign-Speak joins AWS Impact Accelerator," June 20, 2023. Kelly placed first for the 2021 Vanden Brul Awards.
Bill Michaels '89 (hotel/motel administration/management), president and owner of Fly Creek Cider Mill & Orchard, Inc., won the Mohawk Valley Choice Award for Best Tourism/Season Attraction. The award, sponsored by the Observer Dispatch/USA Today, "recognizes the finest businesses that contribute to the region's economic vitality and enrich the lives of its residents." The cider mill is located in Fly Creek, NY.
August 2023
Ebony Miller-Wesley '21 (EMBA) director, Center for Urban Entrepreneurship (CUE) at RIT hosted the second "ROC the Pitch" Business Pitch competition, August 24, at the Hyatt Regency Hotel, in Rochester. Contestants competed for several prizes, including the top prize of $25,000 to grow their businesses.
Peter Bilzerian '20 (management information systems) was featured in a segment on Good Morning America about young people wearing hearing aids. Bilzerian, a two-time cancer survivor, advocates for people with hearing loss. He is a data engineer II/business intelligence lead with Bank of America.
Chrysa Charno '03 (physician assistant), '09 (MBA) has opened a second AcuteKids Pediatric Urgent Care location in Gates, NY. The first opened in Webster in 2019. Charno's creation, AcuteKids, provides urgent care to children from birth to 21 years of age. Charno credits her Saunders MBA for helping her understand business concepts "in depth, and allowed me to develop relationships that have provided a great benefit over the years."
John De Leon, '05 (MBA), vice president of technology, Full Swing Simulators, was interviewed for a story in Club+Resort Business on his patented, leading-edge golf launch monitor. Recently adopted by Tiger Woods, the device is gaining popularity among PGA professionals.
Joseph Spilman '16 (EMBA) is president of Optimax Systems, Inc., which has been ranked #23 among America's Best Small Employers 2023 by Forbes. Other RIT MBA alumni at Optimax include Mike Mandina '03, former president, Alec Jarvie '17, continuous improvement engineer, Eric Bruening '03, director special projects, and Brandon Szklany '20, group leader.
Ken Greenwood '10 (EMBA) held the grand opening of Watershed Brewing Company, a microbrewery in Geneva, NY, in July. His business partner is his wife, Lisa Greenwood, Ph.D., RIT assistant professor of civil engineering technology, environmental management and safety.
June 2023
Peter Bilzerian '20 (management information systems), a business intelligence expert and data engineer at Bank of America, spoke at the Yerevan Tech Forum, a premier international event focused on technology and innovation in Yerevan, Armenia. The speech "From Cash to Digital: Navigating the Future of Finance" discussed generative AI (ChatGPT) and breaking down barriers in international payments to create a more global workforce.
Kam (Kamalakar) Shenai '89 (MBA) was part of Central Florida's distinguished Asian American Pacific Islander (AAPI) leaders that received congressional honor from Congressman Darren Soto, U.S. representative for Florida's 9th congressional district.
Topics