AEOP's growing portfolio of resources aims to provide a pathway, sense of belonging to participants along their journeys in STEM
LMS, speaker series, webinars and workshops in the works for AEOP apprentices, fellows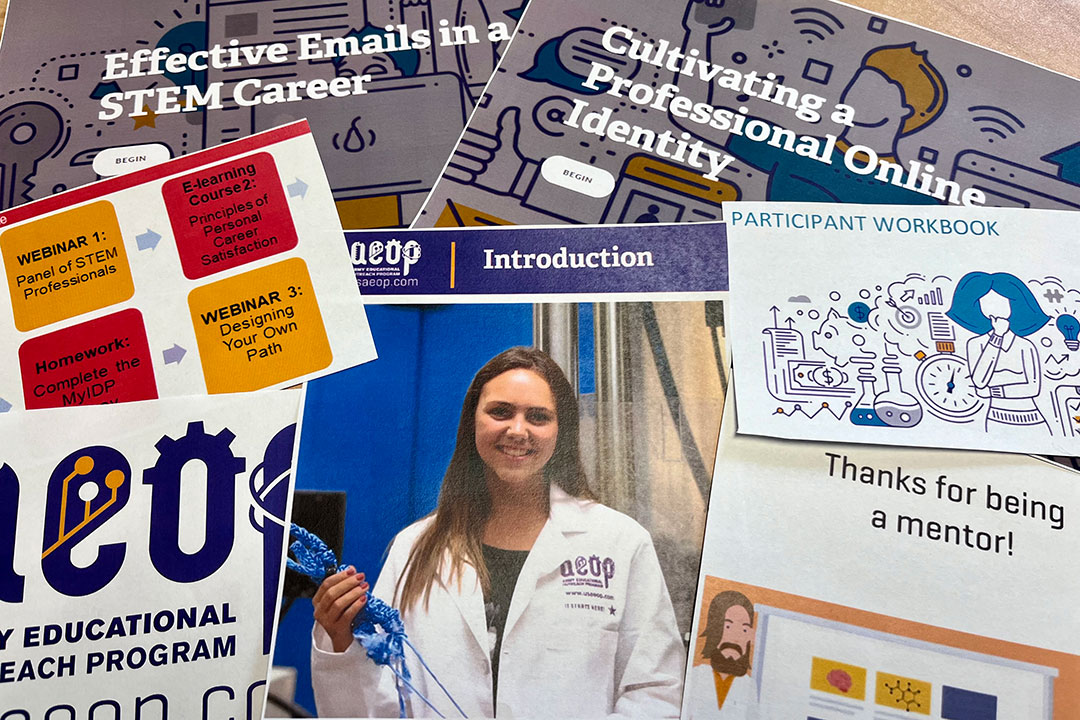 It's the "special sauce" that RIT's K-12 University Center Executive Director Donna Burnette said makes staff of the Army Educational Outreach Program Apprenticeships and Fellowships stand out.
While they work tirelessly on administrative tasks such as onboarding, paperwork, stipend payments and more, where the added benefit – or special sauce – lies is in their commitment to also provide content and connection for program participants, with centralized support during students' continued growth toward STEM education and career goals.
That's why the AEOP team from Rochester Institute of Technology is aiming to enhance its portfolio of resources for participants that may provide a pathway and sense of belonging in STEM.
One of the ideas is to create a variety of interactive and original online learning modules, with a focus to support students along their journeys in science, technology, engineering and math, by offering guidance through these platforms with exposure to various insights in and out of the lab – and with constant support from RIT K-12 staff on all levels.
The multitier plan includes hosting webinars, workshops and a speaker series. An LMS, or learning management system, will also be featured exclusively for AEOP apprentices and fellows. As part of program curriculum, it will incorporate self-directed learning components, a master class and one or more webinars intended to complement the learning track – and to connect members with each other as they go through similar processes, with the chance to earn a certificate of completion.
"It directly aligns with our mission in what we do with apprenticeships and fellowships," said Burnette, who is also program director. "We give them hands-on experiences, but want to further expose students to different information related to the work they're doing. Centrally, we can provide a more expansive portfolio of opportunities available to them. Not only does this provide them with a pathway into STEM, but also shows the personal side of things, so they can connect with, and foster, a sense of belonging within the pathway."
Workshops are specific to participants of AEOP Apprenticeships and Fellowships and/or within the AEOP network, with topics on college readiness for high school students, in addition to how-to type information sessions on completing an application, applying for financial aid and more. For undergraduate students, workshops will include information about continuing education, career development and more.
The speaker series, starting in June, will focus on what Burnette said are "hot topics" in STEM career routes within the Department of Defense. That will include highlighting virtual lab tours, delving into STEM disciplines, showcasing Army-funded research projects, the opportunity to connect with near peer mentors, learning about the trajectory from apprentice to fellow to the workforce, and more. While the speaker series is catered to AEOP participants, it will also be made available to the public via social media sites, such as YouTube.
What makes these unique, Burnette added, is the highly engaged platform where participants can interact with guest speakers and hosts.
"This is what sets AEOP Apprenticeships and Fellowships apart from others – experience with professional mentors in the lab, but then also a team of people at RIT who are on your side providing what you need to get where you want to go," she said.
The K-12 University Center at RIT administers AEOP Apprenticeships and Fellowships on behalf of the U.S. Army, with the intent to provide eligible high school through postdoctoral individuals with paid, interactive STEM experiences alongside scientists and engineers at state-of-the-art facilities across the country. One of its goals is to bolster the civilian workforce of the DOD with a diverse pool of STEM talent.
Topics