Alumna crafts career in fresh food industry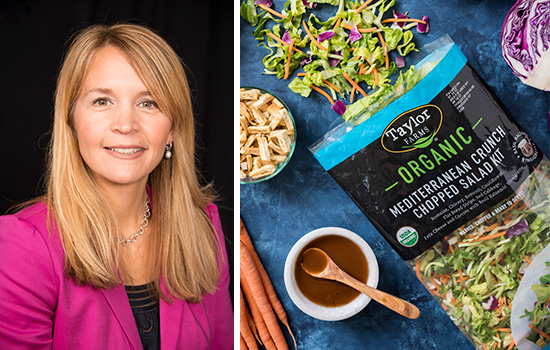 Michele Conklin Williams '94 has had a career as colorful and varietal as the flavorful salads produced by Taylor Farms, one of the top U.S. companies in the fresh food industry. As the company's vice president of sales and new product development, she coordinates the multistep process of bringing an idea for a new food product to market.
The fresh food industry is a multimillion-dollar business in the U.S. and involves brokers, retailers, distributors, manufacturers and restaurant and culinary institute leaders as part of the growing farm-to-table business.
"I work with major grocery chains, and we do a lot of their private label development," said Conklin Williams. "It is a little bit different than traditional sales. It is more strategic account relationships in new product development."
Conklin Williams was strategic about her career from when she began in the hospitality program in RIT's College of Applied Science and Technology. Its then-new degree program in food marketing and distribution entailed learning about all the processes to bring food to the table: ingredient selection, processing techniques, understanding packaging materials, consumer demands and a thorough understanding of marketing techniques.
"It resonated with me," she said, adding that attendance at the annual National Produce Marketing conference to network with industry professionals also piqued her interest. There she met Bruce Taylor, an entrepreneur who began Fresh Express, one of the top packaged salad companies in the U.S. Conklin Williams would eventually be hired at one of its regional facilities in Atlanta.
Over the years, she held several business development positions with companies such as Fresh Express, Catalina Marketing and Dole Foods. She also worked with an online retailer, Webvan.com, and although it struggled, one of the first calls she received after it closed was from Fresh Express to rejoin the company.
In each company, she learned as much as she could about the produce business and her clients. It is advice she gives to others looking to be successful in this industry, because it was advice given to her.
"It was clear Michele had an inherent love of the food industry but didn't know she could engage with it in any way other than working in restaurants. I simply suggested that working in the food supply chain could be an alternative," said Jim Myers '86, '93 (packaging science, food systems management), who was teaching courses in food marketing and distribution at the time. He is currently RIT's associate provost of International Education and Global Programs. "Everything that happened after is a tribute to Michele and her incredible capabilities."
In fall 2016, Conklin Williams received the Sarah Margaret Gillam Memorial Award, one of the most prestigious awards for career achievements given by RIT's School of International Hospitality and Service Innovation. Shortly afterward, she was named a Woman of Influence in the Food Industry in the annual Griffin Report , an industry publication.
"It was emotional," she said. "RIT meant a lot to me. I never thought I would be honored that way."
Topics