Alumna helps ramp up rapid test manufacturing for national company
Work by Dimple Joseph will provide more options for healthcare providers dealing with the pandemic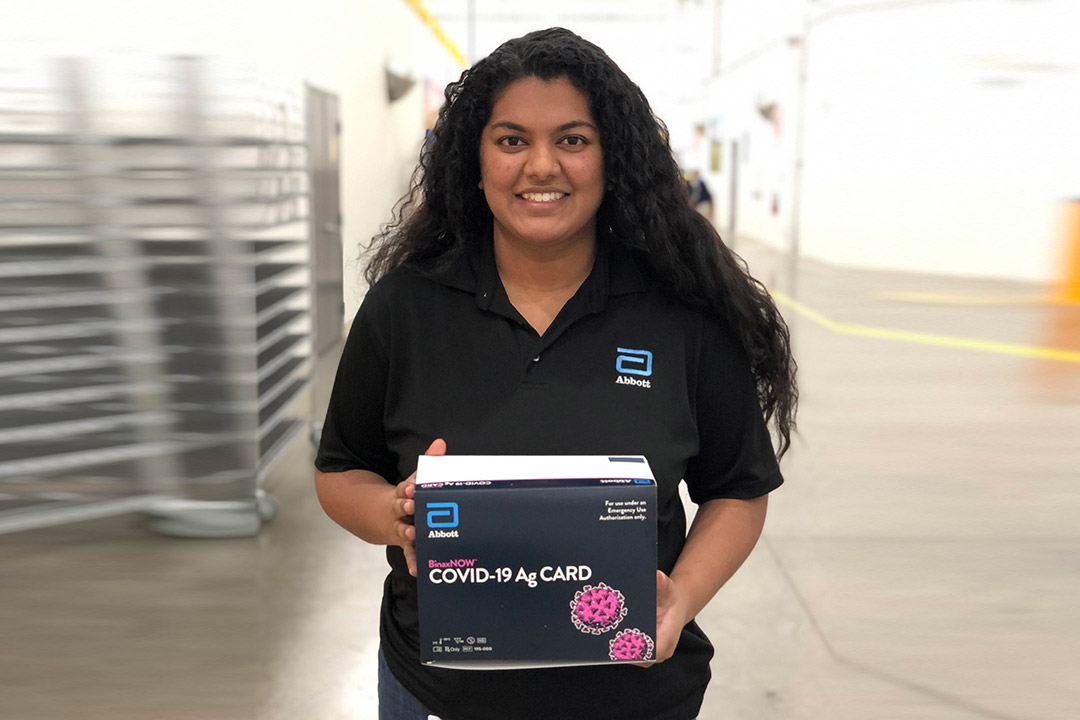 Provided by Abbott
Dimple Joseph's short-term assignment last year turned out to be a "really big start up."
As part of the healthcare company Abbott, Joseph contributed to the main manufacturing site's readiness to produce the company's new BinaxNOW Rapid Test, which meets the growing demand for testing options as pandemic cases rise.
Although the rapid test is only the size of a credit card, it is a big breakthrough because it can determine an individual's COVID-19 status in nearly 15 minutes.
"My life pretty much changed in August," said Joseph '18 (industrial engineering), '18 ME (engineering management), describing her reaction to the assignment to be part of the team that would ramp up production of the important tests.
Originally based at the company's site in Plano, Texas, she joined a rapid response team that headed to Gurnee, Ill., over the summer to scale-up the overall manufacturing process and train employees at the site. They are on target to produce their goal of 50 million rapid tests per month.
"As industrial engineers, we look at people and processes and how they interact. We look at identifying where we can do things better," she said. "Any project is a group project. The company has always been proactive when things are needed. This is 'our element'—a request came in and our company responded."
Coordinating projects and working with a variety of people is not new to Joseph, who mixed coursework with quite a few campus activities and community service projects. She held leadership positions with RIT's student chapter of the Institute of Industrial & Systems Engineers as well a member of DIVAS (Determined Individuals Victoriously Achieving Success, a former leadership program through RIT's Multicultural Center). As director of the College Activities Board, she managed a staff of 30, and together the group delivered more than 100 large events and small gatherings per year for RIT's students.
"Planning other people's social life was my social life," she said laughing.
While working on a senior design project for the Student Health Center, she met the center's director, Dr. Wendy Gelbard, who would become both a mentor that fostered her interest in the medical field and a friend she remains in touch with today.
"Out of the blue, my phone will ring, and it will be Dimple," said Gelbard, who is part of RIT's COVID-19 task force. "Recently, she called to say that she was working on the types of tests we are looking into for campus. Crazy small world, but that is the veil that overlies everything we do today. It is not just leading this test project—that is big enough. But doing it in a pandemic and having to live by safety rules and regulations that make it possible to even work, that is pretty amazing."
Gelbard credits Joseph's education, experience and an ability to connect well with people as key to her ability to produce at a high level.
"The responsibility she has now, so early in her profession, is just remarkable," said Gelbard. "She took advantage of all RIT had to offer. She received a lot of academic knowledge and put this to use in her on-campus employment, during co-op, during her senior design project with us. She did not wait for people to spoon feed her. She immediately took her skills and put them in to action."
Joseph's continued connections to RIT mentors and previous leadership practice are being put through the paces at Abbott, where she is a Front Line Leader who supervises workers on the manufacturing team. 
"I'm not a medical professional, but my work can still help somebody get better, to get back to their families. That is the sort of mission I wanted to be a part of. I've had many important conversations with people like Wendy Gelbard about work, but also what I wanted to do as an adult," she said, "and how do I continue to give back to the school that has given me so much?"
Each Abbott test produced to help people may provide that answer.
Topics