Alumna wins Fulbright U.S. Student Program award
Peace received funding to conduct a journalistic research project on women in Kosovo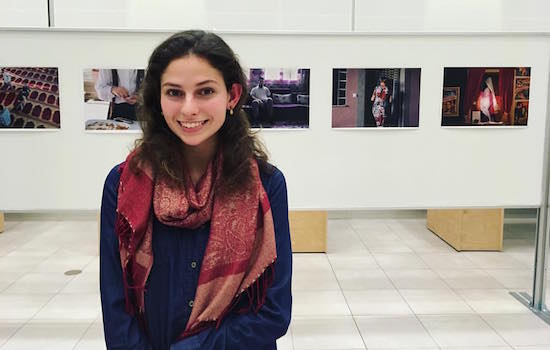 Rochester Institute of Technology alumna Lauren Peace '17 (journalism) won a prestigious Fulbright fellowship in journalism for the 2018-19 academic year. Peace will be one of more than 1,900 U.S. citizens to study, conduct research and teach abroad next year courtesy of the Fulbright U.S. Student Program, which is overseen by the U.S. Department of State and the J. William Fulbright Foreign Scholarship Board.
Beginning in August, Peace will conduct a journalistic research project in Kosovo that will explore stories of Kosovar women who have acted as catalysts for social and political change. Peace, who worked as a reporter at the Democrat & Chronicle before receiving the fellowship, was inspired to pursue this project after participating in the RIT Kosovo Peace and Conflict Summer Program in 2016. The program focuses on the background of the Kosovo conflict of the late 20th century, the period following the fighting and continuing challenges to conflict transformation and development. Peace sees the Fulbright fellowship as an opportunity to share compelling stories from the region more broadly.
"Many of the women I met in Kosovo were these incredibly strong, motivated, passionate, intelligent people really fighting for change in their country and doing incredible work on the global stage," said Peace. "But I really haven't seen a lot written about them and it hasn't been very well documented. So, being a journalist and being already interested in women's rights and movements, the project just kind of made sense."
In addition to her main project, Peace also plans to volunteer as a youth soccer coach in Kosovo and establish a series of free soccer clinics for local girls. She said her experiences as a student-athlete at RIT taught her empowering lessons about leadership and teamwork that she hopes to impart on the Kosovar youth. Peace also credits the RIT Global office, the RIT School of Communication and Meredith Davenport, associate professor of photographic arts and sciences, for providing her the support to obtain the fellowship.
"I've been supported by everybody who I've interacted with through RIT," said Peace. "I'm eternally grateful. While I was in the classroom they really had my back and were inspiring me, but even more so now that I am a professional. I am in touch with so many of my journalism professors, we go and get coffee and I'm still seeking advice and mentorship from them. The support I've received is phenomenal."
Peace is the 21st U.S. student awardee from RIT since 1965. Fulbright award recipients are selected on the basis of academic and professional achievement as well as record of service and leadership potential in their respective fields. The Fulbright U.S. Student Program is administered at RIT through the Office of Education Abroad and International Fellowships.
"Fulbright Fellowships are extremely competitive and Lauren receiving this opportunity is a testament to her scholarship and achievements as a globally-minded citizen," said James Myers, associate provost for international education and global programs at RIT. "I'm proud that RIT students consistently achieve recognition nationally among this elite group of Fulbright fellows."
Since its inception in 1946, the Fulbright Program has provided more than 380,000 participants—chosen for their academic merit and leadership potential—with the opportunity to exchange ideas and contribute to finding solutions to shared international concerns. Over 1,900 U.S. students, artists and early career professionals in more than 100 different fields of study are offered Fulbright Program grants to study, teach English and conduct research annually in over 140 countries throughout the world.
Topics