Alumni awarded highest rating for snowboard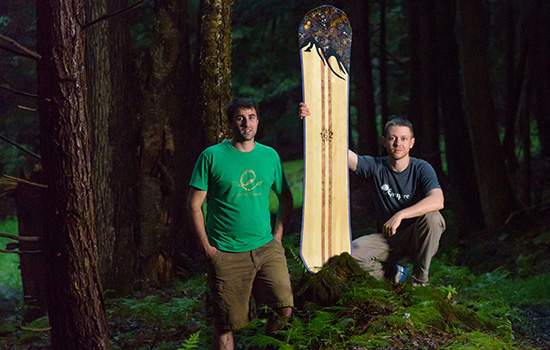 After Zhenya Grinshteyn '09 (marketing) saw a YouTube video one night where surfers were making their own surfboards, he sent a text to his former college roommate Ben Beisler '10 (civil engineering technology).
"I figured if these guys can figure out how to make surfboards, we can probably figure out how to make snowboards," Grinshteyn said.
Five years later, the duo's company, Empire Grown, produced one of the best snowboards for 2017, according to the online publication Board Insiders. The company's all-mountain board received a gold rating in its annual Shred Cred Awards.
The road from YouTube video to successful snowboard was a little icy for Grinshteyn and Beisler, who spent about a year researching what goes into making a snowboard before they decided to build their own. They purchased a snowboard kit and adapted it in a way they thought was improving it.
"It looked great and everyone loved it," Grinshteyn said. "Then we rode it and it was like trying to ride a brick down the mountain."
But the project was validation that they could build a snowboard. And by the end of their second year, after more research and experiments, they had eight prototypes ready to test. One was a favorite among their friends.
They took the winning design and created a Kickstarter campaign around it. The money was used to build a CNC machine and a heated pneumatic press—both of which were also designed, fabricated and assembled in-house by Grinshteyn and Beisler.
"We start by taking in a rider's height, weight, shoe size, and riding style to design a board truly fit for them," Grinshteyn said, adding that people don't realize a custom board is more than personalized graphics.
Today, the friends have made more than 60 snowboards and their client base is international, with customers in Japan, France and Australia, Beisler said.
"There aren't many out there compared to the big brands, but the ones that are are all over the world," Beisler said.
Beisler and Grinshteyn work on the business, which is based in Beisler's hometown of Oneonta, N.Y., in their free time. By day, Beisler is a civil engineer for James Forbes, P.E. in Oneonta. Grinshteyn is a marketing consultant in South Euclid, Ohio.
They hired two RIT co-op students, James Wagner, mechanical engineering, and Luke Shadler, physics, to help remotely with improving the mechanical design of the snowboard.
Both Beisler and Grinshteyn said they hope one day this can be a full-time business. For now, they are happy to be included in the Board Insiders ranking.
"Everything has been a learning process," Grinshteyn said. "Knowing that we can compete with companies hundreds of times our size has made all of the challenges worthwhile and motivated us to do even greater things in the future."
To learn more
Go to empiregrown.com.