Alumni Update: RIT's first genetic counselor empowers women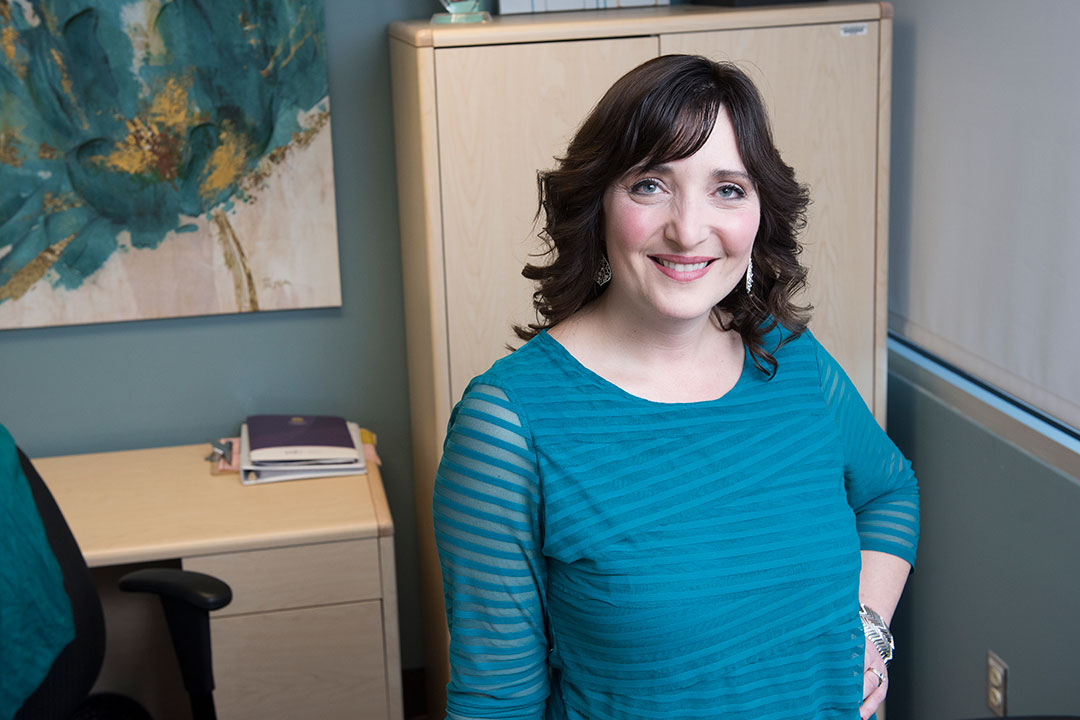 During a single year, Jessica Salamone '99 (biotechnology) will counsel thousands of women on their hereditary cancer risk.
Salamone, director of Genetic Counseling and Cancer Risk Assessment at Elizabeth Wende Breast Care in Rochester, sees newly diagnosed patients and high-risk individuals.
Advances in genetics have led to personalized medicine and a level of knowledge unavailable to previous generations. This aspect of health care means that now a patient's individual cancer risk can be quantified based upon their family history and their genes.
"It's a privilege to sit with women making life-and-death decisions around cancer," she said. "Through a blood draw, people are helping their siblings, helping their children, helping their future generations. You can actually know the rules of engagement, know you have a high risk, and do something about it. That something may mean a surgery, but you don't have to end up with a cancer, and that's empowering."
The process begins with a patient consultation and a conversation about instances of cancer across three generations of an individual's family history. If the patient wishes to pursue genetic testing, a blood draw or saliva sample is taken and sent to a laboratory.
In two or three weeks, Salamone meets with her patients again to discuss the results and next steps.
Genetic counseling draws upon a unique skill that comes naturally to Salamone. She is a scientist who advises about medical management, a teacher who educates about genetics and heredity, and a counselor who offers empathy and hope to patients and their family members.
Salamone learned about genetic counseling as a career while in her sophomore year at RIT. She was an undeclared science major interested in medicine but uncertain about medical school.
After a genetic counselor visited one of her classes for a career talk, Salamone declared her major in biotechnology and took classes in psychology and social work. She shadowed genetic counselors at the University of Rochester Medical Center and pursued co-ops at the Federal Drug Administration and the National Institutes of Health.
 Her RIT science background and work experiences enabled her to pursue a master's degree in genetic counseling at Johns Hopkins University, a program that accepted only four students.
Now, Salamone is helping RIT students follow her path. She teaches two genetics courses in RIT's biomedical sciences program and offers guidance to students.
"I was the first person successfully through RIT to become a genetic counselor," Salamone said. "We've made dozens of genetics counselors since I started teaching in 2002, and now RIT is one of the most fruitful undergraduate programs for preparing students for their master's in genetic counseling."