Alumnus 'finding joy' in growing business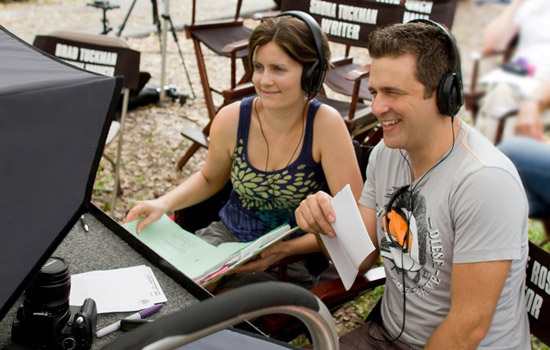 Next time you see a Sam's Club product, think of RIT alumnus Brad Tuckman.
Or when you look at a Walmart Sunday circular or shop online at Chico's or White House/Black Market.
His creative agency, KSC Kreate, also is in the final stages of post-production of its first feature film, Finding Joy. The company will find out in December if the movie has been accepted into the Sundance Film Festival.
"We try to stay ahead of what our clients need," says company president Tuckman '95 (photo illustration).
That's how Tuckman has grown his business from two employees in 1997 to nearly 100 today.
When Tuckman merged his Florida business StudioFX with Rochester business KSC Studio in 2001, the company primarily focused on studio photography. But in 2003, Tuckman took over the company, renamed it KSC Kreate and diversified its services.
A dozen photographers still shoot products for packaging, catalogues and circulars. The company also offers video services, virtual-rendering and 360-degree product imagery as well as its own proprietary content management system.
"After we added video we realized we needed the technology behind it so we added it to our arsenal," he says. "We spread our reach inside our client's businesses, providing them creative and technical solutions that make them never want to leave us."
Shona Richardson Tuckman, CEO of KSC Kreate and also a former Tiger, runs the film division of the company, which formed 18 months ago.
Shona Tuckman attended RIT for six months in 1992-1993 as an exchange student from Salisbury, England. That's when she met Brad. The two were married in 1995.
She wrote the company's first feature film Finding Joy over a four-year period, often an hour at a time at Starbucks while their daughter, Maya, napped. (Maya is now 5 and their son, Noah, is 2.)
The quirky romantic comedy stars Josh Cooke (Dexter), Lainie Kazan (My Big Fat Greek Wedding) and Barry Bostwick (The Rocky Horror Picture Show).
Along with Sundance, the film is being entered in South By Southwest, Berlin and Toronto film festivals.
The Tuckmans say they are pleased with the film and expect to make others in the future as they continue to grow their business.
"It has made people open their eyes even more to what we are able to provide as a production company," Shona Tuckman says.
To learn more about the Creative Drive Business website.
Topics