AMPrint, imaging science centers receive grants
New equipment and research capacity will help produce new electronic devices, decrease fabrication waste and generate regional jobs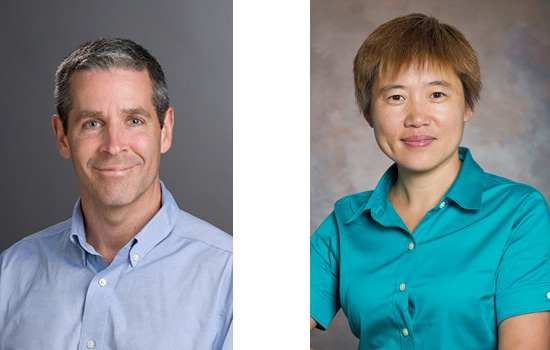 Two research centers leading additive manufacturing and optics manufacturing initiatives at Rochester Institute of Technology each received grants from FuzeHub, the statewide New York Manufacturing Extension Partnership Program center.
Awards were given to RIT's AMPrint Center—the New York State Center for Additive Manufacturing and Multifunctional Printing, and the university's Chester F. Carlson Center for Imaging Science to purchase equipment for use in center laboratories focused on advanced manufacturing research and new product development as well as the development of ultra-fast, laser-based technology for optics fabrication within university-corporate partnerships.
FuzeHub, funded by Empire State Development's Division of Science, Technology & Innovation (NYSTAR), provides manufacturing companies in the region with resources and expertise to advance business growth, technology commercialization and global competitiveness. The Manufacturing Innovation Grants, part of the Jeff Lawrence Manufacturing Innovation Fund and received by RIT, will go toward new research and product development.
RIT's AMPrint Center received $36,000 to purchase an inkjet head assembly to be integrated with Sensor Film's 3D-printing equipment at the center to execute the project, adding long-term manufacturing prototyping capability to the center. The new equipment advances capability in 3D-printing electronics onto substrates. Denis Cormier, director of the center, and his research team are working with Sensor Films to define the operating conditions for high throughput additive manufacturing equipment capable of rapidly printing electrically-conductive patterns on plastic substrates. Sensor Film's ability to apply the experimental results to a suite of new manufacturing equipment will result in commercially implemented products to be built and sold in 2017 and will create eight new high-technology jobs in the local economy.
The Center for Imaging Science received $75,000 for advancing work with OptiPro Systems on a project to develop an innovative ultrafast laser-based polishing system and process for optical manufacturing to eliminate polishing waste, long lead-time and high cost factors. The same technology platform can potentially be applied to laser-based photonics packaging. The laboratory version laser polishing system will be developed in the Laboratory for Advanced Optical Fabrication and Instrumentation and Metrology by Jie Qiao, associate professor in the Center for Imaging Science and director of the lab. She and her research team are working with Edward Fess, research and development manager at OptiPro Systems, a Rochester-based manufacturer specializing in equipment for the fabrication of high-precision optics.
"One of the goals of the fund, and the Manufacturing Innovation Grants, is to spur economic development in the manufacturing sector, and we're seeing that even these small investments in manufacturing projects are allowing companies to add jobs, strengthening their teams and contribute to their growth," said FuzeHub Executive Director Elena Garuc. FuzeHub provided more than $469,000 in grants to seven regional projects, and through them, expects to add 46 new jobs across New York state. "These projects are a great example of how New York's innovation assets are supporting industry and contributing to economic growth in New York."
Topics