Autonomous Humanoid Robot Platform Housed at RIT
Undergraduates' creation wins first place in the Institute of Electrical Electronics Engineering design competition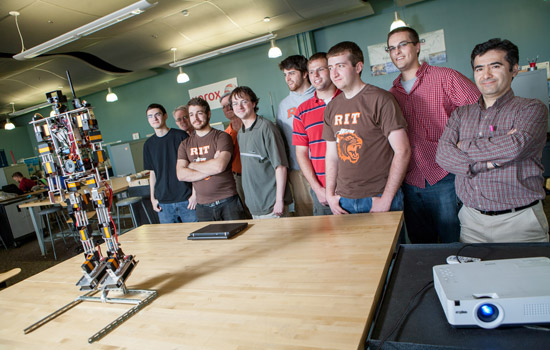 Dan Wang
What began as a dream of electrical engineering professor Ferat Sahin is taking steps toward becoming reality. In the near future, prospective engineering students at Rochester Institute of Technology and their parents will be given tours by a robot created by seven undergraduate students.
Over the course of 18 weeks, the student team designed and built a 31-inch autonomous humanoid robot platform nicknamed "TigerBot" for their senior design project. The humanoid is scaled to a human model and has the ability to mimic human movement and behavior.
The innovative robot went beyond the requirements for the senior design project with autonomous and wireless control, object avoidance, environmental interaction, camera vision, voice control and has the ability to balance.
"It can be primarily used for research. Humanoids can be used to simulate lost limbs and be used for prosthetics," Backer says.
The humanoid's creators, John Seybold, Jonathan Cormier, Kyle Backer, Matthew DeCapua, Mike Thomas, Jeremy Jensen and Eric Walkama, took first place at the design contest held by the RIT Institute of Electrical Electronics Engineering student branch on May 5 during Imagine RIT: Innovation and Creativity Festival. The team competed against other teams from RIT, Syracuse University, Cooper Union for the Advancement of Science and Art, University of Massachusetts at Dartmouth, Stony Brook University and New York Institute of Technology.
Like the features of the robot, the team itself is uncommon because it encompasses multiple majors. The team utilizes the skills of three different engineering majors—electrical engineering, computer engineering and mechanical engineering—for their senior design project.
TigerBot is a robot platform that is meant to be enhanced by future engineering students. It is the second attempt at an autonomous humanoid robot, following an attempt made in the fall of 2011—the team was unable to build on the first robot and needed to start from scratch.
"A lot of senior design projects are meant to be continuation projects," DeCapua says. "It is a platform right now. So for future aspirations, other groups can improve upon it."
The humanoid robot has a way to go before it begins giving tours to prospective students. In order for the robot to be functional, it will need a GPS unit among other aspects to be added by future senior design project students. The current student team is parting ways after this year's graduation.
"I plan on continuing this as a senior design project," Sahin says. "I would like to see next year a team develop a head and hands, the year after, walking, and so on with a completed autonomous humanoid robot in three years."
To watch the evolution of the project go to http://www.youtube.com/watch?v=RH8NFvrAunk.