Battery Prototyping Center doubles capacity to serve clients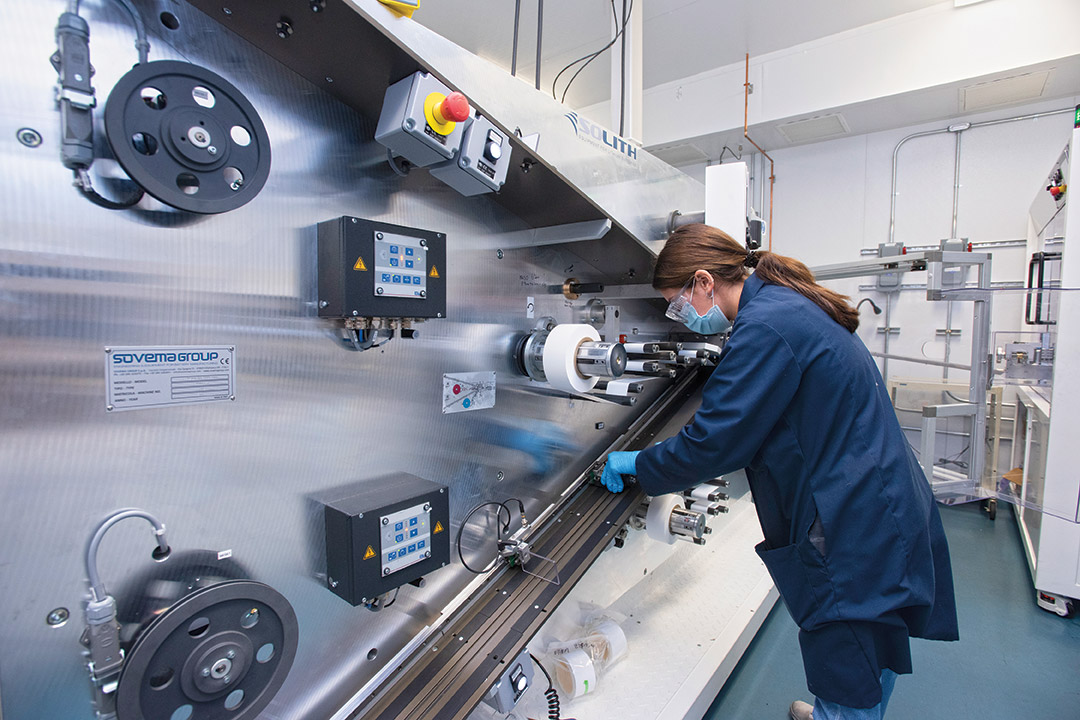 Since opening six years ago, RIT's Battery Prototyping Center has nearly doubled its research and development projects with battery manufacturers from Boston to Silicon Valley.
More industries are exploring designs for commercial quality lithium-ion batteries and seeking experts at the center to provide research about the development of different styles of batteries—pouch-shaped and cylindricals, for example, two common formats. They also seek center researchers to act as objective, third-party testers of new products and materials—using data to improve a company's manu­facturing processes, secure new funding, and, ultimately, to launch new businesses.
The Battery Prototyping Center is a $2.5 million facility based at RIT and supported through funding by New York State Energy Research and Development Authority and Empire State Development. Established to support early-stage development of next generation lithium-ion cells and materials, the team has worked with more than 100 customers from academia, government, a variety of industry manufacturers and technology hubs, and completed multiple projects with the companies since 2015.
"We've had companies 'graduate' from our facility, purchase similar equipment to what we have based on work with us, and then stand up their own businesses," said Matthew Ganter, director of the Battery Prototyping Center. "We try to help companies move forward—and hopefully move the industry and tech­nology forward, too."
Along with sending materials to the center for testing, today more are renting the space and working alongside Ganter and the scientists.
"Now it's more collaborative work where we are training employees to come in and utilize the facility and we are helping them as needed," he said.
Center facilities are currently booked daily through July.
Training extends to RIT's students who work as co-ops for one or two blocks during the semester or as student lab assistants. Ganter also teaches a course in battery design as part of the chemical engineering program in RIT's Kate Gleason College of Engineering. He is developing graduate level programs in manufacturing, materials, and cell design, taking advantage of the cross-disciplinary connections with several of RIT's colleges as well as other campus technology centers such as the NanoPower Lab, engineering clean room, and AMPrint Center.
"There is synergy in techniques that can be used to design and build batteries as well as scale production for manufacturing," he said.
Lithium-ion batteries have been used since the 1990s, and demand has increased with the rise in electric and hybrid vehicles, storage systems, and consumer electronics. Installation of battery cells that are reliable, cost effective, and recyclable is critical to the growth of the multi-billion dollar industry.
Topics