Book highlights trailblazing photographer Hiller
RIT professor Doug Manchee explores Hiller's elaborate sets and innovative process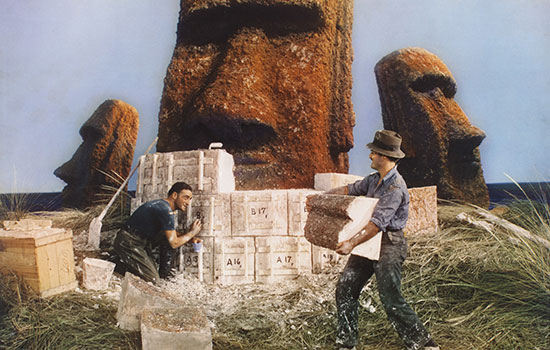 Lejaren à Hiller, one of the first people to use photographic illustrations in an American advertising industry dominated by text and line drawings, is the focus of a new book from RIT Press. Sutures and Spirits: The Photographic Illustrations of Lejaren à Hiller, was written by Doug Manchee, professor of photography and program chair in advertising photography for the School of Photographic Arts and Sciences at Rochester Institute of Technology.
Hiller began his advertising career in New York City in the early 1900s as an illustrator for magazines, drawing covers and interior illustrations for national publications including Good Housekeeping. He believed photography could be used in print advertisements to depict dramatic scenes and characters, but his attempts to convince editors were met with skepticism. "At the time, people didn't think that the photograph could convey an emotional appeal, couldn't touch people in the way that perhaps an illustration or a painting could," said Manchee. "Photos were seen as emotionless or cold. And he was the first to convince advertisers that it wasn't true."
In 1913, Hiller found an opportunity to use photographs to illustrate an article in Cosmopolitan magazine. The results were well received and led to a prolific career in advertising. For further assignments, Hiller used increasingly extravagant sets and photography to depict characters in exotic locations from Easter Island to the Arctic Circle. He shot nearly all of his work within the confines of his studio, using elaborate sets he constructed.
As Hiller developed his novel approach, he established many of the modern advertising photography profession's standards. "He had the first large-scale photo studio and he had a lot to do with developing what is now known as the modeling industry," said Manchee.
Sutures and Spirits, filled with examples of advertisements Hiller created, as well as behind-the-scenes photographs of him crafting his intricate studio sets, provides a complete look at his career and pioneering process. It includes examples of his entire body of work from the early 1900s to the 1940s and closely examines two of his most prominent projects: the 87 Lands campaign for Canadian Club Whisky and Surgery Through the Ages, the latter of which was commissioned by Davis and Geck, a manufacturer of surgical sutures.
Manchee notes that such a comprehensive collection is extremely rare for advertising photographers of his era. "There are very few archives of photographers who worked in the commercial field during the first half of the 20th century," said Manchee. "They didn't keep their work because they thought it had no value. I think the work's important and the story needs to be told."
Sutures and Spirits: The Photographic Illustrations of Lejaren à Hiller is available in softcover for $39.95 at the RIT Press website or by calling RIT Press at 585-475-6766.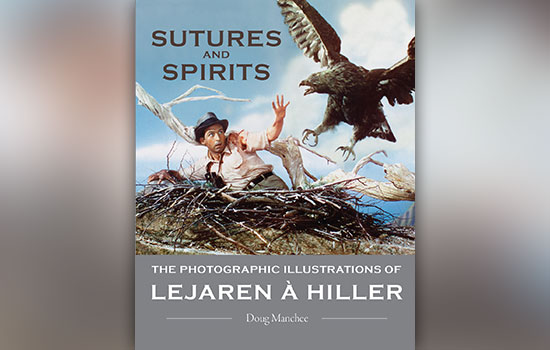 Topics