Business college professor a passionate advocate for students and alumni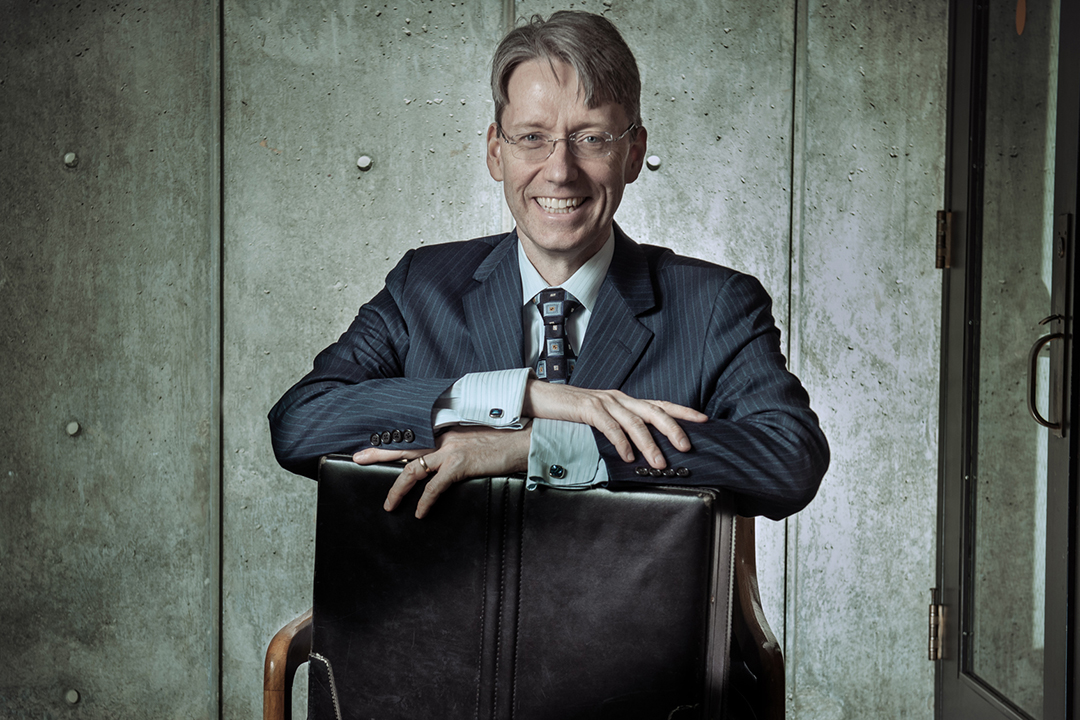 When Clyde Eiríkur Hull interviewed for an assistant professor position in RIT's Saunders College of Business in 2001, he remembers the impact of learning how the Eisenhart Award for Outstanding Teaching represents RIT's highest honor for tenured faculty.
"That helped persuade me to come here," recalled Hull, a professor of management who began teaching at Saunders College in the fall of 2002. "Now that I've won the award, I'm looking forward to trying to make sure every semester that I live up to its standards."
Hull said he was "surprised and delighted" to learn that he was one of this year's Eisenhart Award recipients—but also admittedly feels the weight of earning such a top university honor.
"I feel like now I have to try even harder to be a good teacher," he said. "Looking at the legends who've won this before me, I feel like I've joined a club for people who never stop trying to improve. It's an inspiration."
He began thinking seriously about a career in academia while finishing his MBA at Indiana University, realizing that he wanted to emulate his professors who "contribute to human knowledge through research and teaching."
"It probably didn't hurt that both of my parents and one of my grandparents were teachers," he added.
Known as a passionate advocate for his students and the college's alumni, Hull teaches a wide variety of classes from technology strategy and strategic management to corporate social responsibility and business ethics.
"I like to get my students to participate in the conversation," he observed. "Disagreement—polite disagreement—and healthy debate over issues does a lot more to help students learn than a lecture."
During his time at RIT outside the classroom, Hull has served in a number of key roles, including his two years as chair of what is now RIT's Faculty Senate during the height of the pandemic.
Widely published, he has researched topics in strategic management ranging from financial performance and corporate social responsibility, to sustainability through innovation and entrepreneurship, including digital entrepreneurship and circular-economy entrepreneurship.
In addition to serving as primary investigator on a U.S. State Department grant to help female entrepreneurs in Jordan start circular economy businesses, he received a $1 million grant last fall from the State Department for a two-year project to help the Southeast Asian region establish a more circular and prosperous economy through entrepreneurship training.
He was among 14 RIT faculty members inducted into the newest cohort of PI Millionaires who were honored at a reception last month to celebrate those who helped the university reach record awards surpassing $92 million over the past year and place among the top private research universities in the country.
Last semester, Hull's undergraduate management students continued a tradition of excellence of their own, all ranking in the top 5 percent of the prestigious Capsim Capstone Business Simulation, a worldwide triannual global tournament that crowns the best student teams to "run" a multimillion-dollar corporation.
Several teams from Saunders College ranked in the top percentile of all participants, which included nearly 2,000 student teams from colleges and universities around the world.
"This took hard work, strong research skills, and an amazing level of teamwork," Hull beamed. "I'm very proud of them."
Topics