October 27, 2022
by Rich Kiley
U.S. Department of State to assist RIT in advancing circular economy in Southeast Asia
$1 million grant to help identify and pursue CE entrepreneurship opportunities in ASEAN region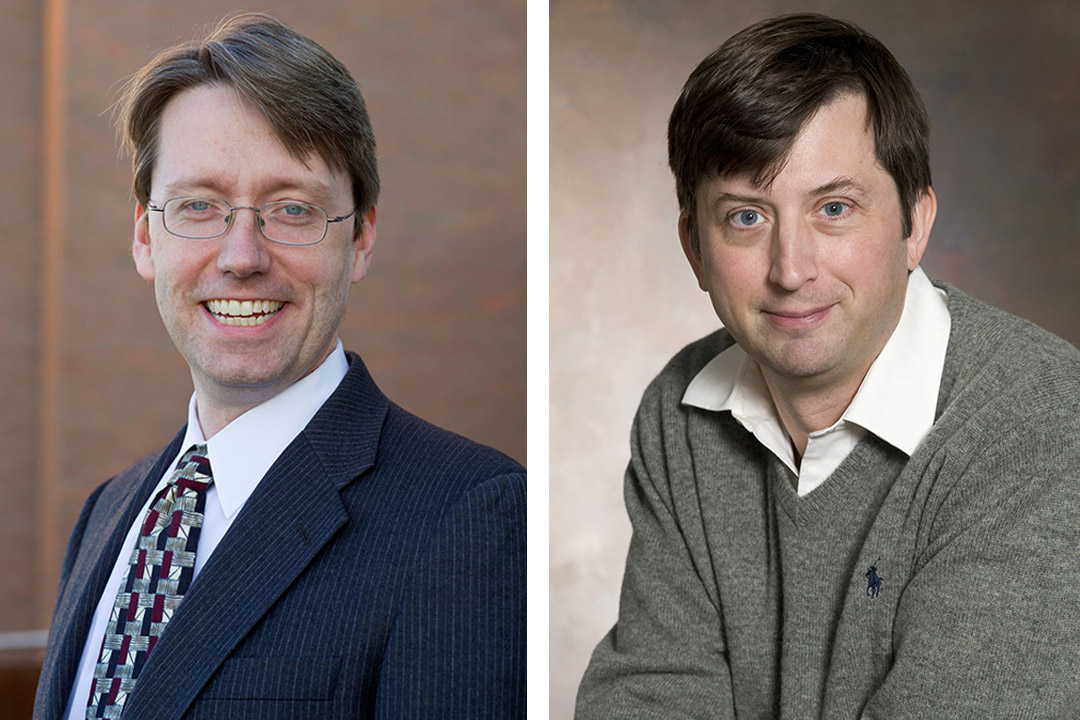 A $1 million grant from the U.S. Department of State will fund a two-year project led by Rochester Institute of Technology professors Clyde Eiríkur Hull and Eric Williams to help the Southeast Asian region establish entrepreneurships based on the circular economy (CE).
The research funding is made possible through the State Department's U.S.-ASEAN Science, Technology and Innovation Cooperation (STIC) Program, which will assist the two RIT professors in identifying incubators and other organizations in the region interested in advancing entrepreneurships that employ circular economy practices.
The circular economy refers to an industrial economy that is restorative by intention and eliminates waste through thoughtful design, with a goal to reuse resources.
ASEAN, officially the Association of Southeast Asian Nations, is a political and economic union of 10 member states that promotes intergovernmental cooperation in a wide range of areas, including the economy, politics, and education.
Hull, professor of management in RIT's Saunders College of Business and the grant's principal investigator, said ASEAN "recognizes the value of seeding and sustaining science and technology programs through innovative endeavors."
"This project, by using sustainability science to identify circular economy opportunities and helping new and existing businesses pursue them, represents a new form of cooperation on science and technology development and R&D between the public and private sector—cooperation that has a strong circular economy focus and is interdisciplinary," he said.
According to Hull and Williams, professor of sustainability in Golisano Institute for Sustainability (GIS), the project includes engaging with partners such as business incubators, local universities, and non-governmental organizations in the ASEAN region to gain a deep understanding of local challenges and opportunities. It also analyzes the status of electronic waste in terms of economic opportunity, environmental challenges, and the governing regulatory framework, with a keen focus on opportunities for new technology to replace older, more wasteful practices.
Through the development of circular economy business models and sharing them with local partners, the project aims to both lead the incubation of new CE businesses in local incubators and help existing businesses migrate to circular economy technology and solutions.
Hull and Williams have long-established expertise in CE entrepreneurship, especially when applied in developing nations to benefit the local economy and environment. Last year, the two RIT professors received a $250,000 grant from the Department of State to fund a program helping entrepreneurs in Jordan form circular economy businesses. For the ASEAN project, Hull and Williams will be joined by Israa Thiab, a Ph.D. candidate in RIT's sustainability program currently working on the program in Jordan. Other students starting next fall in the new Saunders College business administration Ph.D. program as well as GIS sustainability students may also join the project.
Hull has decades of experience working with entrepreneurs through RIT's Simone Center for Innovation and Entrepreneurship, Venture Creations, and the Center for Urban Entrepreneurship. Williams is the recent recipient of a National Science Foundation grant to research electronic waste. His prior research influenced the environmental standard for computers in the United States, and his work was recognized last year when he was named one of RIT's Trustees Scholarship Award recipients.
"We want to make a difference in the world," Hull said. "We hope that people in the ASEAN countries—and all over the world—see what we are doing, how the circular economy can help, and start their own circular ventures."
"We hope our work continues to influence scholars, but also aim to directly help people who want to develop businesses that help their communities and the planet," Williams added.
Topics