November 12, 2021
by Shelly Meyer
RIT professors awarded State Department grant to help entrepreneurs in Jordan form circular economy businesses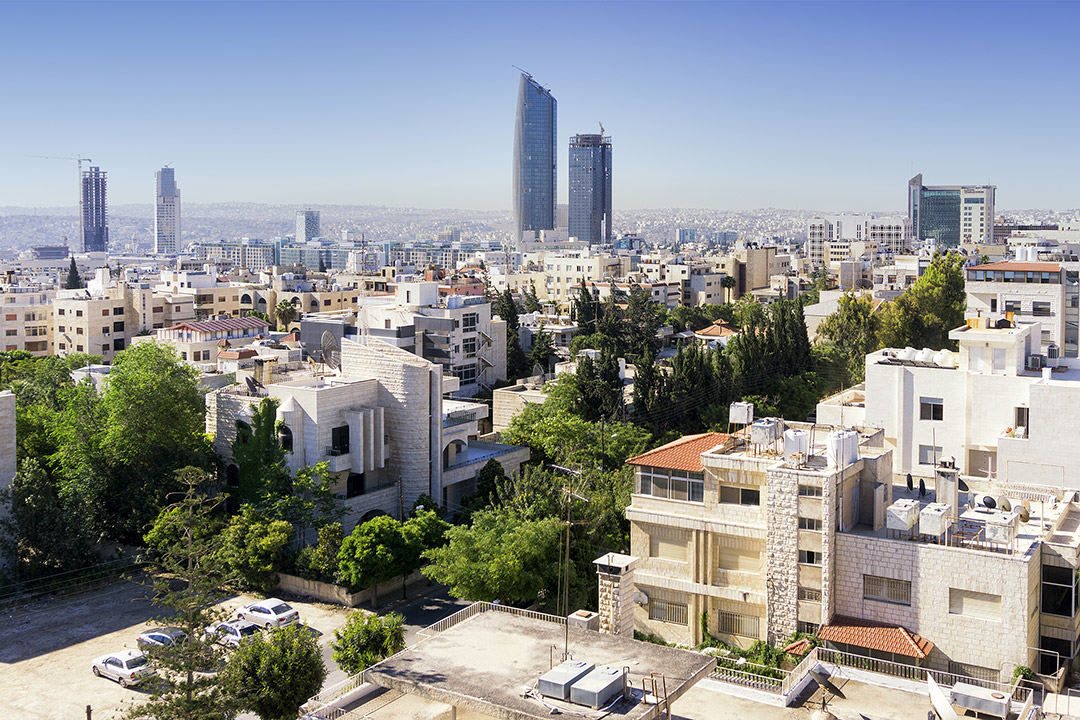 A $250,000 grant from the U.S. State Department will fund a program led by Rochester Institute of Technology professors Clyde Hull and Eric Williams to help entrepreneurs in Jordan form circular economy businesses.
The program, implemented in partnership with Education for Employment and the Queen Rania Center for Entrepreneurship, will provide funding and training to 40 entrepreneurs, 35 women and five men. 
Circular economy (CE) businesses use a regenerative production model with a goal to eliminate waste and reuse resources. The program aims to launch at least four new CE start-ups that are women- or woman-majority-owned businesses in Jordan by September 2022.
Hull, professor of management in RIT's Saunders College of Business and the grant's primary investigator, says that CE principles have been applied successfully in the U.S., Europe, and Asia, but Jordan has yet to see concerted efforts to apply CE.
"Our vision is to develop successful, profitable businesses that strengthen Jordan's economy while also reducing negative impacts on the environment," said Hull. "This is just a starting point though. We hope that the success of our initial group of entrepreneurs will inspire others and lead to more women- and majority-women-owned new sustainable businesses in Jordan."
The program will provide CE incubation support to small groups of entrepreneurs working together to start a business. This includes online training and educational opportunities, opportunities to network and collaborate with other entrepreneurs and established businesses in Jordan and in the U.S., and seed funding. 
Hull and Williams, professor of sustainability in Golisano Institute for Sustainability, are joined by Israa Thiab, a Ph.D. candidate in RIT's sustainability program.
"I'm very happy I will be helping young women and men in Jordan achieve economic empowerment through this program, while addressing an environmental challenge Jordan is facing," said Thiab. "This a win-win-win situation for everyone."
Hull and Williams have established expertise in CE entrepreneurship, especially when applied in developing nations to benefit the local economy and environment.  
Hull has decades of experience working with entrepreneurs through RIT's Simone Center for Innovation and Entrepreneurship, Venture Creations, and the Center for Urban Entrepreneurship. Williams is the recipient of a National Science Foundation grant to research international electronic waste, the results of which influenced the environmental standard for computers in the United States.
Jordan, like many other countries, faces many environmental challenges. With this project, Hull's team hopes to target industrial waste and electronic waste specifically.
According to Thiab, who conducted field research during her time as a consultant in Jordan, the textile industry in one Jordanian city sends 40 to 80 tons of artificial textile waste to a nearby landfill per day. Meanwhile, in 2018 alone, 13,500 tons of e-waste was generated by Jordanian households.
"Circular economy business can help combat these problems," Williams said. "For example, these businesses might turn remnant fabrics or other materials into new, usable products; or electronic devices like smart phones and computers can be repaired."
Local Jordanian organizations Education for Employment and Queen Rania Center for Entrepreneurship will help recruit entrepreneurs interested in joining the program.
"We are thankful to our partners at Education for Employment, the Queen Rania Center for Entrepreneurship, and the U.S. Department of State for their support of this program," said Hull.
The program will begin accepting applications on Nov. 12. Entrepreneurs based in Jordan are encouraged to contact Education for Employment-Jordan for more information.
This press release was funded in part by a grant from the U.S. Department of State. The opinions, findings and conclusions stated herein are those of the authors and do not necessarily reflect those of the U.S. Department of State.
Topics