Careers 2.0: Rita's story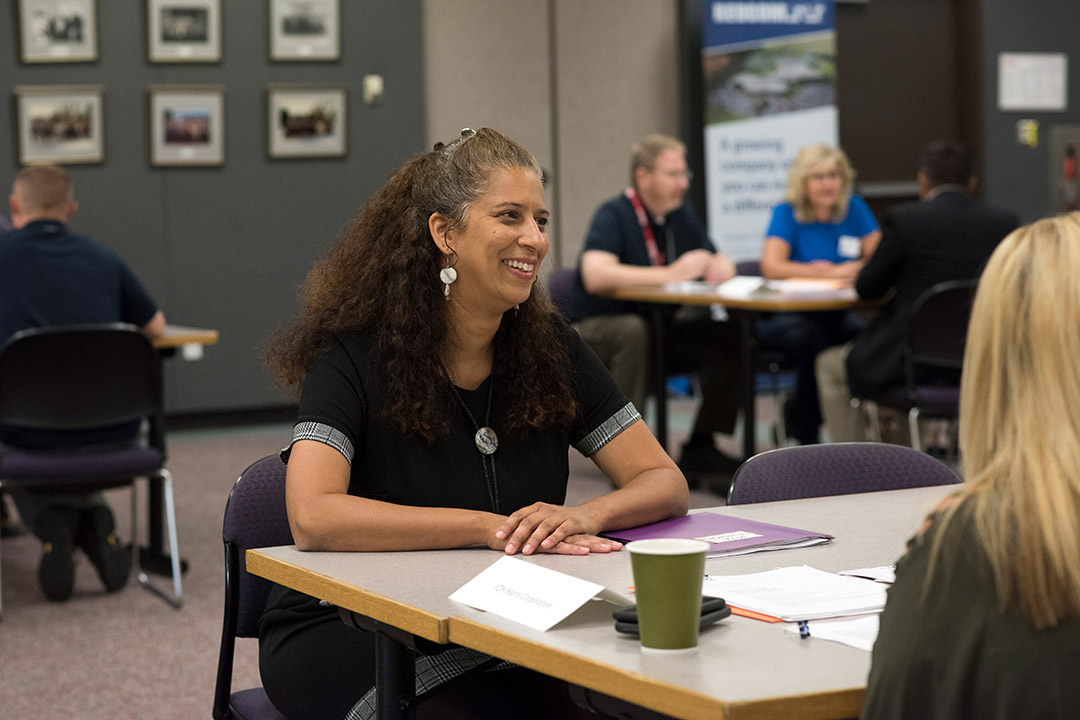 A. Sue Weisler
Rita Thomas, one of the participants in RIT's Surface Mount Electronics Assembly Training for Veterans, spent several years in the U.S. Army's 82nd Airborne Division stationed at Fort Bragg, N.C., and later in Heidelberg, Germany. She served as a satellite communications operator and then as a site supervisor for the USAREUR Secure Communications Network. When she returned stateside, she continued serving the military as a civilian contractor, and she and her husband raised their two young children. Here she shares some of her story, the role she played in the military, her parent's influence on her career and how she came to be a part of the RIT training.
I was born in Virginia but grew up in Rochester. My dad, an engineer, was recruited for Kodak in the '60s when they were trying to bring more African Americans to the company into white collar jobs. I am of mixed ancestry. My father was in the Air Force, and I was inspired to join, similar to him, wanting to serve my country. While in training at Ft. Gordon (Georgia), recruiters stated, "join the military, see the world." I raised my hand and joined the 82nd Airborne Division. I met and married my husband at Ft. Gordon. Shortly after completing Advanced Individual Training (AIT), we both received orders for our first military duty station at Fort Bragg (North Carolina). I enjoyed jumping out of planes and serving with my husband, Dale Thomas.
Satellite communications is a nine-month, Advanced Individual Training (AIT), and the Army trained us for maintenance and operations. At the 82nd Signal Battalion/Alpha Company, there were about 140 soldiers and less than 10 were female. We worked in the field with the 82nd Infantry Units to support communications. Three months before heading for Germany, we had our first child, Jonathan. We supported military efforts through work and enjoyed European travel until 9/11 occurred half way through our oversees tour. When we returned to Fort Bragg several years later, I continued with similar secure communications work as a civilian. About the same time, we were having our second child, Amber, and I moved away from the tech side, went back to school to certify and teach mathematics in the public schools and at the local community college. Finally, I took time off from teaching public school to home-school our children.   Teaching was a job that I felt was transferable because I was married to a soldier who might have a change of duty station or get deployed with little prior notice. Parents in military families face a delicate balance between serving the nation and raising children as responsible citizens. Both are critical to our country.
Returning to Rochester, I attended a job fair at Monroe Community College and connected with the Veteran's Outreach Center representative. He directed me to their office in downtown Rochester. They looked at my resume and the different types of jobs I had. I said that I'd like to get back into technology and communications, but had been away for a long time and a lot of the equipment had changed. They said there is a class at RIT and it will give you a baseline in the growing area of electronics manufacturing. I was looking for that baseline. I may or may not take a position in electronics assembly, but I have to know how these systems work. It gives me the baseline for whatever job I may have. The next step for me is to get a position in a company where I know I am going to be intellectually challenged and have upward mobility. I really want to train; I love training and did a lot of training on the equipment when I was working for the military as a soldier and later as a civilian. I had to train all the new technicians that were hired at the USAREUR Red Switch. I'd like to train on the electronics equipment and I always wanted to be an engineer like my dad. It may still be in my future. 
My mother, Virdell T. Robbins, is and continues to be, a great inspiration to me. In 2003, she won the Antoinette Brown Blackwell, Woman of the Year given by the Town of Henrietta, N.Y., for leadership and community contributions. My father, Charles Albert Robbins Jr., who was an engineer with Eastman Kodak Co., passed away in December 1985. Together, he and my mother have always encouraged my three siblings and I to dream big and work hard to achieve success in whatever we wish to pursue.