Careers 2.0: Veterans transition to new careers in electronics assembly
Training program at RIT could lead to positions as electronics assembly operators and technicians in growing local industry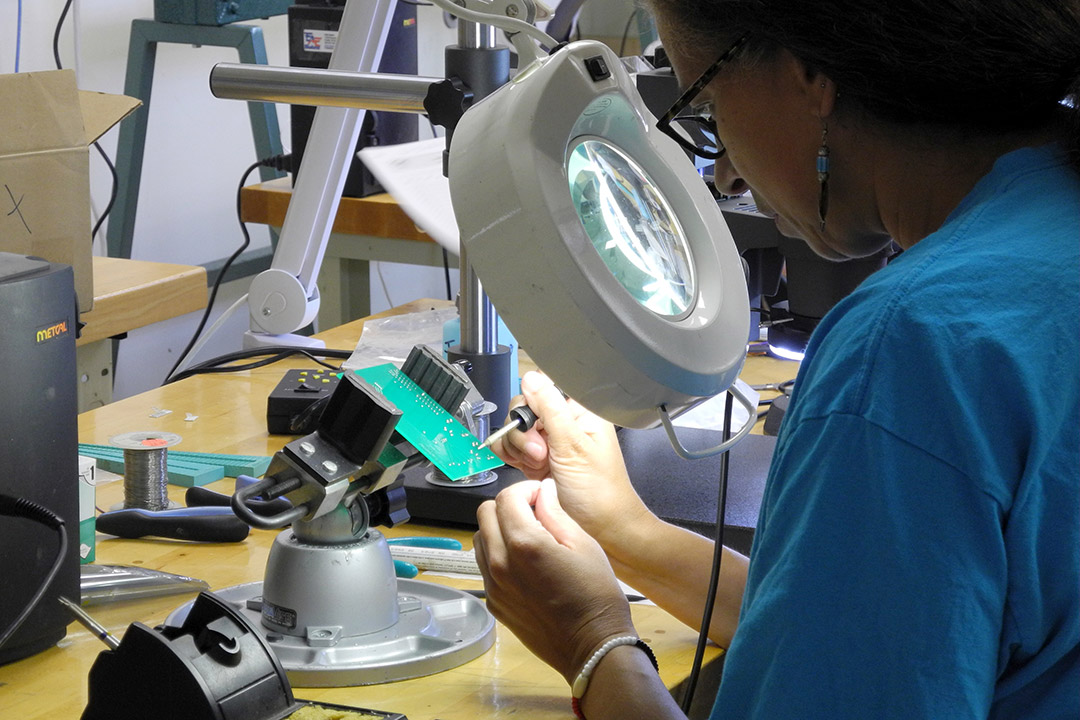 Electronics manufacturing is a trillion-dollar industry. driving the U.S. and local economies. Companies' manufacturing electronic assemblies have an abundance of work and need more skilled employees to deliver products, according to Market Watch 2019.
Veterans in Rochester may help to fill those gaps.
Surface Mount Electronics Assembly Training for Veterans took place at Rochester Institute of Technology this summer, and 20 local veterans, displaced workers and spouses of veterans gained cutting-edge skills—and career options—in the electronics industry.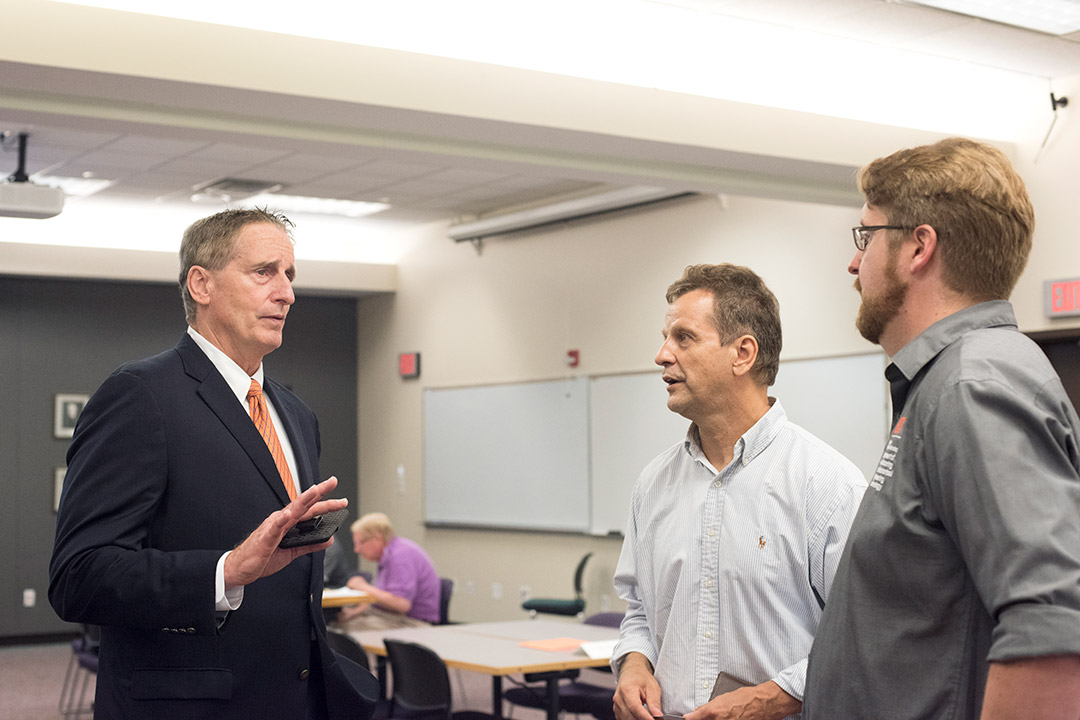 A. Sue Weisler
"Electronics is huge, it's everywhere and it's not going away. This is a skill set that has a broader impact for veterans; this is career-building," said Martin Anselm, associate professor of mechanical engineering technology in RIT's College of Engineering Technology, and one of the training coordinators. "RIT prides itself in being a practical learning environment, and this program is a benefit for the entire Rochester community."
About the training
"The three-week training at RIT was a perfect bridge, because we have people who are displaced and need current skills to meet the demand in local manufacturing," said Rita Thomas, one of the trainees who spent several years in the United States Army's 82nd Airborne Division stationed at Fort Bragg, N.C., and later in Heidelberg, Germany. She served as a satellite communications operator and then as a site supervisor for the USAREUR Secure Communications Network. 
When she returned stateside, she continued serving the military as a civilian contractor and she and her husband raised their two young children. Thomas used her bachelor's degree in mathematics and master's in history to become certified to teach secondary education in the public schools. Eventually, she'd home-school her son and daughter.
Recently, Thomas returned to Rochester where she grew up.
"I had been away from the technical side of things for quite some time and want to return to work as a trainer of communications equipment. After speaking with Nena Siverd, employment and training services manager at the Veteran's Outreach Center about my background and the RIT program, I recognized that the knowledge and skills I would gain from the program would serve to move me in the right direction. So I requested that she reach out to RIT and express my interest. Communication and network systems changed. The equipment had changed. Nena recommended this class as a baseline and I jumped at the opportunity," Thomas explained. "And I was looking for that baseline. Although I may or may not be in assembly, I have to know how these systems work. The pace of the class is fast. These are the foundations. I'm excited because I am going back to the technical work I have always enjoyed."
Participants like Thomas were local residents ages 20–60, and all recruited by Rochester's Veterans Outreach Center, the local nonprofit Rochester Works! and the New York State Department of Labor (DOL). Funding came from DOL's Consolidated Funding Application for Workforce Development. 
Over several weeks, the students spent full days learning about electronic component technology, printed circuit board development and production, soldering techniques as well as quality control and operator training. Industry vocabulary and trends were also covered.
"Everybody is responsible—from the technician level to management on the overall quality of electronics products. They need to understand that devices they will be making are sensitive and some of those concepts can become fairly complex. This is a hands-on training that involves a lot of critical thinking and discussion," said Anslem, who is also the director of RIT's Center for Electronics Manufacturing and Assembly. He compared the summer training to material he'd teach second-year students in his engineering technology courses.
Once foundational work was completed, hands-on, technical training begins, and Tracy Clancy Vecchiolli, a master IPC trainer, prepares students to become certified in specific electronic assembly and production processes required by companies. She conducts two standards courses established by IPC—the Association Connecting Electronics Industry, formerly known as the Institute of Printed Circuits.
IPC provides a structured curriculum based on industry needs and incorporates trends in the use of new materials as well as the integration of smaller, more powerful components. Industries seeing substantial growth and the need for electronics assembly professionals are the military and its suppliers and sub-contractors as well as the aerospace industry. Some of the technology required in these fields are familiar to the trainees who have spent several years in the military.
 "That is what companies are looking for. This industry is so starving for operators, some cannot hire them fast enough," said Vecchiolli, who owns and operates the Technical Training Center based in Pennsylvania. She travels extensively throughout the Northeast providing technical content and overseeing examinations, including hands-on demonstrations of skills for the certifications. "The best end result for me? I want to see people get jobs. I enjoy working with the students and seeing that they have a good understanding of this work, but the best part of this is when they land a job."
The future of the program
Rochester's technical economy continues to grow with established companies and start-ups. Anselm and training co-coordinator Duane Beck were approached by companies interested the current cohort of trainees. At the completion of the training, hiring managers from six local companies will conduct interviews for open positions. When Anselm and Beck conducted the program two years ago, the placement rate was high, with 80 percent of the students hired and retained by local organizations. They believe this year will be no different.
"Duane keeps in touch with alumni of the program, and with the employers. He's very involved, very passionate about this population, as am I. It takes a student a leap of faith to try something completely different. If nothing else, this story pulls at a thread where RIT is serving a community need, and it happens to be a veterans' community," said Anselm.
RIT provides numerous academic support services and workforce training programs for local veterans from its recognition as a Yellow Ribbon and Veterans Benefits partner to its most recent program, Upward Bound.
Related News
Topics