Cary Collection celebrates Hermann Zapf
RIT's Cary Collection celebrates creator of Optima and Palatino typefaces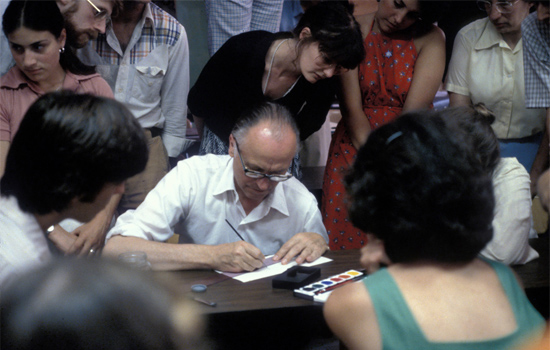 Hermann Zapf, one of the undisputed titans in the world of calligraphy and typeface design and a longtime member of the Rochester Institute of Technology community, died June 4 at the age of 96 in Darmstadt, Germany.
Zapf, who created some 200 typefaces, including Palatino, Optima and Zapfino, was a pioneer of new technologies in type design and taught a series of influential workshops at RIT for 10 years. Today, RIT's Cary Graphic Arts Collection is one of two formal repositories in the world of Zapf's expansive archive of original calligraphy, design work, posters, books and letters.
"Hermann Zapf's accomplishments live on in ways that would astonish anyone who paused and looked around," said David Pankow, retired curator of the Cary Collection and a friend of Zapf. "In every place where letterforms communicate in printed or digital forms—the verse of a poet, the prose of a novelist, the headline of a movie poster or even the text on a postage stamp—Zapf's sure touch will be found."
Zapf's first commercially successful type designs—including Palatino, which is now common on every computer—were produced shortly after the end of World War II and were rooted in technologies that dated back to Gutenberg. As newer typesetting technologies increasingly and rapidly superseded those of the past, Zapf studied the possibilities, as well as the limitations, of each new system and adapted his designs accordingly.
"New types for new technologies," was one of his favorite aphorisms, recalled Pankow.
In 1957, a visit by Zapf to RIT led to a long friendship with Alexander S. Lawson, a distinguished faculty member in RIT's School of Printing. In 1969, Zapf became the first recipient of the Frederic W. Goudy Award, given to an outstanding practitioner in the field of type design and typography.
In the address that Zapf delivered for the Goudy Award, he declared:
"There is a permanent movement in so many fields toward the future. We often look too much backwards in our love for the oldtimers in type; we are sometimes still captured by false romanticism and we should spend more of our activities in new developments. ...In spite of mechanization and rationalization, it will be our task as book artists and alphabet designers, together with the technicians, to maintain the artistic aspects of progress in the evolution of printing."
In 1977, he was appointed the Melbert B. Cary Distinguished Professorship of graphic arts at RIT.
In 1979, Zapf launched an annual two-week summer workshop for master calligraphers that continued for 10 years. These workshops attracted an international group of accomplished calligraphers and designers, who were able to examine relevant holdings in the Cary Collection, ranging from medieval calligraphy to early printing.
After the workshop series ended in 1988, Zapf's connection to RIT grew even stronger as he made significant donations to the Cary Collection. These included typeface sketches, original calligraphy, specimens of his book and design work and posters. His gifts also included several thousand Christmas cards he and his wife Gudrun Zapf von Hesse received over the years from colleagues in the international graphic arts community.
Gudrun Zapf, an accomplished bookbinder, calligrapher and type designer in her own right, has also donated calligraphic manuscripts, exemplars of her type designs, vellum and leather bindings to the collection. In 1991, she also received the Goudy Award.
Among the most valued treasures in the Cary Collection are the original calligraphic drawings for Zapf's influential model book Feder und Stichel (1950), the layouts and proofs for the two versions of his Manuale Typographicum (1954, 1968) and the complete layouts and correspondence for the typographic broadside collection Orbis Typographicus (1990). The other half of Zapf's archive is located at the Herzog August Bibliothek in Wolfenbüttel, Germany.
"Zapf's archive is an essential part of the Cary Collection, providing students of calligraphy and type design the opportunity to learn from a great master," said Steven Galbraith, curator of the Cary Collection. "His generosity to our library was extraordinary and it is our honor to preserve and share his work."
As ambassador for the Cary Collection, Hermann Zapf played a major role in the acquisition by the library of the extensive graphic arts library and correspondence collection of Paul Standard. In 1993, the Cary Collection published Calligraphic Salutations, a collection of letters from Zapf to Standard that Zapf embellished with exquisite calligraphic quotations.
"Standard's carefully cultivated relationships with hundreds of calligraphers, type designers and typographers make this collection crucial to any scholar interested in the 20th century graphic arts scene," said Pankow.
Hermann Zapf authored two additional works published by RIT: August Rosenberger (1996), a personal tribute to the punchcutter and close friend who first cut his types in metal for the Stempel Type Foundry, and Alphabet Stories (2007), an autobiographical chronicle of his typefaces and the technical developments which accompanied them.
In 2007, Zapf's largest typographic work was dedicated at RIT. The project consisted of 27 eight-foot-high glass panels bearing a series of inspirational quotations from famous authors and designers about the alphabet and the cultural importance of books. The texts were typographically arranged by Zapf in a variety of different typefaces (and original calligraphy) and sandblasted onto the panels by the Pike Stained Glass Studio of Rochester. The panels are laid out in a spiral based on the proportions of the golden section and surround the editorial offices of the RIT Press, located next to the Cary Collection on the second floor of the Wallace Library.
"Hermann's influence is global, his reach extended each time a keystroke is recorded in one of his many typefaces, his alphabets as personally meaningful as an email message composed in Palatino and sent to a friend," said Pankow.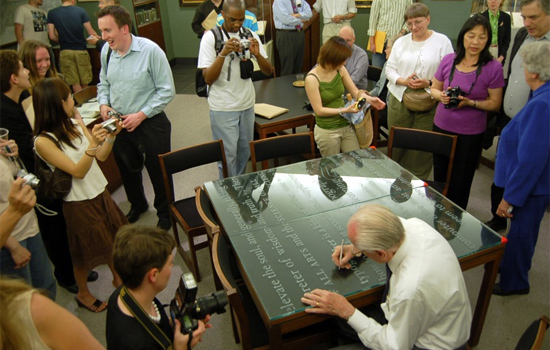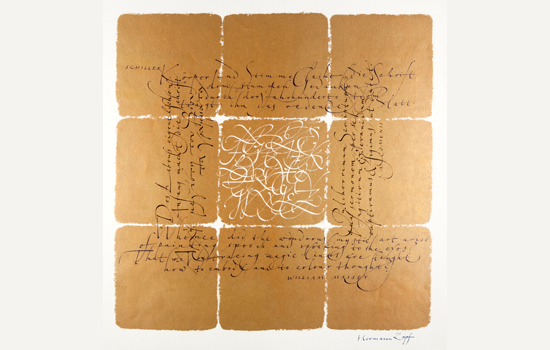 Blayke McKenzie