Cary Press publishes book on master typographers
Author Patricia Cost offers insight into the lives of Linn Boyd and Morris Fuller Benton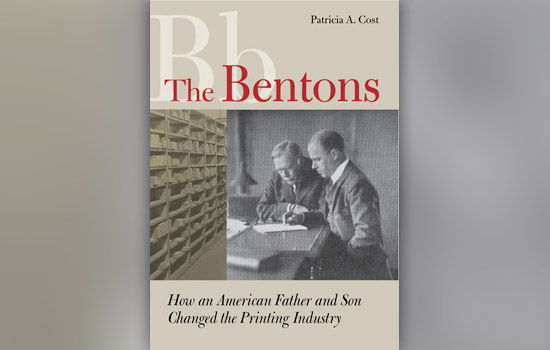 The ease in choosing a typeface today from a plethora of options is something we may take for granted—possible only because of the tremendous amount of labor and ingenuity that came before.
—Patricia A. Cost
Bodoni, Garamond Bold Italic, Broadway, Century Schoolbook, Franklin Gothic, Souvenir. You'd recognize these typeface fonts if you saw them—whether it be in a word document, a newspaper headline, books, a greeting card, or on the signs of a building.
Attributions go to the father-son masters of type technology, Linn Boyd Benton (1844-1932) and Morris Fuller Benton (1872-1948). Both were employed at the American Type Founders Company (founded in 1892) and played crucial parts in the development of modern typefounding in the U.S. and the world.
Patricia A. Cost delivers a biographical account of their lives and work in The Bentons: How an American Father and Son Changed the Printing Industry, published by RIT Cary Graphic Arts Press, a scholarly publishing enterprise at Rochester Institute of Technology. The book features a foreword by Matthew Carter, type designer (Verdana, Georgia, Sophia) and 2010 MacArthur Fellow.
Cost and Carter will present lectures on typeface revivals followed by a booksigning of The Bentons at 6:30 p.m. Feb. 10 in the Chester F. Carlson Center for Imaging Science Auditorium, Building 76 on the RIT campus. Tickets are $4 and can be purchased at carypress.rit.edu. Larry Gregg, Morris's grandson, will be in attendance.
"In 1984, I went and stayed in Milwaukee with Morris Benton's daughter, Caroline Benton Gregg, and taped five hours of interviews with her," says Cost ('86, M.S. printing technology), who began her research on the Bentons while earning her degree from RIT. "And that's where I got all the detailed personal information: Linn Boyd was very modest and Morris was shy and meek to a fault; due to their reticence their legacy for the most part has remained hidden."
David Pankow, curator and director of Cary Graphic Arts Press, says the book is one of the most thorough accounts of American type design and type manufacturing ever written.
"Even as profound technological changes roiled the printing industry at the beginning of the 20th century, Linn Boyd's ingenious inventions and Morris Fuller's popular revivals of historic type designs helped transform ATF from a struggling type manufacturer into one of the most prosperous leaders in the graphic arts industry," Pankow says. "In particular, Cost unravels and explains the complex technical features of ATF's optical scaling system and how it was used to produce appropriately proportioned typeface design in multiple sizes."
Cost says the book is perfect for libraries because it's American history, not just printing history. "You don't need to know anything about printing to understand it," she explains," because the book explains the history of the industry right along with the personal story of an entrepreneur and his son.
"Linn Boyd Benton mechanized the process of making type—whereas before, somebody had to cut each letter by hand, which took about a day per letter. His invention completely brought typemaking into the Industrial Revolution. And Morris during his lifetime designed over 200 typefaces, ranging from revivals of historical models like ATF Bodoni to original designs like Hobo and Broadway.
"We can thank the Bentons every time we see something in print because they were, in their day, at the forefront of the industry."
The Bentons: How an American Father and Son Changed the Printing Industry is available for purchase online for $24.95 at carypress.rit.edu or by calling RIT's Cary Graphic Arts Press at 585-475-6766.
##