CAST faculty to receive Ph.D.s
Research conducted throughout the program focuses on improving engineering education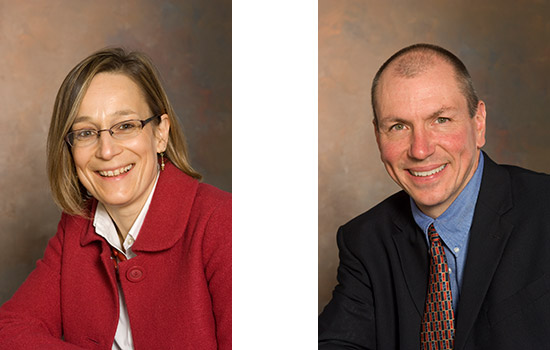 In 1898, Charles Elliot, president of Harvard University, stated that science should be taught in a rational way with instruments in hand, not only from books. It was a statement that Mike Eastman said could have been written today.
Since 2013, Eastman and nine other faculty from RIT's College of Applied Science and Technology and NTID have been part of a doctoral program selected for its focus on improving STEM education. Four years later, he and Jeanne Christman, associate professor, and George Zion, professor, both in CAST, defended their doctoral dissertations as part of the Curriculum, Instruction and the Science of Learning program, based at the University of Buffalo.
And like the RIT undergraduate and graduate students they teach, both are graduating this May. Their coursework became as transformational an experience for them as it is for their students. It is influencing how both teach engineering technology and build collaborative learning environments for their students.
"In 100 years, we haven't appreciably changed the way we teach or the way we do engineering education. We need to reflect on what we do as teachers and educators," said Eastman, department chair of electrical, computer and telecommunications engineering technology (ECTET). His dissertation is "The journey from educator to engineering education researcher." Christman detailed "Where are all the women engineers? An insider's view of socialization and power in engineering education" for her dissertation. Zion presented "PLTW's Long-Term Effects on Engineering Academic Success."
Their work calls for a shift away from the current strategies for preparing university faculty to a model that includes underpinnings in educational theory. The doctoral program challenged the cohort group to think beyond traditional perspectives to consider how STEM education could be more welcoming to a diverse body of learners.
In her interviews with current faculty and students of both genders, Christman found that in some instances, engineering classes are conducted like competitions. Her insights inspired her to give young STEM students an edge in how they are learning by providing even more opportunities for hands-on learning and to collaborate with peers—skills necessary for the workplace. Engineering education should not be an academic boot camp, she said. With more awareness of the impact of this culture on all learners and how educators can change their practices, Christman believes classroom dynamics can be improved and a more diverse population of students can be attracted to the discipline.
Both Eastman and Christman found the program, with its emphasis on educating skilled engineers in applied research and the "science of learning," a challenge but transformational. As long-time faculty with experience as engineers in industry, their newly acquired expertise in STEM education makes them well prepared to impact changes in engineering education and to contribute to the growing body of engineering education research. It also opens the door for a larger pool of research-faculty to help develop CAST's first doctoral degree program at RIT. Even broader than that, their work may also influence a new generation of STEM professionals.
Other Ph.D. candidates in the curriculum, instruction and the science of learning program are: Steven Ciccarelli, associate professor in ECTET; Michael Parthum, associate professor, William Leonard, associate professor, both in manufacturing and mechanical engineering technology; Daniel Johnson, professor and department chair, packaging science; Maureen Valentine, professor, civil engineering technology/environmental management and safety; and Annemarie Ross, instructional faculty, science and mathematics, NTID. Michael Slifka, senior lecturer, manufacturing and mechanical engineering technology completed coursework to earn a Master of Science in education.