Castle: Where teaching STEM is king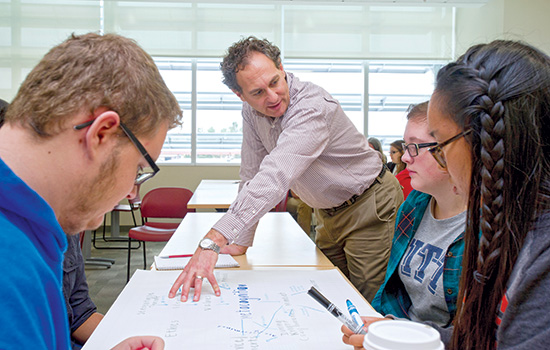 A. Sue Weisler
CASTLE is helping RIT educators build an even stronger foundation for teaching science, technology, engineering and mathematics (STEM).
CASTLE—which stands for the Center for Advancing STEM Teaching, Learning and Evaluation—is a multidisciplinary scholarship center housed in the College of Science. It offers support to faculty interested in STEM curriculum development, assessment and discipline-based STEM education research
Formed in 2013 with seed funding from the Office of Sponsored Research, the center was designed to streamline the administration of existing STEM-education scholarship programs—including the Science and Mathematics Education Research Collaborative, or SMERC, and the Learning Assistant Program—as well as to develop new initiatives such as the Summer Math Applications in Science with Hands-on Experience for Girls (SMASH) and the Integrating Metacognitive Practices and Research to Ensure Student Success (IMPRESS).
In less than three years, this RIT-designated research center of excellence has secured $3.8 million in grant funding and has unlocked barriers to collaboration, welcoming core and affiliated members from College of Science, College of Liberal Arts, Kate Gleason College of Engineering, National Technical Institute for the Deaf and Wallace Library.
The center's mission aligns with RIT Strategic Plan priorities on faculty scholarship, student success, and increasing diversity and inclusivity in the classroom.
"CASTLE exists at the interface between discipline-based education research and innovative classroom pedagogies," said Scott Franklin, CASTLE director and professor in RIT's School of Physics and Astronomy. "This includes emerging research on workforce preparation, experiential learning and diversity. What makes our center distinct is that we do research and programmatic work that connects the research and the classroom practice and the diversity."
The center's integrative approach to STEM education gives RIT a voice in the national dialogue about facilitating student understanding of STEM content, and increasing diversity and inclusivity in the classroom. RIT's contributions to research, active classrooms and student programs put the university in the company of leading institutions in the field. RIT is part of a consortium of STEM education centers that includes the University of Colorado Boulder, University of Maine, Florida International University and Western Michigan University.
RIT is one of the founding members of the International Learning Assistance Alliance and will host the Northeast Regional Learning Assistant workshop April 1-2. The Learning Assistant program pairs students with faculty mentors to gain experience developing curriculum, such as worksheets, a class or a series of recitation sections.
"Learning assistants take an active role in preparing class materials and facilitating student-centered learning and discussion in the classes they assist," said Corey Ptak, coordinator for the Learning Assistant and IMPRESS programs and lecturer in the Thomas H. Gosnell School of Life Sciences. "They receive training in pedagogy and bring those insights to the classroom to enhance the learning process for everyone."
Learning assistants also develop curriculum and facilitate the SMASH and IMPRESS programs. IMPRESS creates a learning community of incoming deaf, hard-of-hearing or first generation college students pursuing STEM majors. IMPRESS alumni become learning assistants and enhance the program.
Students will also have a role in a national network of diversity programs like IMPRESS that RIT is building with National Science Foundation funding to increase diversity and retention in undergraduate physics programs.
"The way the learning assistant program and IMPRESS fit together is an example of the types of things CASTLE brings about," Franklin said.