Center for Urban Entrepreneurship awarded $1.5M
U.S. Economic Development Administration will help refurbish downtown landmark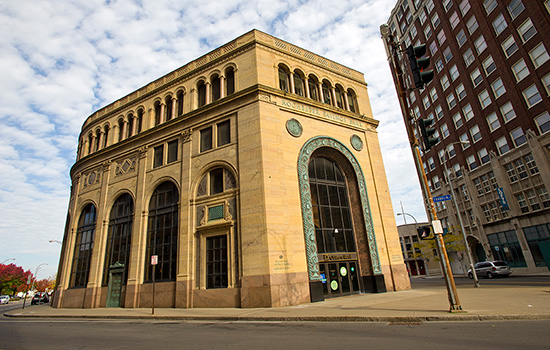 A. Sue Weisler
The federal government is investing $1.5 million toward construction and renovation costs for the facility that will house Rochester Institute of Technology's new Center for Urban Entrepreneurship. The award from the U.S. Economic Development Administration will help refurbish an iconic Rochester landmark, the former Rochester Savings Bank building at 40 Franklin St., which was donated to RIT in 2012.
"The collective efforts and support of our federal delegation – Senators Charles Schumer and Kirsten Gillibrand, and Congresswoman Louise Slaughter—underscore their dedication to education and entrepreneurship as catalysts for reshaping the Upstate New York economy," said RIT President Bill Destler. "From the initial days of this project, Senator Schumer has been by our side and has understood and supported our vision to bring new business development to the heart of the city. Likewise, Senator Gillibrand and Congresswoman Slaughter also recognized the tremendous potential and opportunity for the Center for Urban Entrepreneurship to play an important role in the resurgence of our center city."
University leaders announced in October 2012 that they had received the former Rochester Savings Bank as a generous gift from Rochester Historic Ventures, and that it would serve as the home of the new center.
"This federal investment will not only bring RIT back to its roots in downtown Rochester, but high-tech startups and entrepreneurs will be on site as well," said U.S. Sen. Charles Schumer. "I am thrilled to announce this funding commitment needed to get this project underway. It is a win-win-win for Rochester and RIT. First it will give RIT, which is a regional economic powerhouse, a physical footprint right in the heart of downtown to base workers and staff in the city center. Second, RIT is renovating a historic building in an underdeveloped part of downtown, so it will be an anchor to stabilize this area. Third, this new Center for Urban Entrepreneurship will be the launching pad for a host of new companies and high-tech workers that once successful can expand to existing downtown storefronts to push Rochester's economic development to new heights."
Renovations to the historic four-story, 47,000-square-foot building are expected to be completed in 2014.
"This is an important investment for RIT's efforts to grow the Rochester region's high-tech economy," said U.S. Sen. Kirsten Gillibrand, who also advocated for RIT's request to the Economic Development Administration. "RIT's Center for Urban Entrepreneurship will offer critical services for launching innovative new businesses and supporting existing companies, revitalizing the local economy and creating new high-tech jobs in the community."
Congresswoman Louise Slaughter added: "Last month, I had the opportunity to tour the former Rochester Community Savings Bank with President William Destler and Dean dt ogilvie and came away impressed with RIT's vision for this wonderful space. How fitting that the reuse of this historic building will help our entrepreneurs build a better future for our city and our great nation. I was delighted to advocate for this project with the EDA, and I look forward to the day when this beautiful building is full of aspiring business people ready to revitalize our economy."
The center is under the direction of RIT's Saunders College of Business. Saunders leaders are excited about the opportunity to help establish the center as a downtown hub for entrepreneurial programs, research and development—and in furthering its mission to create an economic boost for area businesses and organizations while promoting new business ventures within the urban community.
"We are on track to unveil our new programs and today's news on the federal assistance for renovations affirms our vision to make a tremendous difference for the Rochester community," said dt ogilvie, dean of Saunders College. "We plan to engage and train the community on how to get into business and then grow a business. We will teach the science of entrepreneurship."
Delmonize (Del) Smith, a professor of management in RIT's Saunders College of Business, has been appointed as the first director of the Center for Urban Entrepreneurship (CUE). Smith began launching programs for the center this fall.
Rochester Historic Ventures acquired the historic four-story, 47,000-square-foot building in 2011 prior to the gift to RIT. The Rochester Savings Bank built the building in 1927. The site was listed on the U.S. National Register of Historic Places in 1972 and has historic significance in art, architecture and commerce. The gift to RIT was a vision of allowing more people from the community to "enjoy this architectural gem, with a larger dream to bring more students downtown," said Amy Tait, of Rochester Historic Ventures, who also serves as chairwoman and CEO of Broadstone Real Estate.
RIT is returning to the city after leaving office space on West Main Street in the mid-1990s. The original campus was also downtown, but RIT began building its current campus in Henrietta in the 1960s, opening in 1968.