Center for Urban Entrepreneurship named finalist for award
Center at 40 Franklin St. nominated for Robert Macon Award for Urban Innovation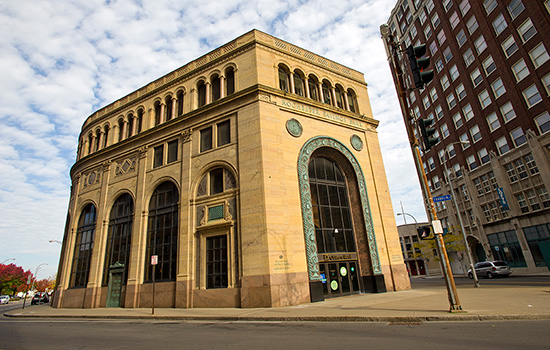 A. Sue Weisler
Rochester Institute of Technology's Center for Urban Entrepreneurship is a finalist for the Reshaping Rochester 2016 Robert Macon Award for Urban Innovation, sponsored by the Community Design Center of Rochester.
The Robert Macon Award for Urban Innovation is given in recognition for a building, development, or planning effort that has contributed in a unique way to the community and earned praise for its unique solution in response to urban design and the built environment. The award is named for the late architect Robert Macon who contributed to architecture in the Rochester area.
CUE provides business and consulting services targeting new urban entrepreneurs, or individuals who have an existing business or are hoping to launch a new business within the City of Rochester. CUE began offering programming in 2014 and is located on the first floor of RIT's Downtown Center, at 40 Franklin St. The building is listed on the U.S. National Register of Historic Places and was once home to Rochester Savings Bank. An official grand opening was held in April. The 47,000-square-foot building, constructed in 1927, was donated to RIT in 2012 by Rochester Historic Ventures, which is comprised of members of the Leenhouts, Tait, and Tones families, along with members of the Broadstone Real Estate management team. Rochester Historic Ventures took ownership of the building in 2011.
Since taking ownership of the building, RIT has made significant renovations, both with the aid of grants provided by the U.S. Economic Development Administration and New York State, as well as the university. RIT estimated that $2 million was spent on renovations just to the CUE offices, with 58 percent of the renovation expenditures going to women- or minority-owned contractors and suppliers.
Renovations were done to accommodate the needs of CUE's various programs, which include Future Business Leaders and Entrepreneurs, Capacity Building, Lemonade Day and a variety of targeted workshops. CUE's offices also include meeting rooms for clients, shared workspace and a multipurpose classroom. The space has wireless technology throughout.
"It's an honor to be recognized for positively reshaping the urban cityscape of Rochester," said Ebony Miller, CUE interim director. "Although major renovations took place in order to transform the Rochester Savings Bank building into what is now the CUE, our team took great care to maintain so much of the beloved history, charm and beautiful architecture that exists inside and outside of this unique building. We're proud to house our programs within an iconic building that is a significant part of Rochester's architectural history."
The award ceremony will be held Nov. 17 at Temple B'Rith Kodesh, 2131 Elmwood Ave., Rochester.