Clayton Turner '90, deputy director, NASA's Langley Research Center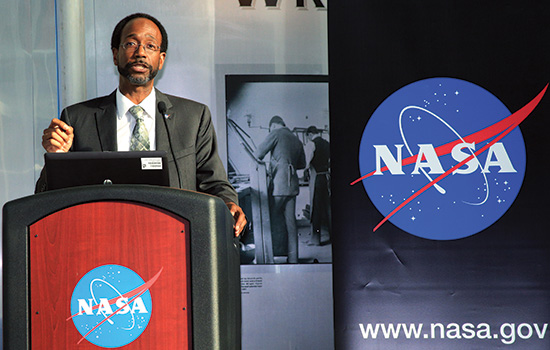 Clayton Turner had job offers from the CIA and NSA after he graduated from RIT, but when NASA called him about a job, he had to entertain the offer.
To start with, NASA officials called him on his birthday from Langley Research Center in Hampton, Va., which shares a landing field with Langley Air Force Base, where Turner was born.
Then when he visited Langley Research Center, he observed the engineers working on the Halogen Occultation Experiment (HALOE) mission, which was designed to improve understanding of stratospheric ozone depletion.
"I watched the excitement and the energy of the people who were doing that test because that was their baby," said Turner '90 (electrical engineering). "That was the thing they were going to launch on a future mission. And I was hooked from that point forward."
In June, Turner was named deputy director at Langley. He is still as excited about the work he and his colleagues at Langley are doing as he was during that visit in 1990. "I can't believe I get to do what I get to do every day," he said.
Turner started as a Lidar In-Space Technology Experiment (LITE) engineer. The instrument orbited the Earth inside the payload bay of space shuttle Discovery, measuring the Earth's cloud cover and tracking particles in the atmosphere. The goal was to help scientists better understand global climate and how it might be changing.
Next he was assigned to the Gas Permeable Polymer Materials Experiment, which used the microgravity of space to produce plastics that were more uniform and permeable than those produced on Earth. The work resulted in a private company making contact lenses based on plastics produced commercially in space.
Turner continued to work his way up at Langley, each time getting more responsibility. He became assistant branch head, branch head, directorate chief engineer, director of the Engineering Directorate and center chief engineer.
As center chief engineer, he was responsible for the technical excellence of the work at Langley, which in the early 2000s was working on the systems engineering of the Ares 1-X rocket. The rocket, which was a test version of a system designed to carry a four-to-six-person crew capsule, successfully launched in 2009.
As deputy director, Turner's job involves overseeing 3,600 employees, improving effectiveness and efficiency, communicating with the public and working with his colleagues at other NASA centers.
He is excited to contribute now in this new role. "I pinch myself that here's how I get to serve the nation," he said. "I just revel in the opportunity to be a part of this NASA team."