Clinton Delivers Academic Convocation Address
More than 13,000 hear former president urge graduates to 'change the world' by embracing their similarities and differences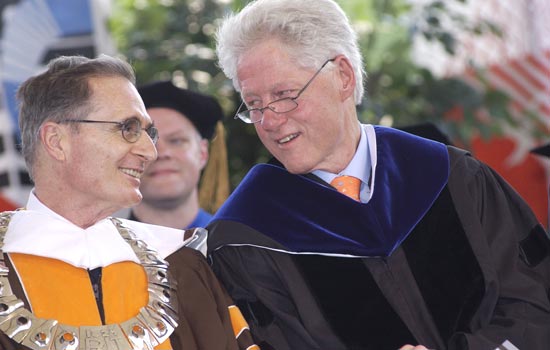 A. Sue Weisler
RIT welcomed former U.S. President Bill Clinton as Academic Convocation keynote speaker on May 25. The 42nd U.S. president told graduates, "What you do matters. . . . How you think matters," in urging members of the Class of 2007 to embrace their similarities and use their uniqueness and privilege for the public good in an insecure, unstable world.
"You are only a free person when you recognize that every moment of every day, no matter what happens to you, no matter what is said to you, no matter what is done to you or your crowd, you still are free to decide how to respond," Clinton said to applause from the throng gathered in U Lot.
"I hope more than anything else for your freedom—for your freedom with your family and friends, your freedom at work, your freedom in your community, and your freedom as a citizen of the world—free to recognize the fundamental truth of the modern world that what we have in common is more important than our interesting differences.
"How you think about your life in relation to others will determine how you use what you know and what you do as citizens. I pray that you make everything you can out of that one-tenth of 1 percent of your genetic makeup that makes you a unique, God-given marvel. But I pray also that you will walk away from so much of today's madness by remembering the other 99.9 percent and never get to the point where you do not see all the others."
Audience members listened to the former president on a sweltering spring morning that saw the Rochester region tie the record high temperature for the date of 88 degrees.
RIT marked two milestones during its 122nd Commencement, May 25-26: RIT's living-alumni population surpassed 100,000, as 3,500 undergraduate and graduate students received diplomas; and RIT President Albert Simone presided over his final RIT Commencement. Simone retires June 30 following 15 years as RIT president.
##
Watch video coverage of Academic Convocation at www.rit.edu/videos/?file=convocation2007.
Listen to an audio podcast of Clinton's speech at www.thetigerbeat.com/rss/podcasts/convocation_clinton.m4a. Or, see "Latest Podcasts" at www.rit.edu/news. Additional audio podcasts of RIT's Academic Convocation are coming soon.
Watch for a photo gallery of images from RIT's Academic Convocation and 122nd Commencement, also coming soon to www.rit.edu/news.
For media coverage of RIT's Academic Convocation and 122nd Commencement, see "RIT In the News" on the University News home page.