CNN anchor Fredricka Whitfield to keynote MLK event
International journalist joins the Fisk Jubilee Singers for 35th anniversary celebration on Jan. 26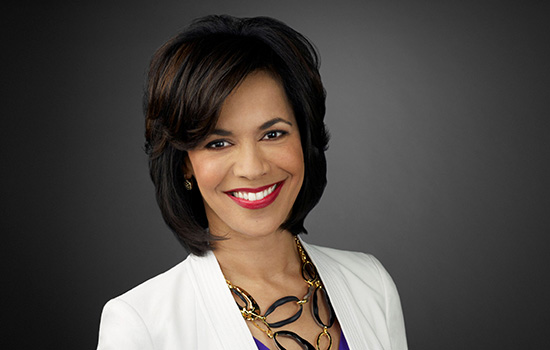 Fredricka Whitfield, weekend anchor of CNN Newsroom, will be the keynote speaker for the annual Expressions of King's Legacy celebration at Rochester Institute of Technology. Whitfield opens the program taking place from noon to 2 p.m. on Thursday, Jan. 26, in RIT's Gordon Field House and Activities Center.
"We are looking forward to having Fredricka Whitfield as our Expressions of King's Legacy speaker. With more than three decades of experience in global news, she has never lost sight of the people involved in the situations that we hear about through newscasts," said Keith Jenkins, RIT's interim vice president and associate provost for diversity and inclusion.
In addition to Whitfield, U.S. Circuit Judge Robert L. Wilkins, who serves on the U.S. Court of Appeals, D.C. Circuit, will participate in the program. He is the author of the book, Long Road to Hard Truth: The 100-year mission to create the National Museum of African American History and Culture, and will share his journey to help establish what has become the 19th and newest museum of the Smithsonian Institution.
Musical guests are the Fisk Jubilee Singers, who will perform during the afternoon event on campus. Later the same evening, they will be featured in a community gala performance at 7 p.m. at the Third Presbyterian Church located at 4 Meigs St. in Rochester with international opera singer Kearstin Piper Brown and the Chancel Choir of the Third Presbyterian Church.
All events are free and open to the general public. Registration is requested for the noon keynote address and program, and can be done online. Doors open at 6:15 p.m. for the evening musical performance.
Whitfield has covered national and international stories over three decades in broadcast journalism—from the Olympic Games to wars in Afghanistan and Iraq. She began her career as a morning anchor in Charleston, S.C., moving on to positions as a reporter and anchor with NBC News, the Today Show and Dateline NBC, then CNN in 2002. In 2004, she was part of the CNN team receiving the prestigious Alfred I. DuPont Award for coverage of the tsunami disaster in Southeast Asia. She'd contribute to national and international stories that would garner Emmy and Peabody Awards for comprehensive coverage of Hurricane Katrina in 2005, the 2010 Gulf Oil Spill and the 2011 Arab Spring. Whitfield received Ebony's award for Outstanding Women in Marketing and Communications in 2005.
Whitfield replaces civil rights lawyer and legal scholar Michelle Alexander, who canceled several speaking engagements this year, including the RIT event, due to health concerns. Those who already registered for the Michelle Alexander event need not re-register.
The Fisk Jubilee Singers, a renowned ensemble dating back to 1871 and based at Fisk University in Nashville, Tenn., broke racial barriers in the U.S. and abroad, entertaining presidents and European royalty throughout the years. In 2008, the group received the prestigious National Medal of Arts, presented by President George W. Bush and first lady Laura Bush during a ceremony at the White House.
Wilkins was appointed to the U. S. Court of Appeals by President Barack Obama in 2013, serving the District of Columbia regional circuit. It is one of the 13 appellate courts that determine proper application of law during trials and that hear challenges to district court decisions from courts located within its circuit, as well as appeals from decisions of federal administrative agencies. Wilkins received his law degree from Harvard University in 1989. Prior to his appointment to district court, he was a partner at Venable LLP, a Washington, D.C., firm, and a staff attorney and head of special litigation for the Public Defender Service.
In 2000, he founded the nonprofit organization that would lobby to create the Smithsonian National Museum of African American History & Culture. His book details the establishment of that museum, which opened on Sept. 24, 2016.
This is the 35th anniversary of Expressions programming at RIT dedicated to the life and legacy of Dr. Martin Luther King Jr. During that time the university has hosted numerous dignitaries and national performers including U.S. Ambassador Andrew Young, poet Nikki Giovanni, talk show host and political commentator Tavis Smiley, philosopher Cornel West and human rights activist Nontombi Naomi Tutu, the daughter of South African bishop and apartheid opponent Desmond Tutu.
Sponsors of the event include RIT's Office for Diversity and Inclusion, Student Affairs, the Center for Campus Life, the College of Liberal Arts and Excellus BlueCross BlueShield.