Co-op gets the MAGIC touch
New 'Co-Up' program offers more than credit, aims to bring products to market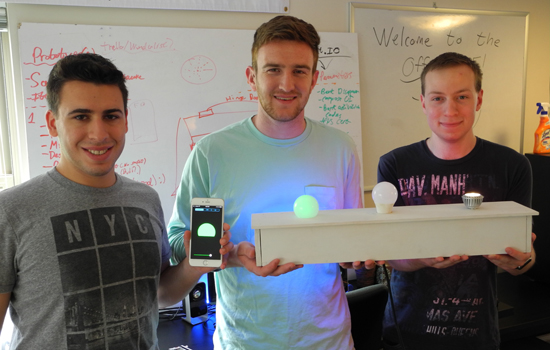 Scott Bureau
RIT's Strategic Plan in Action—Affordability, Value and Return on Investment
Take the tried-and-true RIT co-op program model and mix it with the entrepreneurial spirit of a start-up. The result: Co-Up, a new program in which students get paid to bring ideas for video games and smart home products to life.
This summer, four multidisciplinary student teams spent 10 weeks earning cooperative education experience while working on products and commercial activities. Partnering with them were RIT's Center for Media, Arts, Games, Interaction and Creativity (MAGIC) and the Simone Center for Student Innovation and Entrepreneurship, offering mentorship and business advice. The program was made possible through financial support from members of the RIT Board of Trustees.
"Start-up activity and entrepreneurship are increasingly important elements of undergraduate education," said Professor Andrew Phelps, director of the MAGIC Center. "RIT is a place of experiential learning and we feel students should have the opportunity to learn and grow in this space just like they do in more formal co-op activities."
Adventure with Friends
When Wes Rockholz, a fourth-year game design and development major from Brookfield, Conn., finished his production studio course last spring, he wanted to finish and publish his class project—Adventure with Friends.
The game is a social, mobile role-playing game (RPG) that allows players to play together, but on their own time. Up to four players can battle goblins and other enemies as their own personalized warriors, rouges, mages or clerics.
"A weakness of many game design and development programs is that not many people finish or publish the games they build in class," said Rockholz. "Companies are looking to hire people that want to get games out in the world."
With friend Nick Rabb, a fourth-year computer science major, Rockholz has started a studio—Yes And Games—and hopes to launch the game on the Apple, Windows and Android app stores by the end of the year.
Amirelia
Originally created as a capstone project by Sam Trapp of Honeoye Falls, N.Y., Ben Snyder of Memphis, N.Y., and Arun Abraham of India, the game Amirelia is now on its way to being submitted to the Independent Game Festival Student Showcase. The recently graduated master's students from game design and development spent the summer polishing the game, which has no instructions and challenges two players to move their characters and understand the game together and create a closer friendship.
"In addition to getting a lot of play testing done, we learned about how to do the business and legal side of things," said Trapp. "While our core competency is game design, it's important for us to know about marketing and the intellectual property of our game."
Cenify
Alec Satterly, a fourth-year management information systems major from Oreland, Pa., didn't want to have to get up to close his blinds and turn off the lights. So with a team of six, he created Cenify, a company to help other companies make their products "smart." By working with LED lighting company CleanLife, Cenify plans to make smart light bulbs that use Wi-Fi technology to dim vending machines lights at certain times to save money and energy.
"The Co-Up program was great because it let us work on our company like a true start-up," said Satterly. "We worked 100 hours a week, sometimes staying up until 4 a.m."
Remy and the Book of Rhymes
Last spring, a class began working to reduce global poverty by tackling illiteracy with a video game that helps children learn to read.
After a creating a prototype of Remy and the Book of Rhymes, fourth-year game design and development majors David Amata of Blacklick, Ohio, Jacob Westerback of New York City and Kyle Zarnoch '15 of Boston, decided to use Co-Up to polish and publish the game. The team tested the game with third-graders at Hilton Central Schools and created a version for Android tablets and the Web.
"It's a good experience to work on one project all the way through," said Westerback. "Getting to focus solely on this project was really fulfilling."
Editor's Note: This story is part of a continuing series that demonstrates RIT's commitment to the new Strategic Plan.
Topics