Co-op program crafts careers for 100 years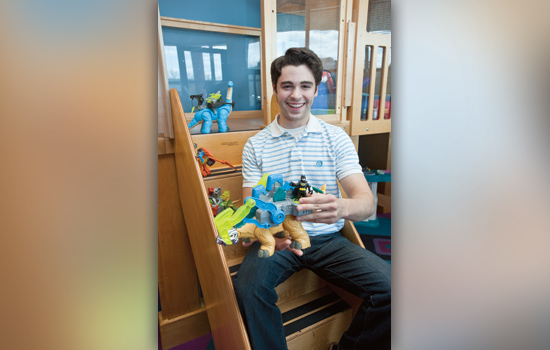 A. Sue Weisler
New media interactive development student Mary Orth's happily-ever-after means running a bistro and brewery.

Nicholas Higgins would like to put his mechanical engineering skills to work at Fisher-Price Inc. after he graduates next May.

Both recognize future career opportunities because of RIT's cooperative education program, which turns 100 years old this academic year. The co-op program kicked off in 1912 with 32 students at a dozen local companies. And although it has transformed from providing the local economy with skilled workers to a global initiative, the goal of getting students solid jobs after graduation remains the same. 

"The typical co-op student who graduates is far more experienced, far more savvy, far more in tune with what they like and don't like," says Manny Contomanolis, associate vice president and director of the Office of Cooperative Education and Career Services. "They are more seasoned. They are more capable. That's what employers want on top of their core skills and abilities."

Today, more than 3,500 students a year complete 5,500 work assignments with 2,000 companies worldwide. About 60 percent of those students are offered jobs after graduation, Contomanolis says.

Last year, those students generated more than $35 million in earnings through their employment with industry, business, government and the not-for-profit sector in the United States and in 40 other countries.

Creating a co-op

When the owner of a Rochester microbrewery and restaurant visited Orth's Beers of the World class, the fourth-year student jumped at the opportunity to inquire about co-op possibilities.

John Urlaub, owner of Rohrbach Brewing Co., was impressed with Orth's résumé. He offered her the job during finals week of winter quarter—even though the company doesn't have a formal co-op program. She accepted and withdrew from spring quarter classes.

Orth worked in all aspects of the business. She redesigned a sales sheet, produced interactive components for the company's website, worked on marketing copy, went on sales calls and managed the brewery's tasting room.

"We knew we had a few projects that we didn't have time to do and thought she could handle them," Urlaub says, adding that Orth took the initiative to make the co-op her own. "She has done a great job." 

She had communication and marketing experience from her first co-op at Cornell Cooperative Extension in her hometown of Owego, N.Y. Over the summer, she worked at Vanguard in Philadelphia for her third co-op.

She'll graduate next May with nonprofit, small-business and corporation experience, which she says will give her a perspective of the options available for full-time work.

"Before I take the leap into opening up my own brewery and restaurant, I got to see how he has done it," she says. "I've learned so much—so much more than what I could learn in classes."

Fun and games

Higgins, a fifth-year student from Hamburg, N.Y., will graduate with five different co-op experiences. But his are with the same company in three different departments.

He started at Fisher-Price in East Aurora, N.Y., in November 2010 troubleshooting new products in the boy's department. 

"When you get the first version, it's not going to work perfectly," Higgins says. "You play around with it and think of realistic ways to fix it."

Higgins then moved to the infant-newborn baby gear department, doing similar work with products such as bouncers and rockers. Over the summer, he was in another infant-newborn department, working with some of the first toys babies play with.

"The experience is going to be beneficial," he says, adding that he has been able to network with engineers, designers and marketers from three different areas. "The classroom is a lot of equations and learning theory. The biggest thing I learned (at Fisher-Price) is the importance of working with a team."

Irma Tyszko, a recruiter with Fisher-Price, says the company employs between 60 and 80 students from various universities, depending on the time of year. Fisher-Price has had a relationship with RIT for at least 10 years.

Higgins, who got his co-op from a career fair on campus, hopes to continue his relationship with the company after he graduates. If it doesn't work out, though, he'll be fine. 

"We wish we could hire every student," says Jan Brown, manager of recruitment at Fisher-Price. "If we can't hire them, we know the experience they get here will help them land a job somewhere else."
Did You Know...

The co-op program started in the 1912-1913 academic year with 12 Rochester companies: Eastman Kodak Co., Gleason Works, Morgan Machine Co., Ingle Machine Co., Stromberg Carlson, Rochester Railway and Light Co., Rochester Electric Motor Co., City Engineers Office, New York State Railways, Rochester Stamping Co., Taylor Instrument Companies and the German American Button Co.

RIT's co-op program was modeled after the University of Cincinnati, which started its first-in-the-nation program in 1906.

A sampling of companies that hire RIT students today include: Apple Inc., Boeing, ESPN, Google Inc., Microsoft Corp., NASA, Time Inc., Walt Disney World, Wegmans Food Markets, Xerox Corp. and Yahoo! Inc.

Two large career fairs are held on campus each year. More than 230 employers recruited students at the Spring Career Fair, which was in March. Half of those were national companies.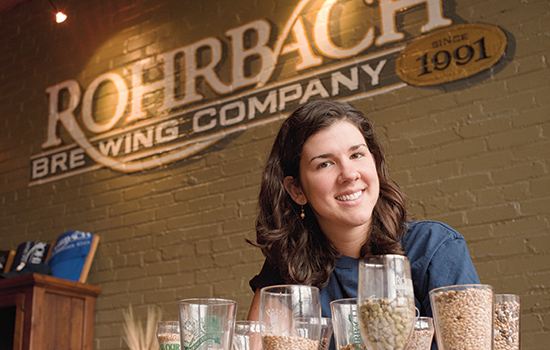 A. Sue Weisler