Cohort completes RIT's first edX MicroMasters program
Online learners master skills in project management and continue on pathway to credit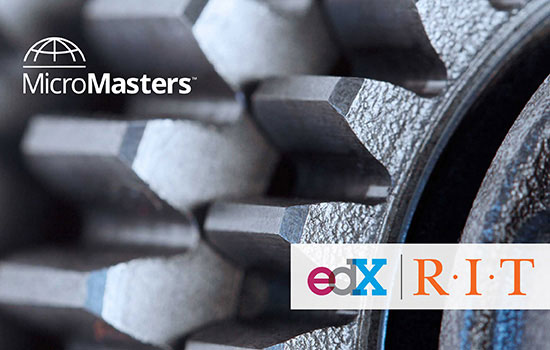 One-hundred and thirty-six learners from around the globe have completed the first MicroMasters program offered by Rochester Institute of Technology, through the edX online learning platform.
Armed with a MicroMasters credential in Project Management, several of those students are already enrolled in credit-bearing classes at RIT, working toward an advanced certificate or master's degree from RIT's School of Individualized Study.
The Project Management MicroMasters program is a graduate-level online sequence, consisting of three offerings and a final capstone exam. Taught by Leonie Fernandes and Celine Gullace, instructors of project management in RIT's School of Individualized Study, the program takes about 45 weeks to complete.
"Participating with learners from around the world was an incredible experience," said Fernandes. "We have so many energized learners in our program who are applying their learning with a positive impact."
Learners from this first MicroMasters program came from more than 200 countries, with the most coming from the U.S., Spain, the U.K., Mexico and Germany. Some of the learners who earned a MicroMasters credential include:
Yusif Abdel-Aziz, from Ghana:
"It would've been impossible for me to access such quality courses at an incredibly low cost, and to top it off, earn credits that'll shorten my journey to acquiring a full master's degree."
Andrew Roybal, from Denver, Colorado:
"For me, earning a Project Management MicroMasters Certificate gives a sense of accomplishment. This year, life was busy for me and my family. We had an infant while also moving across the country and starting a new job. There was no other avenue besides the edX MicroMasters program to achieve this type of certificate."
Slawomir Michaluk, from Poland:
"The most beneficial part of the program were certainly aspects concerning soft skills, including leadership and cultural awareness, as this is becoming a more and more important focus area at the current stage in my career—having an engineering background, with five years working as a project manager."
Elena Mazzolini, from Italy:
"I am a senior researcher working in veterinary public health. My understanding of the research projects I am managing improved along with the project management courses. I believe adding the MicroMasters certificate will enrich my career with competences that, in the past, I thought could only be learned on the job."
Dina Hamdan, from the United Arab Emirates:
"I've always wanted to continue my higher education and enroll in a master's program related to my field of studies. With the knowledge I gained, it will be much easier to handle many situations and prove that I am capable of being in a managing position."
"I'd like to thank the RIT faculty and RITx development staff within the Innovative Learning Institute (ILI) who worked tirelessly and lent their expertise to develop and deliver this world-class offering," said Thérèse Hannigan, director of RIT Online. "It has been a rewarding experience to impact lives by making college-level education more affordable for people worldwide."
Those who earn the MicroMasters credential can then build on their work by applying to RIT for a customized master's degree in professional studies or an advanced certificate in project management. If accepted, they can be awarded nine credits for the MicroMasters credential toward select graduate programs at RIT, saving more than a quarter of the time and cost of a traditional RIT master's program. Also, either program can be completed by studying fully online or on campus.
The program runs continuously, so at any time, learners can join and complete the program in as few as six months to a year.
To learn more about the Project Management MicroMasters Program at RIT, go to rit.edu/ritonline/ritx/micromasters/project-management.
Topics